Motorola Updates its Most Affordable Phones
Article Comments
May 2, 2023, 8:00 AM by Rich Brome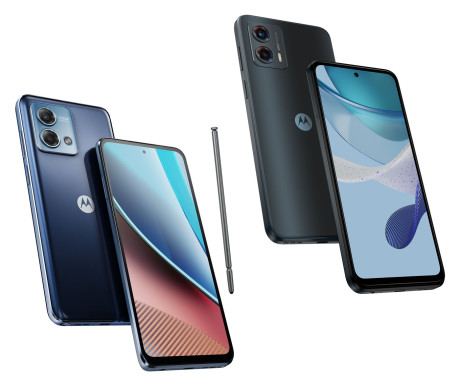 Motorola has introduced two new models in its "moto g" series of affordable phones.
The moto g 5G (2023) is very similar to last year's moto g 5G, offering 5G for a low price. Updates include 120 Hz display refresh (vs. 90), 15-watt fast charging (vs. 10), and stereo speakers. A Snapdragon 480+ ship replaces the MediaTek Dimensity 700 in last year's model. Other specs are essentially unchanged, including a 6.5-inch, HD+ display and a 48 megapixel camera. It has excellent support for all US networks. It will be available with AT&T, T-Mobile, Cricket, Metro by T-Mobile, Boost Infinite, Boost Mobile, Google Fi Wireless, US Cellular, and Consumer Cellular, with dates and pricing TBA. It will also be available unlocked starting May 25th for $250. Color options are Ink Blue and Harbor Gray.
The moto g stylus (2023) takes a different approach, cutting some specs to reach a lower price compared to last year's model. The new model is more compact with a 6.5-inch HD+ display and no wide-angle camera. What the new model keeps is the large 50 megapixel main camera, 90 Hz display refresh, and, of course, built-in stylus. It's powered by a MediaTek Helio G85 4G chip. Cricket, Straight Talk, and Walmart Family Mobile will all offer the phone. It will also be available unlocked for $200 starting this Friday, May 5th. It has excellent support for all US 4G networks. It will come in Midnight Blue and Glam Pink.
Both phones have a 5,000 mAh battery, 4 GB RAM, fingerprint reader on the side, expandable storage, headset jack, 8 megapixel front camera, and a 2 megapixel macro camera. Over the past two years, Motorola has offered both a 4G and 5G version of the moto g stylus. The 4G model is typically announced first, and a 5G model (with upgraded specs) a few months later.
source: Motorola
No messages