Hands On with the TCL 30 5G
Article Comments
Oct 18, 2022, 12:49 PM by Rich Brome
updated Oct 20, 2022, 2:45 PM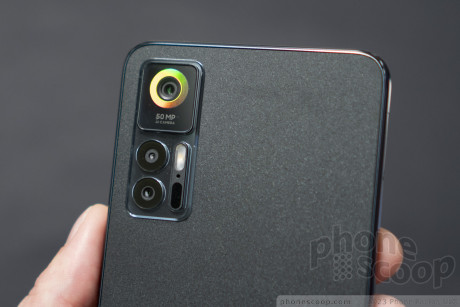 TCL continues to build out its lineup of affordable 5G phones with this new model that might come to T-Mobile later this year. While the TCL 30 XE 5G was truly entry-level, this model is a notable step up, with specs closer to the 30 V 5G that the company brought to Verizon earlier this year. Headline specs of this model include a 50 megapixel main camera, 6.7-inch full-HD display, huge 5,010 mAh battery, and NFC. The design is visibly quite different, though. What's it like in person? We checked it out. Read on for our first impressions.
Comparing specs against the rest of the 30 series turns up some curious choices. While this is an upgrade over the 30 XE 5G in most ways, that model has a 90 Hz refresh display, while this one does not. (Instead, the display is larger and sharper.) It's roughly similar to the 30 V 5G for Verizon, but each has a few strengths. The 30 V has a better front camera and adds a 5-megapixel wide camera, while this model has a larger battery and NFC. I find myself annoyed that TCL included a macro camera here with measly 2 megapixel resolution. Why bother?
TCL is bringing this phone to the US unlocked this month, and it has the right bands to support T-Mobile's network well. TCL says it may come to a US carrier before the end of the year, in which case, my money is on T-Mobile and/or Metro, because of that network band support I mentioned.
The hardware design is unusual. Instead of the nice, rounded back of the other 30-series models, the back here is perfectly flat, It's a finely-textured slab of plastic that's set into a squared-off metal (I think) frame. The back doesn't inspire a feeling of quality, but the frame does. I would have preferred a more rounded back for comfort.
However, this is mostly offset by how surprisingly thin and light it feels. And it's not too wide, either, making it more comfortable to hold than you might assume.
But this is a phone with a large 6.7-inch display, so it is tall and large overall. It's a pretty common size for phones today, but maybe not the best fit for those with smaller hands.
I like how thin the bezels are around the display. A lot of phones in this price range still have a much larger "chin" below the display, so the all-screen design is appreciated here.
I won't comment too much on the software, since I suspect it will look different if and when it comes to a major carrier (like T-Mobile).
Summary
This is not my favorite design, (and it doesn't seem to match the design language of the rest of the company's lineup this year.) But that's a matter of personal taste. You may appreciate how thin and light it feels, while still offering a large display and battery. It doesn't feel terribly overpriced at $300 unlocked, but it wouldn't be my first choice, either. However, if it comes to T-Mobile and/or Metro for even less, it could be an excellent value.
No messages