TCL-Branded Phones Launch in US on May 19
Article Comments 2
May 14, 2020, 8:00 AM by Rich Brome
updated May 15, 2020, 9:49 AM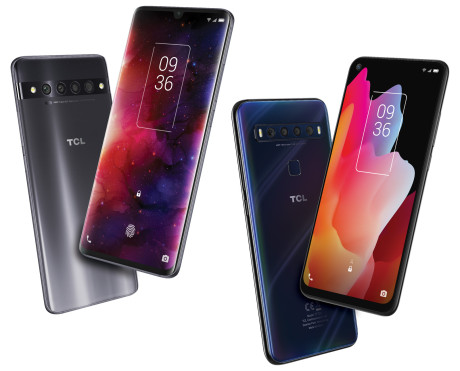 TCL Communication, maker of Alcatel-branded phones, is launching its first TCL-branded phones in the US. The TCL 10 Pro and TCL 10L will launch as unlocked phones. TCL also makes televisions and their own display panels. TCL phones use TCL displays.
TCL 10 Pro: A mid-range phone with a flagship-level design, including a curved-edge OLED display and matte glass back. The 6.47-inch display sports full-HD resolution and Netflix-certified HDR10 color. The four rear cameras include a 64-megapixel main camera, 16-megapixel 123º wide-angle camera, macro camera, low-light camera, laser focusing, and separated dual LED flashes. The front camera is 24 megapixel. It's powered by a 4,500 mAh battery, Qualcomm Snapdragon 675 processor, and 6 GB of RAM. It has 128 GB of storage plus a memory card slot. Other features include Android 10, in-display fingerprint reader, 3.5mm headset jack, USB-C, and, unusually, an IR emitter. A fast charger and clear case are included. 4G LTE network support includes US bands 2, 4, 5, 12, 13, 25, 26, 41, and 66. The only color option at launch in the US is Ember Gray. It will sell for $450.
TCL 10L: A more affordable option at $250, the 10L has a 6.53-inch full-HD display, Snapdragon 665 processor, 6 GB of RAM, and a 4,000 mAh battery. It also has quad rear cameras like 10 Pro, including a 48-megapixel main camera, 8 megapixel, 118º wide camera, 2 megapixel macro camera, and depth camera. The front camera is 16 megapixel. It has a rear-mounted fingerprint reader and 64 GB of storage. Like the 10 Pro, it has a memory card slot, 3.5mm headset jack, USB-C, multi-stream Bluetooth, Android 10, and 4K video capture. It supports the same US LTE bands as the 10 Pro: 2, 4, 5, 12, 13, 25, 26, 41, and 66. It will come in Mariana Blue with a "holographic finish on the back that reflects an iridescent shine."
Both phones will be available from Amazon, Best Buy, and Walmart starting May 19th.
source: TCL Communication
No B71 for TMO?
Bad decision
TCL
I have other products from them.
Never an issue.
They have not gotten much US exposure.
I look forward to seeing how their smartphone division works out here.
The more alternatives the better.
TCL 10L-Typo......665 not 655 processor.