Hands On with TCL's New Flex-Screen Concepts
Article Comments
Mar 5, 2020, 9:00 AM by Rich Brome
updated Mar 5, 2020, 11:23 AM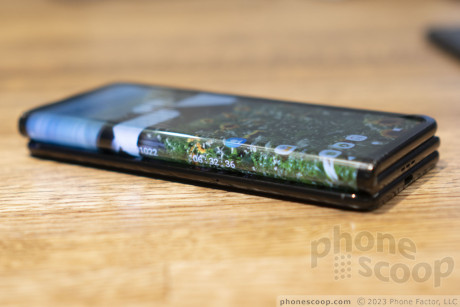 TCL has a new batch of concept phones to show off in 2020 that use flexible-display technology in interesting ways. Two are foldables, including a unique "tri-fold" design with two different hinges allowing it to reach full tablet size when open. An even more unique design offers all the screen-expanding advantages of a foldable without the thickness penalty. It looks like a standard smartphone, but magically "stretches" sideways to turn into a tablet. We had hands-on time with all three concepts at three different events in recent weeks. Here are our impressions, with photos and a video.
All of these phones are merely concepts. TCL has made fully-functioning prototypes. But hold one in your hand, and it's plain that they're just that: prototypes not ready for prime-time. TCL is clear that they will only bring phones like this to market when they have something compelling and fully-baked. But in the meantime, they want you to know that they're not sleeping on flexible-display technology. In fact, they have at least three dozen different designs in testing in their labs. Here are three.
The Rollable
Ever since the first engineer conceived of a flexible display, we've been promised phone-like devices that magically expand into huge screens. Those futuristic promises left out the part where your foldable phone would be twice as thick as a normal phone. Well now "rollable" phones are finally a thing. Behold:
TCL has a working unit in its labs, but for now they're only trotting out a mock-up (dummy) unit for the press. While it may not turn on, it does have a moving mechanism to play with.
Closed, it's the size of a large-ish and very tall smartphone. Crucially, it's quite thin. Open, it's the size of a squarish tablet, like the Samsung Galaxy Fold.
But the key innovation is that it doesn't fold. It just magically grows larger. It does this by wrapping the left edge of the screen around a roller, which lets the screen tuck into a pocket in the back when closed. Open it, and the hidden part of the screen rolls around the left edge to become visible on the front, doubling the area of the touchscreen.
On the mock-up I handled, had it been a real display, I would have been afraid to open or close it. I would have been very worried about damaging the display. Flexible displays can be delicate. That's why TCL's functioning prototype (which has yet to escape the company's labs) doesn't allow manual operation; it uses a small motor to extend and retract the sliding mechanism, ensuring a consistently smooth rolling action that's easier on the flexible display. Smart.
I was impressed with the thinness of the rollable mock-up, and the overall execution, given its very early stage toward potential production.
I like this concept. A lot. I have no doubt that other manufacturers will take a stab at this idea as well.
The Tri-Foldable
Foldables promise to either: 1. make your smartphone smaller when you're not using it, or 2. larger — a tablet — when you need to get serious. But foldables like the Galaxy Fold only don't unfold into something iPad-size... more like iPad Mini.
Enter TCL's Tri-Fold concept, which is a foldable smartphone that adds an extra hinge so it can unfold into something that truly is a full-size tablet.
This is the first time I've handled something like this, and it really does feel like a gadget from the future. It's kind of amazing. It really is like a phone when closed, with a full-size, bezel-free "waterfall" display on the front, and a normal camera array on the back. Then it unfolds into a truly full-size tablet.
It does feel somewhat delicate, but not nearly as much as I expected. I watched a roomful of journalists truly manhandle it for a while, and it survived just fine.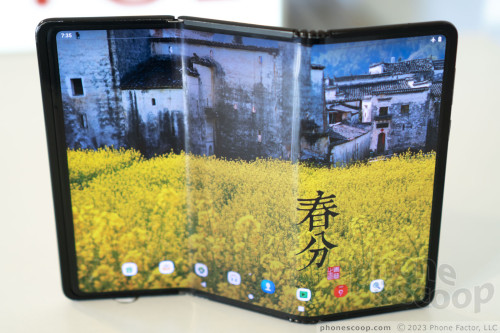 The engineering is impressive, mostly because TCL has had to employ both types of foldable hinges: the kind where the display folds inward, and the kind where it folds outward. Neither is easy to make well, as other companies have inadvertently proven. The fact that this concept employs both makes it all the more impressive.
That's not to say there aren't downsides. In fact, there are many. It's quite thick (and very tall) when closed. It's heavy. While it closes well, it doesn't "snap" into the open position, which is a major problem.
But I can say this: hinge mechanisms are everything with foldable phones, and TCL's are improving quickly. I played with some prototypes a year ago that TCL wouldn't let me photograph, and they were on the janky side. But this new tri-fold prototype had hinges that felt solid and smooth.
The Mid-Size Foldable
The Samsung Galaxy Fold is a phone that turns into a tablet, while Samsung's Galaxy Z Flip is a phone that folds in half, as is the new Motorola Razr. Clearly, manufacturers are still trying to figure out the right size and form factor for flexible displays, and I expect that will continue for a few more years.
TCL's entry in the "standard" foldable category stands out by walking the middle of the road on size. It's larger than the Z Flip or Razr, but smaller than the Galaxy Fold.
This is one of the older prototypes among the bunch, and I would guess the least likely to reach the market, at least in its current form. One reason is the complete lack of an external display. One of the loudest criticisms of the new Samsung Galaxy Z Flip is that its outer display is far too small.
The most enticing promise of flexible-display technology is that we can carry truly 2-in-1 devices in our pockets. TCL's Tri-Foldable and Rollable concepts bring that vision to life. If this is the future, I'm excited.
These are just concepts, though. TCL says it probably won't bring it first flexible-display phone to market until 2021, and it's too early to say which of its three dozen current lab designs will reach the finish line.
Video
These are phones that move — literally — so be sure to see them in action in our companion video:
No messages