CAT's Latest Rugged Phone is Slightly Cheaper (Hands On)
Article Comments
Jan 10, 2020, 1:00 PM by Rich Brome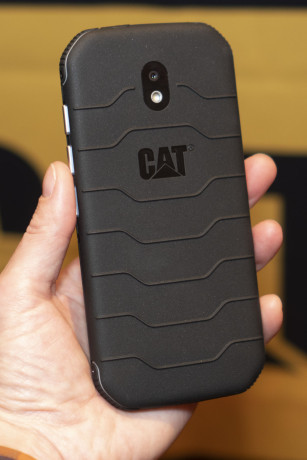 CAT's latest rugged phone for the US market is the S32. It's a bit more affordable than past models at $349. It's rated IP68 for water and dust. It can withstand being submerged under 1.5 meters of water for up to 35 minutes. It also has a military rating for drop and shock. It has a 5.5-inch HD display covered in DragonTrail Pro glass that works with gloves and wet fingers. It has a 4,200 mAh battery. It's powered by a MediaTek Helio A20 processor with 3 GB RAM, 32 GB storage, and Android 10. Features include NFC, 13 megapixel main camera, memory card slot, 3.5mm audio jack, and a user-assignable shortcut key on the side. The US variant will have full support for Verizon and T-Mobile 4G LTE bands, and decent support for AT&T, including band 14 for FirstNet.
Article
In person, the CAT S32 feels as tough as it looks. The outside has a textured, grippy design that I really like in this type of phone.
The corners have actual rubber bumpers, which seems like it should help durability over time. A lot of rugged phones have thick casings that can take a sacrificial beating, but with scars to show for it. The rubber bumpers should be able to absorb a drop with less visible damage.
The side keys are well-sized to work well through gloves.
It's a bit big for me, with too small of a screen given the size. I know large bezels are common in the rugged category, given the need for extra reinforcing around the sides. But it's something I think is worth the extra engineering to improve. I don't see much effort made on that front here.
I will say that NFC is a pleasant surprise. That does stand out as a feature you wouldn't normally see alongside this set of specs.
This is CAT's first phone to support T-Mobile's band 71, and only its second to support band 14, which is AT&T's FirstNet service for first responders. It also supports band 13, so CAT runs it through Verizon's labs, it should work on that network as well. It will definitely run well on T-Mobile. It should run fine on AT&T, although it lacks AT&T's "extra" bands 29 and 30, so service might not be as good as a flagship phone in areas where the network is congested.
It's nice that CAT is offering a more affordable option, but $349 is still pricey given the specs. You're paying a lot just for the extra toughness. Then again, you definitely don't need a case on this phone, and a top-end case offering the same level of protection can easily run north of $70, so that's part of the equation.
No messages