CAT
Info & Phones News Forums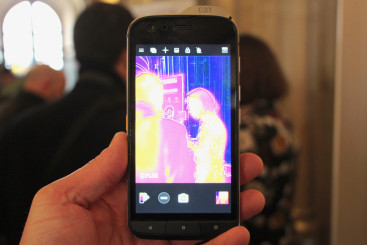 Cat Phones has a new rugged flagship at Mobile World Congress this year and it takes the Flir heat-capture camera to a new level of productivity. This phone is tough as nails and still lets people measure temperature, air quality, and distance/area with a laser. Here are our thoughts on this rugged powerhouse.
---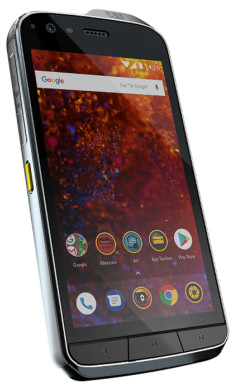 Cat Phones today unveiled the S61, an update to the S60. The S61 is a fully rugged Android smartphone that is waterproof, dirtproof, and able to handle temperature extremes, drops, vibration, and salt water. The S61 provides a major upgrade to the FLIR Lepton thermal imaging camera, which now offers higher resolution imagery (up to full HD) and a wider range of readable temperatures (-20C to 400C). Owners can even livestream thermal video to Facebook if they wish. A new indoor air quality sensor alerts people to high levels of indoor air pollutants, such as paints or solvents, and will sound an alarm of levels become dangerous. The S61 packs a laser-assisted distance/area measuring tool that has a range of 32 feet. The S61 includes a 5.2-inch full HD display with Gorilla Glass 5, glove sensitivity, and wet-finger tracking. The phone is powered by a Snapdragon 630 processor with 4 GB of RAM and 64 GB of storage. A standard 16-megapixel camera adorns the back and an 8-megapixel shooter is on front. Other specs include USB-C, 3.5mm headphone jack, FM radio, Bluetooth 5.0, and a 4,500mAh battery with Quick Charge 4.0. Cat says the S61 will go on sale during the second quarter. Pricing in the U.S. is expected to be in excess of $1,000.
---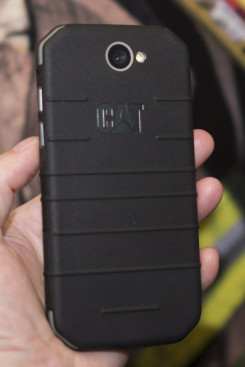 Cat's latest rugged smartphones are the S41 and the S31. These two handsets are tough hombres that can handle plenty of punishment thanks to their mil-spec 810G and IP68 ratings. With stock Android Nougat on board and advanced features such as wet-finger tracking and underwater photography, there's plenty to like about these chunky work phones. Here are our initial impressions.
---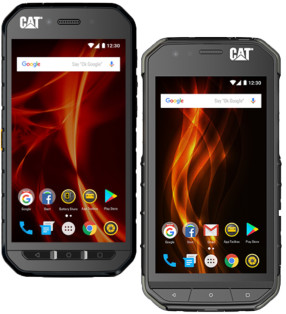 Cat Phones today announced the S41 and S31 smartphones, updates to models from last year. Cat handsets are actually manufactured by Bullitt Group, which licenses the Cat brand. Like most Cat Phones, the S41 and S31 are fully ruggedized mil-spec 810G handsets and more or less impervious to damage from drops, shock, moisture, dust, altitude temperature extremes, and similar dangers. Each is rated IP68 for protection against water and dust. The phones include programmable PTT buttons and run Android 7 Nougat. Each handset has varying degrees of support for U.S. LTE bands, but for the most part they are compatible with AT&T and T-Mobile.
Cat S41: The S41 is the more well-spec'd of the two handsets. It has as 5-inch full HD display with Gorilla Glass 5 and wet finger tracking. The S41 is powered by a 2.3 GHz octa-core MediaTek processor with 3 GB of RAM and 32 GB of storage. The main camera has a 13-megapixel sensor with LED flash and PDAF, while the selfie camera has an 8-megapixel sensor. Both cameras can operate when the phone is under water. The battery measures in at 5,000mAh and provides up to 44 days of standby time or 38 hours of talk time. The phone can be used to power up other devices. The S41 costs about $475 and will go on sale in Europe beginning August 31.
S31: This handset is slightly smaller than the S41 thanks to its 4.7-inch screen at 720p resolution with Gorilla Glass 3 and wet finger tracking. It relies on a quad-core 1.3 GHz Snapdragon processor from Qualcomm with 2 GB of RAM and 16 GB of storage. The main camera has an 8-megapixel sensor while the front camera has a 2-megapixel sensor. The S31 has a 4,000mAh battery. It goes on sale later this year for about $355.
---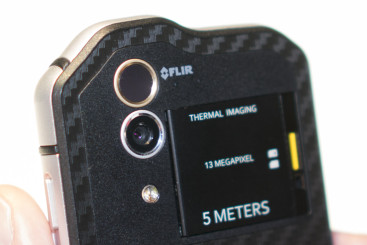 CAT recently announced the S60, a rugged phone with one very unique feature: a true thermal imaging "camera" built right in. CAT has a short but respectable history releasing very rugged phones that might appeal to construction and other field workers. But there are a few specific sub-sets of this category that would find thermal imaging very useful, and this phone is for them. It's also an extremely waterproof phone, down to 5 meters of depth, which is very deep for a phone. Read on to find out more about the S60 and how it actually works.
---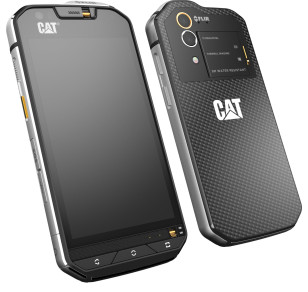 Cat Phones today announced the S60 smartphone, a fully rugged handset that is the first to include a thermal camera. The thermal camera allows the S60 to see and take pictures of heat signatures at a range of 50 to 100 feet. Cat says the camera can be used to view heat loss around windows/doors, see over-heating electrical appliance, and see in the dark. The S60 is also more waterproof than most other rugged handsets. It can sit in five meters of water for up to an hour. The S60 has a 4.7-inch HD screen with Gorilla Glass 4, wet finger tracking, and glove support. The phone has a large 3800mAh battery and is powered by an octa-core Snapdragon 617 processor with 3 GB of RAM and 32 GB of storage. The Cat S60 has a 13-megapixel main camera and 5-megapixel front camera, and an extra loud speaker. The phone runs Android 6.0 Marshmallow. Cat expects to ship the S60 later this year for $599.
---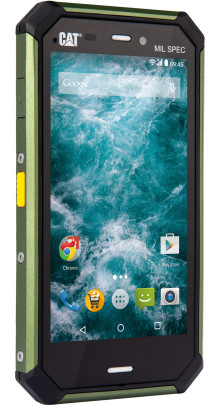 Bullitt today announced the Cat S50c, a new rugged smartphone that's compatible with Verizon's network in the U.S. The S50c has been certified by Verizon for its LTE 4G network, but is being sold online. The S50c has earned a mil-spec 810g rating for protection against drops and abuse, and an IP67 rating for protection against liquid and dust. It can sit in 3.3 feet of water for up to 30 minutes. The 4.7-inch HD Gorilla Glass display supports wet finger and glove tracking, so it can be used in the rain or snow. The phone has a 1.2 GHz quad-core processor with 1 GB of RAM and 8 GB of storage. It supports memory cards up to 64 GB. Cat says the 2,630mAh battery provides a full day of use. It can support PTT services if enabled through Verizon. The phone is being sold by Cat, Amazon.com, Home Depot, Ingram Micro, and authorized Verizon resellers. The Cat S50c costs $399.99.
---