Hands On with the CAT S22 Flip
Article Comments 2
Nov 2, 2021, 12:31 PM by Rich Brome
updated Nov 4, 2021, 11:26 AM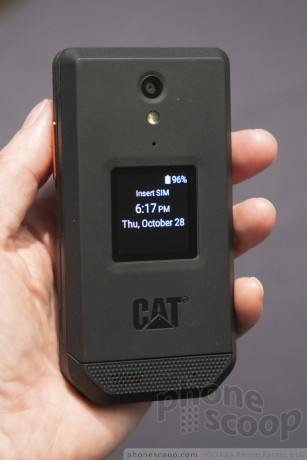 CAT has a new rugged phone for T-Mobile. It's a rugged flip phone, but that's not the most interesting thing about it. What's wild is that this is a flip phone that runs full Android. Well, Android Go, but it has the Play Store and can run third-party Android apps. This possible because the main display inside is a touch-screen. It's an interesting prospect, potentially improving productivity for certain kinds of field workers. We checked it out in person. Read on for our first impressions.
Hardware
This is one big, heavy flip phone. Yes, when closed, it's technically shorter and narrower than most smartphones. But the thickness and blocky shape makes up for it and then some. This one is notably larger than most flip phones, including competing rugged models. The size does have its benefits, though....
On the plus side, it feels very, very rugged. When closed, its tight seams and blocky shape give it a super-solid feel, like a small brick. Surprisingly, it feels no less sturdy when open. Perhaps the extra heft is necessary to make a hinge that feels battle-ready.
Only a phone this large could fit a keypad this large, which is a good thing. I do wish the keys weren't so flat, but they're large enough that you're unlikely to have problems even when wearing gloves.
While I have no doubt this phone can survive rough abuse, I have slight concern about its water resistance. This is one of those phones that relies on tight seals around the battery compartment and ports in order to keep water out. If you're careful to make sure the battery and port covers are in place tightly, it should be fine. But it does require that extra bit of attention and care if you're going to be around water.
Now on to the really interesting part: the display. It's a 2.8-inch touch-screen, which is what allows this phone to run Android and third-party Android apps. I do wish the display were a bit larger, but I imagine that's one of the trade-offs necessary to make the phone sufficiently rugged.
Software
The interface has been tweaked a bit to better fit on such a small display. And it works well enough: you can navigate Android and its apps pretty much as you'd expect. You can also use the d-pad (arrow buttons) in many parts of the interface. This is essential, as it would be highly annoying to have to reach up to the touch-screen for everything.
The software is very basic. It's Android Go, which is a somewhat trimmed-down version of Android. But it does have the essentials like Google Assistant, which is another way to avoid fiddling with the small touch-screen.
The simplicity of the software extends to the outer display. It is technically a color LCD, but you wouldn't know it most of the time, as it usually just shows white text on a black background. Only adjusting the volume did I see a touch of color with a blue volume bar. I couldn't find any options to customize it with color or wallpaper. I assume it will display a color photo when someone in your contacts calls, although I wasn't able to test that. The display is clear and bright enough, and displays the right info; it's very functional.
The camera app is also very basic. It has face detection and automatic flash, but that's it for features. There is an inner camera for selfies. It's too bad you can't seem to use the outer camera and display to take selfies, since that's the better camera (5 megapixel instead of 2).
Summary
This is a really unique phone, for a very specific niche. CAT also offers rugged Android phones in a more traditional smartphone form factor. I can only think of two target markets for this alternative form factor:
First would be people who just — for whatever reason — really like and prefer this clamshell (flip) form factor, but need to run some specific Android app, perhaps for work. Maybe you don't even need it to be rugged, although you do have to be okay with the bulk and heft. But if you need a flip with real Android, there just aren't many other options.
The second would be people who, again, need that one or two Android apps, but don't want a large, easy-to-use screen that will tempt them to waste time. Very few Android games will be enjoyable on this phone — if they're playable at all — nor are you as likely to get sucked into social media content on this tiny screen. It's the same idea as the small-screen Palm phone; this phone provides essential connectivity, but also makes unnecessary use just unpleasant enough that it's easy to put down.
Or maybe you're a manager reading this, thinking your employees might be more productive if this was their work phone.
Of course, if you're considering this phone because you need that one Android app for work, it needs to be an app that can work well on a screen this size. Depending on the app, that could a non-issue, or a big issue. If it's an in-house, custom app, it might need some tweaking to adapt the interface for phones like this.
My key take-aways from checking it out in person are that it's big, and feels very rugged. If you haven't seen it in person yet, that's what you need to know. Other than that, it's something very unique on market, offering full Android in a flip form factor.
JUNK
Wow! Great concept, horribly done.

The phone now is overheating and stuck for an hour. I popped the battery out to reboot the phone and it is dead. DEAD with a capital D!

If you're in the market for a flip phone from T-Mobile and you want solid, go with the sonim xp3plus
I own this phone, it has bugs
I've owned this phone for a few weeks now. I really wanted a flip with android + 4G + BT + WiFi. But I don't think I can keep it due to a few annoying software features/omissions/bugs.
#3 many apps just don't work well on such a small screen. Notably, some do not support a scroll feature in the settings menu so there are some things I just simply can't click on.
#2 when you want to text message the screen is very very small so I thought I would try T9 input but whenever you select the word, it fails to add a space. So, you manually add a space, but then it stops guessing the next word. VERY annoying.
And #1 reason is when I go to the dialer app to call someone there is no connection to the phonebook. I can go to my phonebook and use it ...
(continues)