CAT Puts Android With Play Store in a Compact Flip Design
Article Comments 2
Sep 16, 2021, 9:28 AM by Rich Brome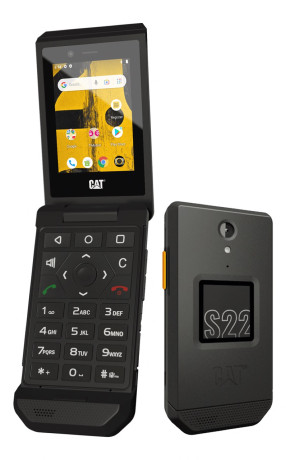 T-Mobile has started selling the CAT S22 Flip, a unique phone that blurs the line between smartphone and flip phone. The S22 Flip has the size and design of a typical rugged flip phone, but its 2.8-inch main display is a touch screen that provides access to the full Android interface, including third-party Android apps. Several other basic phones on the market leverage the open-source version of Android (AOSP) but rework the interface to operate without a touch screen, which makes them incompatible with the third-party apps available in the Play Store. By including a touch screen, the S22 Flip is able to keep the Play Store and access to most Android apps. As a smartphone, the specs are basic, including Android 11 Go Edition, a Qualcomm Snapdragon 215 processor, and 2 GB of RAM. Other specs include a 2,000 mAh battery, VGA screen resolution (480 x 640 pixels), 5 megapixel main camera, 2 megapixel selfie camera, a memory card slot, and an outer display. Like all CAT phones, it has a rugged design, rated IP68, water-proof, washable, drop-proof, and Non-Incendive Class I Division 2 Group A-D T4. It has "extra loud speakers", large buttons, and a programmable PTT button on the side. It comes with a 2-year warranty. T-Mobile is selling the phone now for $234.
This Is the Second New PTT Phone
T-Mobile has now incorporated two companies PTT flip phones into their lineup. Does anyone know which PTT platform they are going with? Will they continue with Kodiak's Direct Connect Plus, but rebrand it, or will it be Motorola's ESChat? Does anyone know?