Hands On with the Coolpad Dyno Watch for Kids
Article Comments
Jan 7, 2019, 10:00 AM by Rich Brome
updated Jan 7, 2019, 3:26 PM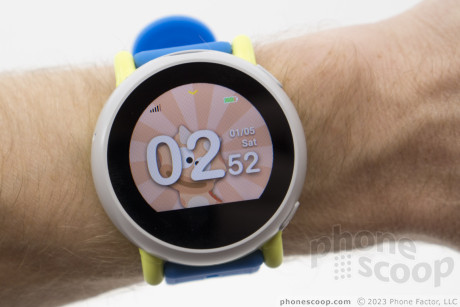 Dyno Smartwatch
Coolpad's new strategy includes a focus on products for families, so it's fitting that their first device of 2019 is a watch for kids. Naturally, it includes real-time GPS location tracking, for parents to keep tabs on their little ones. But Coolpad's fully custom software includes a lot of other thoughtful features, such as voice calling, audio messages, texting, step tracking, and more. It works over 4G LTE, and yet it's surprisingly affordable. We checked it out.
What strikes me about the Dyno Smartwatch is how well thought-out the product is. They've really approached the concept as parents themselves, and tried to imagine the ideal mobile product for kids age 4-9 and their parents.
Giving your kid a phone is great for peace of mind: you can stay in touch at all times, and help is at their fingertips should they ever need it. Even very young kids could benefit, but for a lot of parents, five is too young for a phone. That's where the Dyno Smartwatch comes in, delivering all of the benefits of a phone with none of the downsides for young kids.
The coolest feature of the Dyno is that it works like a Dick Tracy watch-phone. Kids will love this. Your kid can just swipe to "Call", tap, and tap a contact to call that person. That's it.
The contact list is managed by the companion app (available for both Android and iOS) that parents install on their phones. Kids can use an "Add Friend" feature (that uses Bluetooth to establish physical proximity) to add their own Dyno-equipped friends to their contact list, but parents must approve each new contact via the app. The parent-controlled contact list also restricts incoming calls, so you kid won't get any annoying robocalls.
Parents can of course call their kids (from the app). There's also voice messaging and even text messaging. Kids can fire off texts by simply choosing from a list of messages, which parents can customize from the app. So you can program your kid's watch with messages like "pickup is at the north entrance today".
Naturally, there's GPS location tracking. You can see where your kid is on a map at all times. It also has geo-fencing, meaning you can define "safe zones" on the map, and receive an alert the moment your kid leaves that area.
Coolpad calls the Dyno a "smartwatch". Although this uses the same Snapdragon 2100 chip that real smartwatches use, the software here is 100% custom. Smartwatches run apps; the Dyno does not. With that said, it's a good thing that it's not a real smartwatch, given the target users. Perhaps calling it a "smartwatch" will help parents sell their kids on wearing it.
There's a step tracker built in, and it reports back to the app for parents. If you have multiple kids with Dyno watches, the app even shows a leaderboard.
Of course it also tells the time, and has an alarm feature.
The hardware seems sturdy, and it's quite comfortable to wear. (I have small wrists, so I feel like a decent judge for it.) It's rated IP65 so it can handle some rain and hand-washing. The bands come in pink and blue (both included) and are an inert type of rubber that won't give sensitive skin a rash. It's too bad the two band colors are so... blatantly gendered. (Are all girls super into pink throughout ages four to nine? No.)
There are two buttons on the right side: a lock/home button, and the SOS button. The SOS button calls the designated emergency contact. If that person can't be reached, it presents the option to call 911.
The screen is small-ish and has the "flat tire" shape that would be annoying on a grownup smartwatch, but I'm pretty sure your kid won't care. What matters is that the screen is bright and colorful enough.
Your kid might care that it's on the thick side, but that's how Coolpad fit in a 605 mAh battery that they claim can last 2.5 days. It charges via a standard microUSB port on the left side.
The software is colorful and animated, with a "dino" theme. Adorable little dinosaurs adorn each main menu screen, without getting in the way. The touchscreen interface couldn't be simpler: just swipe side-to-side and tap to select a main function. Some functions then have vertical scrolling. That's it. You can also swipe down on the watch face to choose a different face design; there are several, all of them well-designed. Overall, it's excellent software that works well.
I wish I could say the same about the companion app. It's unnecessarily confusing at first. But I think you'll get the hang of it after a day or so.
The watch will sell for about $150 from dynokids.com. There's also the service, which you sign up for via the app and runs about $10/month. The Dyno watch supports 4G LTE bands 2 and 4, and uses both AT&T and T-Mobile networks.
Check out our video to see it in action:
No messages