Kyocera's Next Rugged Smartphone Will Have 5G, Might Look Like This
Article Comments
Jan 7, 2020, 4:08 PM by Rich Brome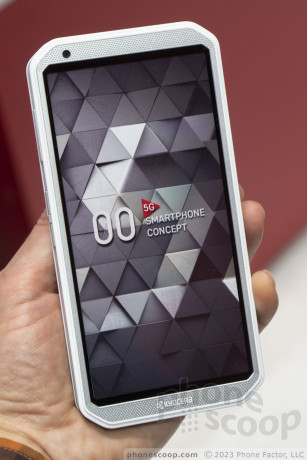 Kyocera is at CES this year showing off mock-ups of 5G devices under development, including their next rugged smartphone for the US, which will have 5G. Kyocera's Product Planning Manager Curtis Wick confirmed to Phone Scoop that the company is still actively developing rugged smartphones for the US market, similar to the DuraForce Pro 2 that is currently offered by AT&T and Verizon. The mock-up shown at CES is not a functional prototype, nor the final design. But it shows the direction the company is going with its designs.
source: Kyocera
Article
The mock-up definitely echoes Kyocera's design language, but the white/silver colorway and cleaner design look nicer than past models from the company. Together with the angular elements, it has a futuristic look that reminds me of Tesla's Cybertruck.
This mock-up has three cameras on the back, which would certainly be consistent with industry trends.
No messages