TCL's New 10 Series Phones Include 5G Model Under $500 (Hands-On)
Article Comments
Jan 6, 2020, 3:00 PM by Rich Brome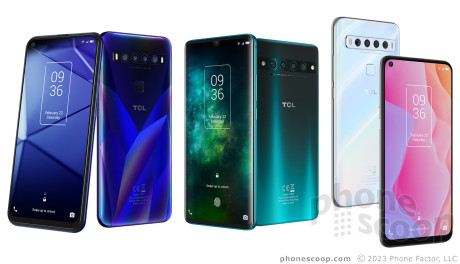 TCL 10 Pro
After "soft-launching" with the Plex phone last year, TCL is now previewing its first widely-available lineup of own-brand phones: the 10 series, all of which offer premium features for under $500. TCL officially announced very few details of the three phones, but shared more with Phone Scoop in a hands-on session. All three models offer four rear cameras. The TCL 10 5G offers sub-6 GHz 5G powered by the new Qualcomm Snapdragon 765 chip and an extra-large battery. It also has a large display with a "hole punch" for the selfie camera in the top-left corner. A fingerprint reader is located on the back. The 10 Pro has a premium design with a curved-edge AMOLED display, in-display fingerprint reader, matte glass back with reflective gradient effect, and metal frame. It will be available in black and green. The 10L (L for Lite) is similar in design to the 10 5G, but thinner and lighter. The 10L and 10 Pro will be available in the US unlocked for under $500 in the second quarter. TCL did not announce launch details for the 10 5G, but said it would also be priced starting under $500. Further details on the 10 series will be announced at the MWC trade show in late February. Read on for more details and our hands-on impressions.
source: Alcatel
Article
10 Pro
The 10 Pro is definitely my favorite of TCL's new 10 series. It has an excellent design that's extremely well-executed.
Matte glass backs on phones are all the rage right now, and for good reason. Done correctly, they're gorgeous, and practical in that the finish doesn't show finger smudges as easily. The one on the TCL 10 Pro is possibly the best I've seen. It combines that matte finish with a curved shape, shimmer effect, and color gradient. That sounds like a lot going on, but the shimmer and gradient are subtle enough that everything combines well. The overall effect is much classier than it might sound.
The stripe across the camera area gives it a distinctive design. When so many phones look alike, a little touch like this goes a long way.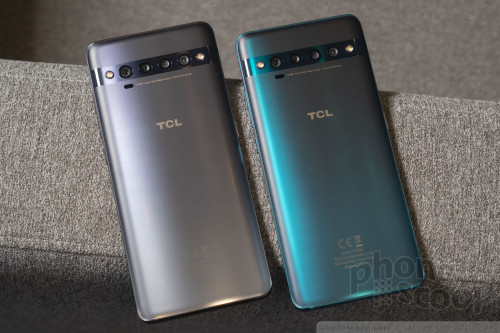 I love the green color, but the charcoal is quite handsome as well thanks to the combination of finishes.
The pretty back is not the only thing I liked about the 10 Pro. It has a precise metal frame that feels extremely high-end. The best part, though, is the width. It's the narrowest of the bunch, and that makes a huge difference in how it feels. Combine the narrow width with the curved glass (front and back) and you have a phone that's a genuine pleasure to hold. It feels at home in your hand.
The side keys are very thin, which makes them a tad uncomfortable to press, but that's common on phones with curved-edge displays.
And that curved AMOLED display looks quite nice, indeed. TCL makes its own displays and is new to AMOLED, but it looks like they've done a nice job with this one.
The cameras include a 64 megapixel main camera and a macro camera, which seems to be the new gimmick in 2020. There's also what appears to be laser auto-focus.
10 5G
After handling the 10 Pro, I was slightly disappointed to pick up the 10 5G. It doesn't feel nearly as high-end. In fact, it's more like a thicker, heavier 10L (that being the cheapest of the series, which I'll go into next.) I wouldn't say it feels cheap; the design is fine. I'm just surprised it doesn't have a more "premium" feel, when the 10 Pro proves that TCL is more than capable of executing that well.
Presumably, this is the tradeoff to put 5G in a phone under $500. 5G chips are almost certainly priced at a premium, so TCL had to trim elsewhere to reach that price point.
The rear finish is one of the crazier designs I've seen, and I've seen some wild ones lately. It changes completely as you move the phone around. In bright light, angular patches of bright rainbows catch your eye. But turn the phone a little and that design fades, and even disappears completely, leaving a black-to-lavender gradient. It's certainly unique.
TCL isn't releasing official specs yet, but the phone's software reported the processor as a Snapdragon 756G, which is the turbo-charged gaming version of Qualcomm's integrated 5G chip. That may be why TCL's press release refers to the processor as "Qualcomm's recently announced Snapdragon 7-Series 5G SoC". If they said "765", that wouldn't technically be accurate if it's really the 765G. But it's also possible that they haven't yet decided which chip to put in the final version.
Text on the back also confirms a 64-megapixel main camera plus macro camera, but there doesn't seem to be laser AF on this one. Unlike the flush cameras on the 10 Pro, there's a notable camera hump on the 10 5G. The fingerprint reader is on the back, instead of integrated into the display as on the 10 Pro. I'm no fan of the current generation of in-display fingerprint readers, so that's just fine by me.
TCL confirmed to me that the 10 5G won't support mmWave 5G, but they also said that phones with mmWave 5G are definitely on their roadmap.
10L
The 10L is the "Lite" model in the 10 series. It's much like the 10 5G, but thinner and lighter. You can probably also expect a little less storage and a 600-series Snapdragon chip. But you still get four rear cameras; that seems to be a hallmark feature of the 10 series.
Printed on the back is text indicating a 48 megapixel main camera and a macro camera.
TCL brand
This is just part of the 10 series. TCL says to expect more 10-series phones down the road, possibly this year.
The 10 Pro and 10L will come to the US as unlocked phones in Q2. But TCL is also working on getting TCL-branded phones like the 10 series into the lineups of US carriers. Nothing is finalized yet, but TCL would like to have that happen within 2020, and those discussions are happening.
No messages