CES 2020
The mother of all trade shows, the Consumer Electronics Show takes over Vegas in early January. Some phones are usually announced, and we'll have hands-on reports for each one. This year, we expect news from TCL, Alcatel, OnePlus, Kyocera, and more. Plus we'll have hands-on details of other interesting accessories, apps, and services in the world of phones.
Bookmark this page and don't miss a thing!
Also, follow us on Twitter for up-to-the-second news and extras:
All Coolpad Verizon TCL T-Mobile more... Discuss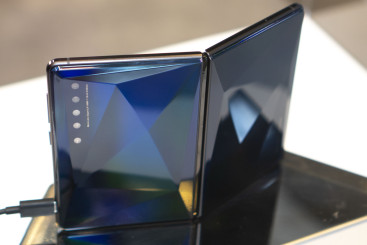 TCL has put out a few folding-screen concepts in the past year, and now they have a new one to show off at CES. It's a little more polished and functional than previous concepts, but it's also definitely not market-ready. The device resembles a small Android tablet when open, but is smaller than a phone when closed. In an interview with Phone Scoop, TCL spokesperson Jason Gerdon said that TCL currently plans to bring a foldable phone to market in 2020, but isn't trying to "rush it"; the company won't hesitate to delay their first foldable if the software and/or market isn't ready. We had some time with the concept model. Read on for our impressions and thoughts.
---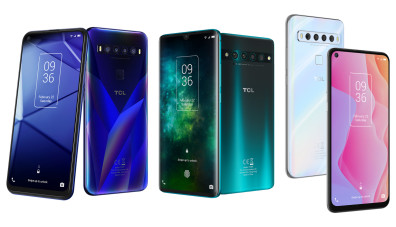 After "soft-launching" with the Plex phone last year, TCL is now previewing its first widely-available lineup of own-brand phones: the 10 series, all of which offer premium features for under $500. TCL officially announced very few details of the three phones, but shared more with Phone Scoop in a hands-on session. All three models offer four rear cameras. The TCL 10 5G offers sub-6 GHz 5G powered by the new Qualcomm Snapdragon 765 chip and an extra-large battery. It also has a large display with a "hole punch" for the selfie camera in the top-left corner. A fingerprint reader is located on the back. The 10 Pro has a premium design with a curved-edge AMOLED display, in-display fingerprint reader, matte glass back with reflective gradient effect, and metal frame. It will be available in black and green. The 10L (L for Lite) is similar in design to the 10 5G, but thinner and lighter. The 10L and 10 Pro will be available in the US unlocked for under $500 in the second quarter. TCL did not announce launch details for the 10 5G, but said it would also be priced starting under $500. Further details on the 10 series will be announced at the MWC trade show in late February. Read on for more details and our hands-on impressions.
---