MWC 2018
All Samsung Nokia LG Sprint more... Discuss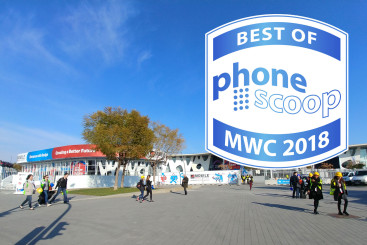 In the world a mobile phones, Mobile World Congress is the main event. Taking place each year in Barcelona, it's where the world sees what's in store for phones and networks that year. Trends take shape and phones are launched. We check out everything in person, and pick our favorites with our Best of MWC awards. This year, three phones stood out.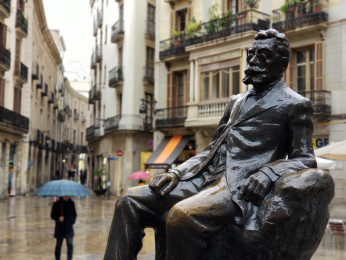 Samsung's Galaxy S9+ has a powerful camera that allows you to really flex your creative muscle. We spent an afternoon strolling La Rambla in Barcelona experimenting with some of the camera modes. Here are some sample images, with a focus on comparing the differences between the f/1.5 and f/2.4 apertures.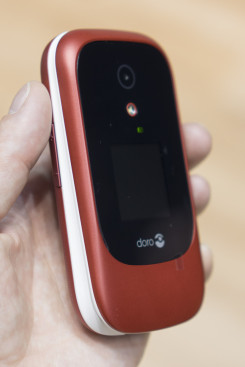 Doro has long made a name for itself as a purveyor of simple phones for older folks. Their latest entry is a super-basic, old-school flip phone with classic, easy-to-use design, Doro's special easy interface, and unique software powering it. We take it for a quick spin in this hands-on.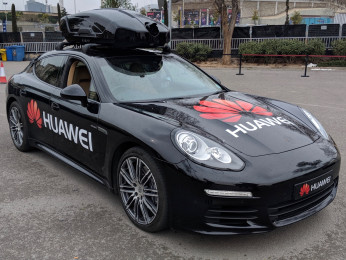 Huawei had some fun in Barcelona this year. The phone maker put the artificial intelligence inside its flagship Mate 10 Pro smartphone to use steering a Porsche around an obstacle course. Want to know what it was like for a phone to drive a car? We recount the experience here.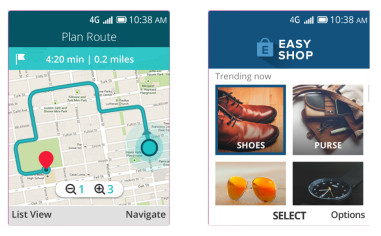 Kai says its small operating system is about to get a lot bigger. The company has struck agreements with Airfind, Facebook, Google, and Twitter, each of which will offer its core apps to the fledgling platform. KaiOS is based on HTML5 (the old Firefox OS) and can run on devices with as little as 512MB of RAM. Kai's goal is to serve as the platform of choice for the 500 million feature phones sold to those who want or need something less expensive than a modern smartphone. Airfind will bring its news and weather apps to KaiOS, while Google will bring Search, Assistant and Maps, and Facebook and Twitter will each bring their namesake apps. Kai has scored some wins with hardware makers, too. For example, Nokia's 8110 5G "banana" phone runs KaiOS, as does the new Doro Phone 7050, and a forthcoming device from Bullitt Group. Kai also has the support of silicon makers NXP, Spreadtrum, and Qualcomm. KaiOS' HTML5 core is easily targeted by developers. What gives Kai a leg up on older platforms is its support for 4G. Kai expects to launch a storefront for these apps in the coming months.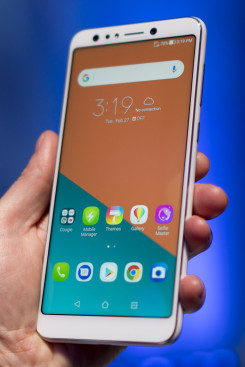 Asus has a "lite" version of its flagship prepped for a March release. It will be called the Zenfone 5Q in the US. This phone isn't quite like the more high-end Zenfone 5. Instead, the Zenfone 5 Lite offers middling specs in a middling piece of hardware. It is unique in that it has four cameras, so that's something. Here are our first impressions.
Asus today announced the Zenfone 5, its flagship handset for the year. The Zenfone 5 takes a lot of cues from some well-known competing devices complete with a notch in the display. The 5z is a version in the same exact body with upgraded internal specs. It's a premium device thanks to glass surfaces, metal frame, and high-quality cameras. Here are our first impressions.
Asus today revealed its new flagship series handsets, the Zenfone 5, Zenfone 5 Lite, and Zenfone 5z. All three phone run Android 8 Oreo with the new ZenUI 5.0
Zenfone 5 Lite / 5Q:Called the Zenfone 5Q in the US, this low end of the series has 2.5D curved class on the front and rear with a plastic frame in between. It boasts a 6-inch full HD+ 18:9 display. The Zenfone 5Q has four cameras, with an ultra-wide, 120-degree lens on each side. The main sensor on the rear captures 16-megapixel images, while the selfie camera has a Sony 20-megapixel sensor. It features a number of shooting modes, including portrait/bokeh. The phone is powered by a Snapdragon 630 processor and will come with in 3 GB / 32 GB and 4 GB / 64 GB configurations. The phone ships with a 3,300mAh battery. Other features include NFC, dual SIM, face unlock, speaker, and microUSB.
Zenfone 5: The middle of the pack is powered by a Snapdragon 636 processor with 6 GB of RAM. It features a massive 6.2-inch display with a 19:9 aspect ratio with full HD+ resolution. It can automatically adjust the color temperature to suit its surroundings. The display features a notch, similar to the iPhone X, where it holds an array of sensors and more. Asus shrunk the size of the status bar icons to ensure they fit. Tapping them will drop the notifications down so they are all visible. The camera includes OIS and an aperture of f/1.8 for the 12-megapixel main camera, which has a Sony IMX363 sensor. The front camera has an 8-megapixel sensor with an aperture of f/2.0. The camera relies on AI-assisted scene detection to adjust for the subject. The company uses AI to improve the efficiency of the 3,300mAh battery, particularly when it is not being used. The phone includes stereo speakers and noise-cancelling microphones, DTS, and aptX. It will come with either 4 or 6 GB of RAM and 64 GB of storage. It supports dual SIMs and expandable memory cards.
Zenfone 5z: The star of the series is the Zenfone 5z. It shares nearly all features with the Zenfone 5 — including an identical body externally — but it upgrades to the Snapdragon 845 processor from Qualcomm. Options will include 4, 6, or 8 GB of RAM and 64, 128, or 256 GB of storage.
The Zenfone 5 Lite will go on sale in March, the Zenfone 5 will go on sale in April, and the Zenfone 5z will go on sale in June. The 5z starts at 479 Euro. Pricing for the 5 Lite and the 5 were not shared.
T-Mobile today provided more details concerning its forthcoming 5G network. It will be building 5G across 30 cities in the U.S. this year. It will start with New York City in the 600 MHz and mmWave spectrum bands. Other named cities include Dallas, Las Vegas, and Los Angeles. The company has been fortifying its LTE 4G network with technologies such as carrier aggregation, 4x4 MIMO, 256 QAM, License Assisted Access, and FD-MIMO with 64 antennas (32 transmit, 32 receive). The company is not going to cap its LTE network in any form, continuing to use it for the foreseeable future. All these technologies have helped the company prepare for 5G. T-Mobile says 5G and 4G are going to coexist and live together. T-Mobile reiterated that it will first use its 600 MHz spectrum for 5G, though it is also eyeing the 3.5 GHz mid-band and 28 GHz mmWave spectrum. The FCC expects to auction off 28GHz later this year. T-Mobile didn't specify what mmWave spectrum it will us for its 5G network. T-Mobile sees 5G encompassing fixed broadband (routers), mobile service (phones, AR/VR, wearables, drones), and IoT (sensors, industrial automation). It will cover every inch of the U.S. with some 5G service by 2020 with equipment from Nokia and Ericsson. The company is already deploying 5G NR-capable hardware in its base stations. T-Mobile expects to debut the first 5G smartphones and other products during the first quarter of 2019.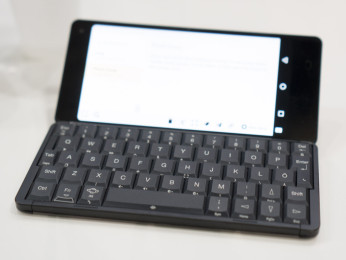 Planet Computers is on a mission to bring back that very specific type of PDA that tried to put a proper QWERTY keyboard in your pocket. No, not a thumb-board like your phone, more like a shrunken laptop. If you remember those old Psion devices, you know exactly what they're going for. This device is aimed at writers, coders, and anyone else who types for a living (and needs to be able to do a lot of it on the go.) The Gemini launched on Indiegogo, and is finally shipping. It's a totally unique device. We took it for a quick spin.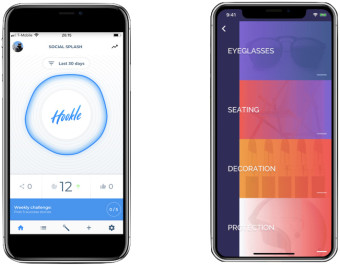 Google today made the first beta release of Flutter available to developers. Flutter is a set of tools that can help developers create user interface designs for Android and iOS. Google says Flutter is quick and easy to use, and can be utilized by experienced and novice developers alike. It includes frameworks for windows, widgets, animations, and image libraries. It includes a GPU-accelerated renderer and native ARM code runtime. It supports accessibility features, right-to-left text, localization, and internationalization. On the iPhone X and iOS 11, it support inline video, additional image formats, and background processes. Google says developers who've been testing the alpha release since last year can switch to the beta channel via Android Studio. The end result, hopes Google, will be better looking and better functioning mobile apps that developers can create once for both Android and iOS.
Sprint today indicated which markets will be first to see 5G service from the carrier at some point in the first half of 2019. Sprint said customers in Atlanta, Chicago, Dallas, Houston, Los Angeles, and Washington, D.C. will be first to experience the company's 5G network. First, however, Sprint plans to bring massive MIMO to Chicago, Dallas and Los Angeles in April, with Atlanta, Houston and Washington, D.C. to follow later this year. Sprint says massive MIMO is a critical bridge that will span its LTE 4G and future 5G networks. The company is preparing to deploy thousands of massive MIMO radios with 128 radios (64 transmit, 64 receive). All Sprint subscribers who have a device with 2.5 GHz (Band 41) will benefit from the increased capacity and speed provided by massive MIMO. Sprint is working with Qualcomm and device manufacturers on 5G mobile devices, which it expects to launch in the first half of 2019.
AT&T has adjusted the pricing of its unlimited service and also debuted a number of discounts and deals on its television services. To start, AT&T's Unlimited Plus Enhanced plan has dropped from $90 per month for the first line to $80 per month. Autopay is required. The plan includes 15 GB of mobile hotspot usage, an increase of 5 GB from earlier plans. At the same time, AT&T raised the price of its Unlimited Choice Enhanced plan from $60 for the first line to $65 for the first line. This plan may include unlimited data, but speeds are capped at 3 Mbps. Additional lines on Unlimited Choice Enhanced are $40 each. Customers who sign up for AT&T Unlimited Plus Enhanced can earn a $15 monthly bill credit towards AT&T's video services, such as DirecTV, U-verse, or DirecTV Now. Customers who sign up for AT&T's Unlimited Choice Enhanced plan will receive a $15 bill credit only on DirecTV Now. AT&T's wireless customers can snag HBO for free when they sign up for DirecTV Now. AT&T's unlimited plan is now more competitive with other carriers. For example, Verizon charges $80 per month for its unlimited plan, T-Mobile charges $70, and Sprint offers unlimited data for free for one year to customers who bring their own device. AT&T didn't say how long the TV-bundling discounts will be available.
Samsung this week provided a bit more information regarding its forthcoming smart speaker. The company says it is targeting the second half of the year to launch the product, and it will be powered by Samsung's Bixby artificial assistant. Samsung warned it won't necessarily be cheap. "When I introduce the first model, I don't want to give the impression that Samsung delivered another affordable mass model. I want to focus on more premium," said Samsung's mobile chief D.J. Koh, in an interview with the Wall Street Journal. The speaker will arrive in time for the holidays, but Samsung hasn't said much else. Apple recently released its HomePod speaker, powered by Siri, and Google has released a slew of Google Home speakers powered by Google Assistant.
MediaTek announced the Helio P60 system-on-a-chip, a processor that adopts artificial intelligence and other advanced features for mid-range devices. The P60 relies on a big.LITTLE architecture with four ARM A73 processors at 2 GH and four ARM A53 processors at 2 GHz. MediaTek says the chip pushes speeds up by 70% and power efficiency by 25% when compared to the P30. It includes an ARM Mali-G72 GPU clocked at 800 MHz for a 12% improvement in mobile gaming. The MediaTek P60 introduce a multi-core AI processing unit that includes facial, object, and scene recognition for security and camera apps. Developers can tap into the MediaTek NeuroPilot AI SDK and Neural Network API to take advantage of these features. MediaTek says the P60 supports dual-camera configurations of up to 20 megapixel and 16 megapixel pairings, or a single camera up to 32 megapixels. The tri-core image signal processor can handle bokeh effects, noise reduction, and support HDR viewing and recording. The P60 is paired with MediaTek's Cat 7 LTE 4G WorldMode Modem with support for dual SIMs, HPUE, and band 71 (for T-Mobile). MediaTek expects to see handsets powered by the Helio P60 reach the market before the end of the second quarter.
Qualcomm today announced the Snapdragon 700 Mobile Platform Series for sub-flagship handsets. This new processor tier is meant to outperform the 600 series while bringing the best tools of the 800 series down to a more affordable price point. Specifically, the Snapdragon 700 will rely in the core Qualcomm AI Engine with the Hexagon Vector Processor, Adreno Visual Processing subsystem, and Kryo CPU to improve camera and video results, speech recognition, and multitasking. The Snapdragon 700 will work hand in hand with the Qualcomm Spectra ISP to boost night-time and slow-motion photography, and bring more advanced camera features to reasonably priced devices. The processor also targets performance. Qualcomm says the chip delivers 30% improvements in power efficiency and battery life when compared to the Snapdragon 660 chip. It supports Quick Charge 4+ and can charge a battery by 50% in 15 minutes. Last, the Snapdragon 700 will be paired with Qualcomm's newer LTE, WiFi, and Bluetooth radios. Qualcomm says the Snapdragon 700 Mobile Platform Series will be available in samples before the end of June.
FCC Chairman Ajit Pai said the agency will commence an auction for 28 GHz airwaves as soon as November. Pai expects the spectrum in question will be used for 5G. As soon as the auction for 28 GHz spectrum is finished, the FCC will move forward with another auction for 24 GHz spectrum for the same purposes. Pai is seeking public input on the idea. "To set the foundation for these auctions, the FCC will ask for public input this spring on the right procedures for these auctions," said Pai in remarks made at the Mobile World Congress trade show in Barcelona. In order for the auctions to proceed, Pai says Congress will need to pass legislation by May 13 concerning upfront payments to be made by potential bidders. The agency is already looking at the use of 6 GHz spectrum for 5G based on feedback provided by the public last year. Future 5G networks will likely be deployed on low-band, mid-band, and high-band spectrum. For example, T-Mobile expects to launch 5G using its 600 MHz spectrum (low) holdings, while Sprint is looking at its 2.5 GHz spectrum (mid) for 5G. Further, the FCC says it has already changed some rules to help speed up 5G deployment. "We want to remove outdated rules and make it easier to deploy wireless infrastructure," said Pai. Relaxing rules governing how cell sites are deployed will let carriers put small cells where they need to in order to densify their networks. The FCC Chairman also spent time espousing the value of his open internet order, which removes net neutrality rules. He called the "light-touch regulation" one of the major pillars to his approach to 5G.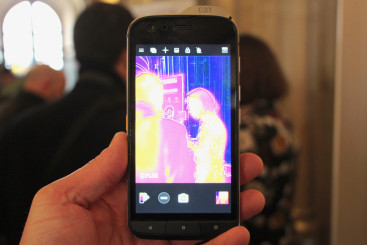 Cat Phones has a new rugged flagship at Mobile World Congress this year and it takes the Flir heat-capture camera to a new level of productivity. This phone is tough as nails and still lets people measure temperature, air quality, and distance/area with a laser. Here are our thoughts on this rugged powerhouse.
A handful of companies have banded together with the goal of bringing real broadband to airplane passengers. The founding members of the Seamless Air Alliance include Sprint, Delta, Airbus, OneWeb, and Airtel. The idea is to let carriers "extend their services into airline cabins" so passengers have immediate access to high-speed internet while in the air. Mobile network operators would be able to reach airline passengers through the Seamless Air Alliance's satellites, which the group claims deliver the "same high speed, low latency connectivity from ground, to air and back again" as traditional cellular networks. One of the goals is to improve the on-boarding process. Today's in-flight WiFi service often requires painful connection steps that include entering credit card information. The Seamless Air Alliance believes in can "eliminate the immense costs and hurdles commonly associated with acquisition, installation, and operation of data access infrastructure" on airplanes with an open specification for interoperability. "With our 5G network rolling out next year we're investing heavily to make sure our customers have the best mobile internet experience possible," said Dow Draper, CCO at Sprint. "As an initial member of the Seamless Alliance, we're looking forward to enabling customers to experience Sprint's high-speed connectivity in the air, hassle-free." The founding members are inviting others to join the initiative.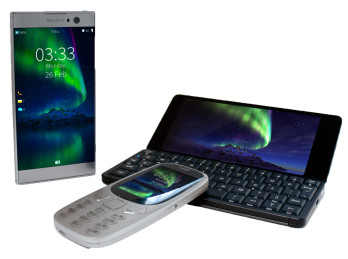 Jolla today revealed Sailfish 3, a significant update to its Linux-based mobile operating system. Jolla is targeting Sailfish 3 at inexpensive devices, such as feature phones, PDAs, and similar hardware. Jolla says the updated platform is chock full of new functionality. To start, the platform is offering developers a handful of new APIs, providing new access to the camera, VPN, location, WebEngine, and crypto. It now supports the latest version of Qt with 30% faster performance. Many of the new tools focus on business users. For example, it packs full cloud integration, enhanced security (biometrics, device wipe), and corporate mobile device management. On the connectivity side, it brings expanded support for VoLTE and Bluetooth Low Energy. Sailfish 3 also introduces new themes and animations, and improves multitasking with a new top menu. Jolla says Sailfish 3 will roll out during the third quarter of 2018. Jolla, formed by former Nokia employees, had originally hoped Sailfish would become a rival to Android. For now, the company is focusing on Latin America, Russia, and China.
ZTE has built a respectable presence in the U.S. market and doesn't want that to change. The company plans to make "more effort to build the trust among the people in Washington," according to mobile device CEO Lixin Cheng. "We understand the concerns, and respect the concerns of different agencies of the United States government," said Cheng in an interview with CNN. "We promise we are going to work very openly, as we did before, [and] transparently to address their needs and their concerns." ZTE and Huawei were recently called out by the heads of the CIA, FBI, and NSA, who consider the Chinese companies a security risk. ZTE has spent the last few years building strong relationships with U.S. carriers. It now accounts for about 11% of the market thanks to low-cost phones such as the ZMax and XMax. Cheng indicated ZTE will do what it must to ensure it can continue to sell phones to Americans. Earlier this week, the company unveiled new devices, the Blade V9, Blade V9 Vita, and Tempo Go.
LG popped out new K series devices this week. LG's K series generally represent entry-level phones. The K10 and K8 definitely fall into that category, but represent a welcome improvement in design and quality. These devices would do well with U.S. carriers as affordable alternatives to today's flagships. Though LG hasn't announced specific plans to sell the phones in the U.S., it's likely variants of them will show up eventually. Here are our first impressions.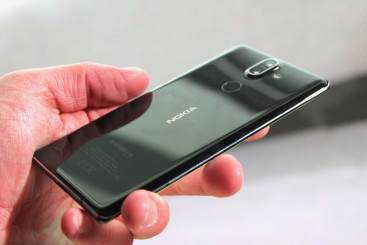 HMD Global debuted no fewer than three brand new handsets, including the Nokia 1 with Android Go, at Mobile World Congress this year. The devices range from an $85 entry-level phone to an $800 exercise in design chops. None of these phones support the LTE bands to work in North America, but we took a quick look anyway. Here are our first impressions.
The Nokia 8110 is HMD Global's attempt to tug at our heart strings. This throw-back handset conjures up a popular phones from nearly 20 years ago and adds a dash of modernity to it. Here's a quick look at this nostalgia play.
Sony's new flagship phones for 2018 pack all the bells and whistles into a curvy new glass design. Both phones include top-end features like a Snapdragon 845 processor, 2:1 ratio display, stereo speakers, HDR video capture and viewing, water resistance, and advanced cameras. The larger XZ2 sports an advanced haptic engine and fast wireless charging. The smaller XZ2 Compact continues to be one of the only truly small Android phones available with top-end specs. Here are our first impressions checking them out in person.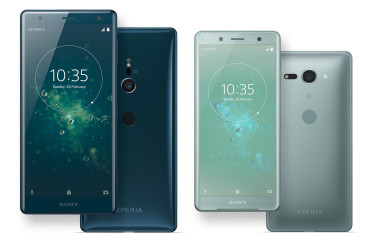 Sony today announced the Xperia XZ2 and Xperia XZ2 Compact smartphones, two devices that take on a brand new design aesthetic the company calls Ambient Flow. The phones feature a metal frame and deeply curved rear panels. The XZ2's rear panel is glass made by Corning, while the XZ2 Compact's rear panel is made from polycarbonate. The XZ2 has a 5.7-inch display in the 18:9 aspect ratio with full HD+ (2,160 by 1,080 pixels) resolution. The XZ2 Compact's screen shrinks down to 5 inches, but maintains the same resolution. The phones share nearly all specs other than size. Sony opted for the Qualcomm Snapdragon 845 premium processor with 4 GB of RAM and 64 GB of storage. The phones rely on Sony's imaging sensor with embedded DRAM. The main camera captures 19-megapixel images at up to ISO 12,800 and can snag 4K video, or 960fps slow-motion video in full HD. The user-facing camera has a 5-megapixel sensor with Sony's 3D Creator software for mapping 3D scans of people's faces. Sony said it has improved the software, which now produces more details images. Sony gave the phones S-Force stereo speakers and the larger XZ2 has a Dynamic Vibration System haptic-driven subwoofer. The phones support Cat 18 LTE with 4x4 MIMO and 5-channel carrier aggregation for theoretical download speeds up to 1.2 Gbps. The XZ2 includes a 3,180mAh battery with wireless and rapid charging. Other specs include NFC, fingerprint reader, Bluetooth, GPS, WiFi, USB-C, and support for memory cards up to 400 GB. The phones will ship in the late spring unlocked with Android 8.0 Oreo. Pricing will be revealed at a later date.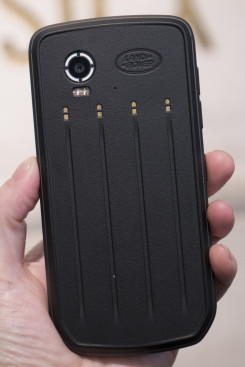 Bullitt, the company responsible for CAT and Kodak phones, has recently added a new brand to its portfolio: Land Rover. The Land Rover Explore is a tough-yet-capable phone with features designed for the same adventure-seeking crowd that Land Rover vehicles are associated with. Like a Land Rover, the phone is tough and adaptable, while being a bit luxurious as well. Read on for our first impressions.
Samsung today said it partnered with UCSF to create an app that will allow S9 and S9+ owners to gauge their health. The My BP Lab app, which will be free to download from the Google Play Store, uses the optical heart rate monitor of the S9 and S9+ to monitor blood pressure and stress levels. Over time, it can create personalized insights for people so they may try to improve their daily health. People who download the app will be invited to join a UCSF study to track stress and emotions and how each impacts users' well being. Those who opt to participate will need to report about their behavior over a three-week period, such as when they exercise, sleep, and eat. They'll have to take multiple measurements throughout the day in order to create enough data for the study. Samsung says the My BP Lab app will become available starting March 15.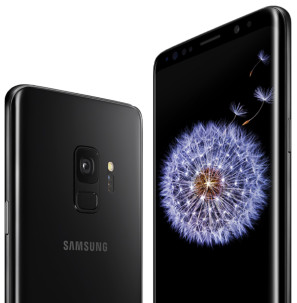 All four major carriers in the U.S. plan to sell the Samsung Galaxy S9 and S9+ beginning in March. Preorders for the phones kick off March 2 and the handset is expected to be available in stores on March 16. Samsung itself is selling the unlocked version via its web site. The S9 costs $720 and the S9+ costs $840. Customers can apply for financing from Samsung to break down the cost of the phone over 24 months. Samsung is offering app to $350 off the price with a qualifying trade-in. Pricing from U.S. carriers varies significantly.
AT&T: AT&T is asking subscribers to its AT&T Next plans to pay $26.34 per month for 30 months for the S9 (total: $790), or $30.50 per month for 30 months for the S9+ (total: $915). AT&T says business customers can get a $150 activation credit with they by the S9 or S9+ on an installment plan. The devices support Band 14, and thus the AT&T-run FirstNet public safety network. AT&T's prepaid brand, Cricket Wireless, plans to sell the Galaxy S9 and S9+ at full cost.
Sprint: Sprint is selling the S9 for $33.00 per month with $0 down on a Sprint Flex lease (total: $792). The Galaxy S9+ will be $38.00 per month with $0 down on a Sprint Flex lease (total: $912).
T-Mobile: T-Mobile is asking customers to pay $30 per month for 24 months for the S9 with $0 down (total: $720), and $30 per month for 24 months for the S9+ with $120 down (total: $840) For a limited time, postpaid customers can get up to $360 off either phone with a qualifying trade-in when the S9 or S9+ is purchased on an equipment installment plan. T-Mobile's prepaid brand, MetroPCS, will sell the Galaxy S9 starting March 16 for full price.
Verizon Wireless: Last, Verizon Wireless is charging $33.33 per month for 24 months for the S9 (total: $799) and $38.74 per month for 24 months for the S9+ (total: $930). Customers who switch to Verizon, port in their line, and trade in an old phone may get up to $500 in bill credits towards the purchase of a Galaxy S9 or S9+.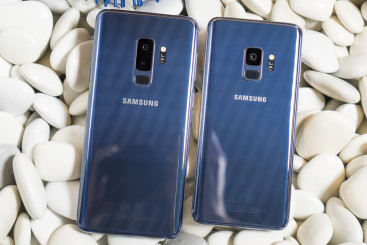 Samsung's new flagship handsets, the Galaxy S9 and S9+, are here and they offer lots to be excited about. Samsung took the wining design of last year's phones and upped the ante with improvements to the chassis, cameras, and software. The S9 and S9+ are Samsung's most powerful, and perhaps most fun, smartphones ever. Here are Phone Scoop's first impression.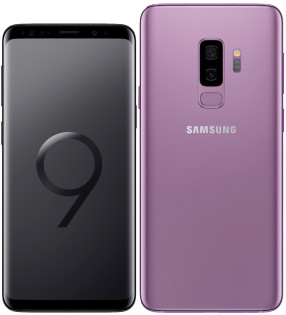 Samsung today announced the Galaxy S9 and S9+ phones, updates to last year's S8 models. The devices bear a striking resemblance to their predecessors and make only modest changes to the hardware. The S9/S9+ feature 2:1 screens with slightly reduced bezels and glass panels front and back. Most significantly, Samsung rotated the camera/fingerprint module so the reader is in a central location on the rear. The phones also adopt stereo speakers with Dolby Atmos and produce louder sound than the S8/S8+. The S9/S9+ carry over features such as the waterproof chassis, USB-C port, headphone jack, and dedicated Bixby button. Samsung made significant improvements to the camera. The 12-megapixel cameras now include switchable aperture, from f/1.5 to f/2.4, to help with low-light situations. The camera sensor includes embedded DRAM memory — similar to Sony's premium phones — that allows the S9/S9+ to capture 960fps slow-motion. The slow-mo mode includes a motion detection function so it knows when to slow down the video for maximum effect. Each phone also includes an 8-megapixel selfie camera, along with face and iris scanning for security. Samsung added AR Emoji, a tool that echos the Animoji feature on the iPhone X to a certain degree. Users record their face which is then turned into a cartoon avatar and applied to 18 different personalized GIFs. The AR Emoji also let users animate faces such as a devil, and even apply (and purchase) various types of makeup. Further, S9/S9+ owners can easily save and share the AR Emoji with most other devices. Samsung says the S9/S9+ include a more refined version of Bixby that is now able to recognize more actions. More importantly, Bixby Vision now works in real-time, allowing for instant language translation and searches when viewing items through the camera. The devices ship with Android 8 Oreo, the Samsung SmartThings app, and the latest version of Samsung's DeX software. Samsung's SmartThings will allow the S9/S9+ to interact with other connected Samsung devices, such as refrigerators. The DeX software now works with a new dock that lets the phone act as a virtual mouse and/or keyboard. The S9 includes a 5.8-inch quad HD+ screen and 3,000mAh battery, while the S9+ includes a 6.2-inch quad HD+ screen and 3,500mAh battery. The only other difference in the hardware is found on the rear of the S9+, which features a second camera for 2x telephoto images. Both phones rely on the Qualcomm Snapdragon 845 processor with 4 or 6 GB of RAM and 64 GB of storage. The phones support microSD cards up to 400 GB. Preorders for the Galaxy S9 and S9+ kick off March 2 and the phones will reach stores March 16. Samsung is offering up to $350 for trade-ins when put toward the purchase of an S9/S9+. The phone will be sold in black, purple, and blue in the U.S. AT&T, Cricket Wireless, MetroPCS, Sprint, T-Mobile, U.S. Cellular, Verizon Wireless, and Xfinity Mobile all plan to carry the phone. It will also be available form Best Buy, Amazon, Costco, Sam's Club, Target, and Walmart. Pricing is about $799 for the S9 and $899 for the S9+.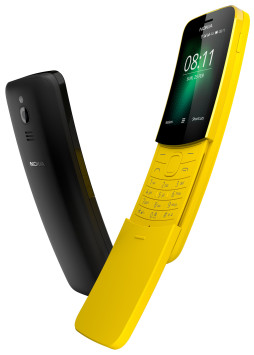 HMD Global today announced the Nokia 8110, a feature phone that bears a striking resemblance to the Nokia handset used "The Matrix" from 1999. The 8110 is banana-shaped so it better fits the owner's face during phone calls. A plastic slider drops down to reveal the keypad. The phone has 2.4-inch full-color display and is based on the Snapdragon 205 processor with 512 MB of RAM and 4 GB of storage. It includes a 2-megapixel camera and ships with the refreshed Snake game of old. It supports European LTE bands. It goes on sale in May for $80.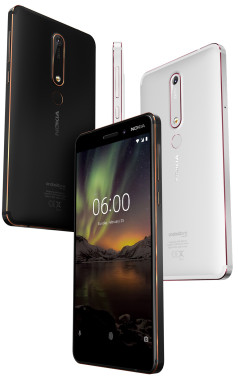 HMD Global today showed off a new version of the Nokia 6. The phone carries over the same design as the original, but improves the specs under the hood. It includes a 5.5-inch screen and premium materials. Key features include NFC and a fingerprint reader. It jumps from the Snapdragon 435 to the Snapdragon 630 and comes with either 3 GB of RAM and 32 GB of storage or 4 GB of RAM and 64 GB of storage. The frame is milled from 6000 series aluminum and now comes in black/copper, white/iron, and blue/gold. Other features include face unlock, wireless charging, USB-C, and Android 8 Oreo. It goes on sale in April for about $300.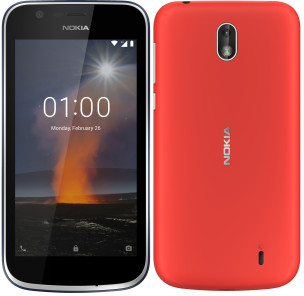 HMD Global today announced the Nokia 1, an affordable, entry-level smartphone that runs the Android Oreo Go platform. The phone features swappable rear covers, a feature the former Nokia called Xpress-On covers. The shell is made from polycarbonate with metal inserts to help strengthen the chassis. The phone includes a 4.5-inch FWVGA display and is powered by a quad-core MediaTek processor clocked at 1.1 GHz with 1 GB of RAM and 8 GB of storage. The main camera has a 5-megapixel sensor with LED flash, while the front camera has a 2-megapixel camera. Both are fixed focus. Other features include Bluetooth, FM radio, GPS, LTE, and WiFi; a 2,150mAh removable battery; and microUSB port and 3.5mm headphone jack. The Android 8 Oreo Go Edition platform includes slimmed down versions of Google's core apps so the device runs smoothly. The Nokia 1 goes on sale in April.
HMD Global today announced the Nokia 7 Plus, a large Android slab machined from a single block of aluminum with copper accents. HMD Global says the rear is coated with a "ceramic-feel" paint for texture. The Nokia 7 Plus feature a 6-inch display with the 18:9 aspect ratio and full HD+ (2,160 by 1,080) resolution. The phone is powered by a Snapdragon 660 processor with 4 GB of RAM and 64 GB of storage. The phone has dual cameras on the back, both with Zeiss optics. The main sensor captures 12-megapixel images at f/1.75 and the secondary sensor captures 13-megapixel images at f/2.6 and offers 2x telephoto zoom. The selfie camera has a 16-megapixel sensor. The Nokia 7 Plus includes a "bothie" feature, which lets people take photos with the main and front cameras at the same time. Moreover, owners can apply AR stickers to bothies for fun. The phone packs a massive 3,800mAh battery that HMD Global says delivers two days of battery life. The battery also supports rapid charging. Other hardware features include Bluetooth 5.0, GPS, WiFi, LTE, and spatial audio. It relies on a USB-C connector and also offers a 3.5mm headset jack. The phone runs Android One, which means HMD Global has committed to offering rapid updates and security patches. The Nokia 7 Plus goes on sale in April for $399.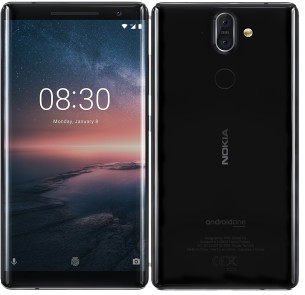 HMD Global today unveiled the Nokia 8 Sirocco, a stylish update to the Nokia 8. The phone has a stainless steel frame and curved Gorilla Glass 5 on the front and back. A 5.5-inch quad HD plastic OLED screen adorns the face. The Nokia 8 adopts the Snapdragon 835 processor with 6 GB of RAM and 128 GB of storage. The Nokia 8 Sirocco has the same camera configuration as the Nokia 7 Plus. The phone has dual cameras on the back, both with Zeiss optics. The main sensor captures 12-megapixel images at f/1.75 and the secondary sensor captures 13-megapixel images at f/2.6 and offers 2x telephoto zoom. The selfie camera has a 5-megapixel sensor with a display-based flash. The Nokia 8 Sirocco includes Dual Sight for "bothies." The software includes a new pro mode for manual control over the shutter and other features. The 3,260mAh battery supports rapid charging and wireless charging. The phone meets IP67 for protection against quick drops into water. Other features include Bluetooth 5.0, GPS, WiFi, LTE, and USB-C. It runs Android 8 Oreo One. The Nokia 8 Sirocco will be available in April for about $800.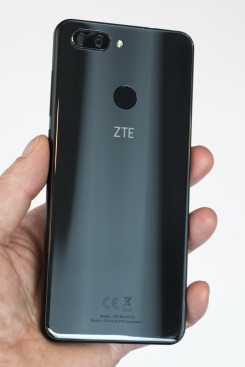 The latest in ZTE's Blade series phones are the V9 and V9 Vita. These devices bring ZTE's design language in line with current trends by adopting 18:9 displays. They also put the competition on notice with dual cameras designed to take better low-light photographs. Here is Phone Scoop's first look at the latest from ZTE.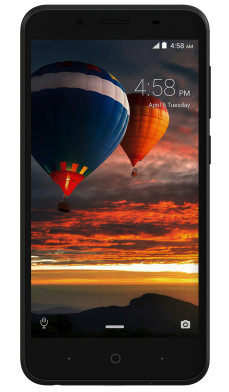 ZTE today announced the Tempo Go, a version of the Tempo X that adopts the Android Go platform. Android Go is Google's slimmed-down version of Android for ultra low-cost devices with RAM of 1 GB of less. Earlier this week, Google promised that more Android Go phones would arrive shortly, and the Tempo Go is leading that wave. The Tempo Go has a 5-inch display with 854 by 480 pixels (FWVGA) and it is powered by a Snapdragon 210 processor with 1 GB of RAM and 8 GB of storage. Other features include a 5-megapixel rear camera and 2-megapixel front camera, microUSB, 3.5mm headset jack, WiFi, Bluetooth, GPS, and a 2,200mAh battery. The Tempo Go will be sold unlocked with support for the LTE 4G networks of AT&T and T-Mobile. Pricing wasn't immediately announced.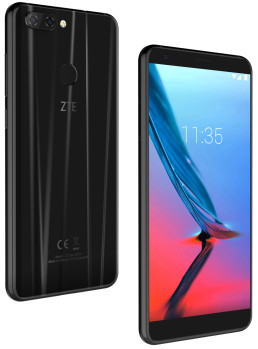 ZTE today expanded its lineup of Blade series handsets with the Blade V9 and V9 Vita. These mid-range handsets bring the Blade series up-to-date with competing designs by adopting the 18:9 aspect ratio display. Shared features between these two phones include Android 8 Oreo, dual rear cameras, microUSB, 3.5mm headphone jack, memory card support, GPS, Bluetooth, and WiFi.
Blade V9: The V9 (pictured) drops the plastic build common to ZTE's older Blade designs for an aluminum frame and glass panels on front and back. The screen measures 5.7 inches and includes full HD+ resolution (2,160 by 1,080). It is powered by a 1.8 GHz octa-core processor and comes in a variety of RAM (2 to 4 GB) and storage (16 to 64 GB) configurations. The V9's dual camera system includes a 16-/5-megapixel combo on the rear and either an 8- or 13-megapixel camera on front. ZTE says it made significant efforts in improving low-light performance of the camera, and the dual-lens system allows people to take bokeh/portrait-style images. The V9's front camera supports Facebook detection for waking and unlocking the phone. Other stand-out features include NFC, fingerprint reader, and 3,100mAh battery. It comes in black or gold.
Blade V9 Vita: The Vita dials back the size and specs when compared to the premium V9. It drops the metal and glass for a polycarbonate shell that forms the entire rear of the device. The screen is reduced to 5.45 inches at HD+ (1,440 by 720) resolution. It is powered by a Snapdragon 435 processor with 2 GB of RAM and 16 GB of storage. The Vita also has a dual rear camera system with a 13-/2-megapixel configuration and a 8-megapixel shooter on front. The phone has a 3,200mAh battery and it comes in black, pink, blue, and dark blue.
ZTE said neither of these phones is slated to reach the U.S. immediately, but they may show up under different names from carriers such as MetroPCS or Cricket Wireless.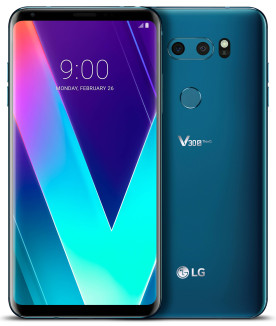 LG today updated its V30 smartphone with several new features and is now calling it the V30S ThinQ. The majority of specs of the phone are unchanged. The V30S ThinQ includes 6 GB of RAM and 128 GB of storage, while the V30S+ ThinQ includes 6 GB of RAM and 256 GB of storage. The new handsets ship with Android 8 Oreo, and they are now available in new Moroccan Blue and Platinum Gray colors. Along with Oreo, LG has updated the software to include a handful of new tools under the auspices of its ThinQ artificial intelligence platform. First up is Voice AI, which LG says are custom commands for Google Assistant made available only to the V30S ThinQ. These allow users to run apps and change settings through voice commands alone. For example, V30S ThinQ owners can tell their device to take a panorama, time-lapse, or slow-motion photo, perform an image search, or scan a QR code, among other actions. These new commands join 23 existing commands already available to the original V30. Next, LG is taking aim at the camera with Vision AI, or the ability to recognize objects and adjust shooting parameters to capture better photos. Some of the initial scenes the V30S ThinQ will be able to recognize include portraits, food, pets, landscapes, cityscapes, flowers, sunrises, and sunsets. The camera will automatically analyze the surrounding scene to adjust focus, white balance, and shutter speed based on what it sees. LG says it has scanned some 100 million images to create a database of known objects to compare against. Last, the V30S ThinQ gains a new low-light shooting mode called Bright Mode that should deliver far more accurate results when shooting in the dark. LG says Bright Mode relies on its AI-based algorithms to brighten images by a factor of two for better looking photos without the noise. LG didn't say when the updated V30S ThinQ would go on sale, nor which markets it will be sold in.