MWC 2018
The world's largest annual mobile event - Mobile World Congress - takes place on the last days of February. We're on the ground in Barcelona to bring you all of the week's news. Tune in here for our full coverage, including hands-on with new phones from Samsung, ZTE, Nokia, Sony, Alcatel, Huawei, and more.
Also, follow us on Twitter for up-to-the-second news and extras:
All Samsung Nokia LG Sprint more... Discuss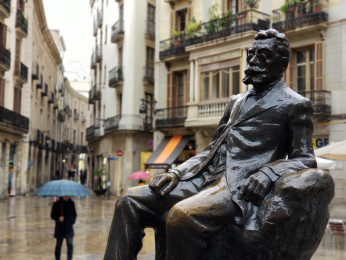 Samsung's Galaxy S9+ has a powerful camera that allows you to really flex your creative muscle. We spent an afternoon strolling La Rambla in Barcelona experimenting with some of the camera modes. Here are some sample images, with a focus on comparing the differences between the f/1.5 and f/2.4 apertures.
---
Samsung this week provided a bit more information regarding its forthcoming smart speaker. The company says it is targeting the second half of the year to launch the product, and it will be powered by Samsung's Bixby artificial assistant. Samsung warned it won't necessarily be cheap. "When I introduce the first model, I don't want to give the impression that Samsung delivered another affordable mass model. I want to focus on more premium," said Samsung's mobile chief D.J. Koh, in an interview with the Wall Street Journal. The speaker will arrive in time for the holidays, but Samsung hasn't said much else. Apple recently released its HomePod speaker, powered by Siri, and Google has released a slew of Google Home speakers powered by Google Assistant.
---
Samsung today said it partnered with UCSF to create an app that will allow S9 and S9+ owners to gauge their health. The My BP Lab app, which will be free to download from the Google Play Store, uses the optical heart rate monitor of the S9 and S9+ to monitor blood pressure and stress levels. Over time, it can create personalized insights for people so they may try to improve their daily health. People who download the app will be invited to join a UCSF study to track stress and emotions and how each impacts users' well being. Those who opt to participate will need to report about their behavior over a three-week period, such as when they exercise, sleep, and eat. They'll have to take multiple measurements throughout the day in order to create enough data for the study. Samsung says the My BP Lab app will become available starting March 15.
---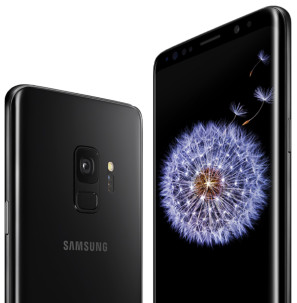 All four major carriers in the U.S. plan to sell the Samsung Galaxy S9 and S9+ beginning in March. Preorders for the phones kick off March 2 and the handset is expected to be available in stores on March 16. Samsung itself is selling the unlocked version via its web site. The S9 costs $720 and the S9+ costs $840. Customers can apply for financing from Samsung to break down the cost of the phone over 24 months. Samsung is offering app to $350 off the price with a qualifying trade-in. Pricing from U.S. carriers varies significantly.
AT&T: AT&T is asking subscribers to its AT&T Next plans to pay $26.34 per month for 30 months for the S9 (total: $790), or $30.50 per month for 30 months for the S9+ (total: $915). AT&T says business customers can get a $150 activation credit with they by the S9 or S9+ on an installment plan. The devices support Band 14, and thus the AT&T-run FirstNet public safety network. AT&T's prepaid brand, Cricket Wireless, plans to sell the Galaxy S9 and S9+ at full cost.
Sprint: Sprint is selling the S9 for $33.00 per month with $0 down on a Sprint Flex lease (total: $792). The Galaxy S9+ will be $38.00 per month with $0 down on a Sprint Flex lease (total: $912).
T-Mobile: T-Mobile is asking customers to pay $30 per month for 24 months for the S9 with $0 down (total: $720), and $30 per month for 24 months for the S9+ with $120 down (total: $840) For a limited time, postpaid customers can get up to $360 off either phone with a qualifying trade-in when the S9 or S9+ is purchased on an equipment installment plan. T-Mobile's prepaid brand, MetroPCS, will sell the Galaxy S9 starting March 16 for full price.
Verizon Wireless: Last, Verizon Wireless is charging $33.33 per month for 24 months for the S9 (total: $799) and $38.74 per month for 24 months for the S9+ (total: $930). Customers who switch to Verizon, port in their line, and trade in an old phone may get up to $500 in bill credits towards the purchase of a Galaxy S9 or S9+.
---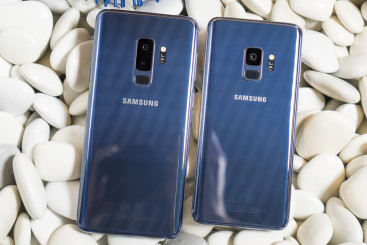 Samsung's new flagship handsets, the Galaxy S9 and S9+, are here and they offer lots to be excited about. Samsung took the wining design of last year's phones and upped the ante with improvements to the chassis, cameras, and software. The S9 and S9+ are Samsung's most powerful, and perhaps most fun, smartphones ever. Here are Phone Scoop's first impression.
---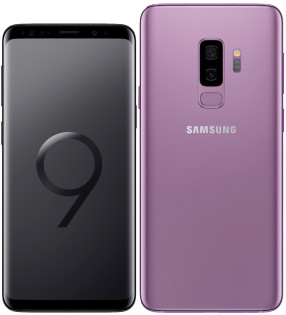 Samsung today announced the Galaxy S9 and S9+ phones, updates to last year's S8 models. The devices bear a striking resemblance to their predecessors and make only modest changes to the hardware. The S9/S9+ feature 2:1 screens with slightly reduced bezels and glass panels front and back. Most significantly, Samsung rotated the camera/fingerprint module so the reader is in a central location on the rear. The phones also adopt stereo speakers with Dolby Atmos and produce louder sound than the S8/S8+. The S9/S9+ carry over features such as the waterproof chassis, USB-C port, headphone jack, and dedicated Bixby button. Samsung made significant improvements to the camera. The 12-megapixel cameras now include switchable aperture, from f/1.5 to f/2.4, to help with low-light situations. The camera sensor includes embedded DRAM memory — similar to Sony's premium phones — that allows the S9/S9+ to capture 960fps slow-motion. The slow-mo mode includes a motion detection function so it knows when to slow down the video for maximum effect. Each phone also includes an 8-megapixel selfie camera, along with face and iris scanning for security. Samsung added AR Emoji, a tool that echos the Animoji feature on the iPhone X to a certain degree. Users record their face which is then turned into a cartoon avatar and applied to 18 different personalized GIFs. The AR Emoji also let users animate faces such as a devil, and even apply (and purchase) various types of makeup. Further, S9/S9+ owners can easily save and share the AR Emoji with most other devices. Samsung says the S9/S9+ include a more refined version of Bixby that is now able to recognize more actions. More importantly, Bixby Vision now works in real-time, allowing for instant language translation and searches when viewing items through the camera. The devices ship with Android 8 Oreo, the Samsung SmartThings app, and the latest version of Samsung's DeX software. Samsung's SmartThings will allow the S9/S9+ to interact with other connected Samsung devices, such as refrigerators. The DeX software now works with a new dock that lets the phone act as a virtual mouse and/or keyboard. The S9 includes a 5.8-inch quad HD+ screen and 3,000mAh battery, while the S9+ includes a 6.2-inch quad HD+ screen and 3,500mAh battery. The only other difference in the hardware is found on the rear of the S9+, which features a second camera for 2x telephoto images. Both phones rely on the Qualcomm Snapdragon 845 processor with 4 or 6 GB of RAM and 64 GB of storage. The phones support microSD cards up to 400 GB. Preorders for the Galaxy S9 and S9+ kick off March 2 and the phones will reach stores March 16. Samsung is offering up to $350 for trade-ins when put toward the purchase of an S9/S9+. The phone will be sold in black, purple, and blue in the U.S. AT&T, Cricket Wireless, MetroPCS, Sprint, T-Mobile, U.S. Cellular, Verizon Wireless, and Xfinity Mobile all plan to carry the phone. It will also be available form Best Buy, Amazon, Costco, Sam's Club, Target, and Walmart. Pricing is about $799 for the S9 and $899 for the S9+.
---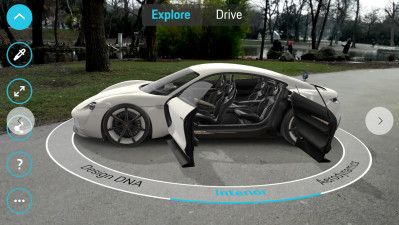 Google today made ARCore 1.0 available to developers and the public, bringing augmented reality to some 100 million smartphones around the world. Handsets compatible with ARCore include Google's Pixel, Pixel XL, Pixel 2, and Pixel 2 XL; Samsung's Galaxy S8, S8+, Note8, S7, and S7 edge; LGE's V30 and V30+; Asus's Zenfone AR; and OnePlus's OnePlus 5. More devices from Samsung, Huawei, LG, Motorola, Asus, Xiaomi, HMD/Nokia, ZTE, Sony Mobile, and Vivo will be compatible with ARCore later this year. The 1.0 release gives developers an updated set of tools to create virtual content. For example, it features improved environmental understanding that lets people put virtual objects on surfaces like posters, furniture, toy boxes, books, cans, and more. The refreshed Android Studio Beta supports ARCore in the Emulator, so developers can get to work right away. Some of the first brands to offer ARCore content include Porsche, FC Barcelona, and Sotheby's. Google says it is expanding the availability of the Google Lens Preview, which lets you take a picture and gather information about what's in the image. Google says Lens will hit all Google Photos English-language users over the coming weeks. Further, Google is going to add Google Lens to its Google Assistant on select Android flagship devices. Lens lets people create contacts from business cards, recognize plants and animals, and add events to their calendar by taking photos.
---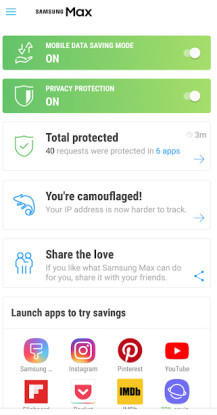 Samsung today announced Samsung Max, a free app for Android devices that will provide new data conservation and security tools. The app, a reborn version of the former Opera Max app, includes Data Saving Mode to help people stretch their mobile data buckets a bit further each month. The app can monitor which apps are using data and alert users to apps that consume too much. It also helps by actively compressing images, videos, music files, and web pages within apps and the browser to keep data consumption down. People can fine-tune how Data Saving Mode polices other apps in the advanced settings tools. On the security front, Samsung Max includes Privacy Protection Mode, a VPN for securing phones when on WiFi. It encrypts WiFi traffic with a single tap, blocks trackers and cookies, and includes a Domain Name System masking service to hide the user's location. Samsung says Samsung Max will reach the Google Play Store on February 23. The company will also preinstall it on some devices later this year.
---