MWC 2018
The world's largest annual mobile event - Mobile World Congress - takes place on the last days of February. We're on the ground in Barcelona to bring you all of the week's news. Tune in here for our full coverage, including hands-on with new phones from Samsung, ZTE, Nokia, Sony, Alcatel, Huawei, and more.
Also, follow us on Twitter for up-to-the-second news and extras:
All Samsung Nokia LG Sprint more... Discuss
LG popped out new K series devices this week. LG's K series generally represent entry-level phones. The K10 and K8 definitely fall into that category, but represent a welcome improvement in design and quality. These devices would do well with U.S. carriers as affordable alternatives to today's flagships. Though LG hasn't announced specific plans to sell the phones in the U.S., it's likely variants of them will show up eventually. Here are our first impressions.
---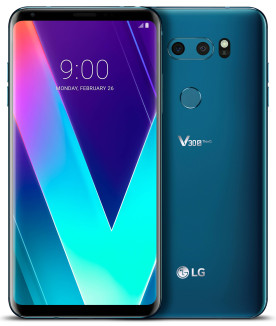 LG today updated its V30 smartphone with several new features and is now calling it the V30S ThinQ. The majority of specs of the phone are unchanged. The V30S ThinQ includes 6 GB of RAM and 128 GB of storage, while the V30S+ ThinQ includes 6 GB of RAM and 256 GB of storage. The new handsets ship with Android 8 Oreo, and they are now available in new Moroccan Blue and Platinum Gray colors. Along with Oreo, LG has updated the software to include a handful of new tools under the auspices of its ThinQ artificial intelligence platform. First up is Voice AI, which LG says are custom commands for Google Assistant made available only to the V30S ThinQ. These allow users to run apps and change settings through voice commands alone. For example, V30S ThinQ owners can tell their device to take a panorama, time-lapse, or slow-motion photo, perform an image search, or scan a QR code, among other actions. These new commands join 23 existing commands already available to the original V30. Next, LG is taking aim at the camera with Vision AI, or the ability to recognize objects and adjust shooting parameters to capture better photos. Some of the initial scenes the V30S ThinQ will be able to recognize include portraits, food, pets, landscapes, cityscapes, flowers, sunrises, and sunsets. The camera will automatically analyze the surrounding scene to adjust focus, white balance, and shutter speed based on what it sees. LG says it has scanned some 100 million images to create a database of known objects to compare against. Last, the V30S ThinQ gains a new low-light shooting mode called Bright Mode that should deliver far more accurate results when shooting in the dark. LG says Bright Mode relies on its AI-based algorithms to brighten images by a factor of two for better looking photos without the noise. LG didn't say when the updated V30S ThinQ would go on sale, nor which markets it will be sold in.
---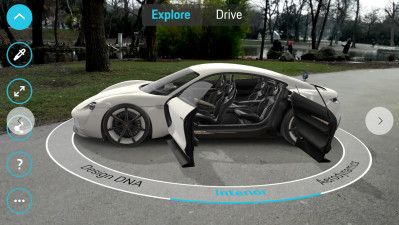 Google today made ARCore 1.0 available to developers and the public, bringing augmented reality to some 100 million smartphones around the world. Handsets compatible with ARCore include Google's Pixel, Pixel XL, Pixel 2, and Pixel 2 XL; Samsung's Galaxy S8, S8+, Note8, S7, and S7 edge; LGE's V30 and V30+; Asus's Zenfone AR; and OnePlus's OnePlus 5. More devices from Samsung, Huawei, LG, Motorola, Asus, Xiaomi, HMD/Nokia, ZTE, Sony Mobile, and Vivo will be compatible with ARCore later this year. The 1.0 release gives developers an updated set of tools to create virtual content. For example, it features improved environmental understanding that lets people put virtual objects on surfaces like posters, furniture, toy boxes, books, cans, and more. The refreshed Android Studio Beta supports ARCore in the Emulator, so developers can get to work right away. Some of the first brands to offer ARCore content include Porsche, FC Barcelona, and Sotheby's. Google says it is expanding the availability of the Google Lens Preview, which lets you take a picture and gather information about what's in the image. Google says Lens will hit all Google Photos English-language users over the coming weeks. Further, Google is going to add Google Lens to its Google Assistant on select Android flagship devices. Lens lets people create contacts from business cards, recognize plants and animals, and add events to their calendar by taking photos.
---
Google says its Android Messages app is on the upswing thanks to new RCS-based tools and growing support from phone makers and wireless network operators. To start, brands now have more power to interact with consumers thanks to RCS business messaging. Google says brands can "send more useful and interactive messages" to their customers with photos, videos, and links for purchasing. A number of companies have been testing RCS business messaging via Google's Early Access Program. Some include 1-800 Contacts, 1-800-Flowers.com, Booking.com, SnapTravel, and Subway — all on Sprint in the U.S. Google says more businesses will be deploying richer messaging via the Android Messages app over the coming months. The Android Messages app has gained a lot of traction with phone makers and carriers, and more support is on the way. Moving forward, Alcatel, BlackBerry, Transsion, Blu, Positivo, Multilaser, Mobiwire, Azumi, and Essential will all preload Android Messages as the default SMS/messaging app. A number of phone makers already offer Android Messages, including Huawei, LG, HMD Global, HTC, Kyocera, Motorola, Sony, and ZTE. The app has a growing footprint with carriers, as well. Google says America Movil, AT&T in Mexico, Celcom Axiata Berhad, Freedom Mobile, Oi, Telia Company, and Telefonica have joined Deutsche Telekom, Globe Telecom, Orange, Rogers Communications, Sprint, and Telenor in their commitment to launch RCS messaging. Sprint is the lone U.S. carrier to go all-in with Google's RCS and Android Messages. AT&T and Verizon each offers its own RCS-based messaging client for Android handsets. Google believes this new momentum for RCS and Android Messages will eventually mean a better messaging experience between people, brands, and more.
---
Google today said the Google Assistant is prepared to grow in a number of significant ways. First, the voice-activated tool is picking up some new languages. Google says Assistant will speak Danish, Dutch, Hindi, Indonesian, Norwegian, Swedish, and Thai on Android phones and iPhones in the next few months, with more languages on the way. Google expects Assistant to understand as many as 30 languages by the end of the year. Further, Google Assistant will be able to understand multiple languages at a time, meaning people can speak both English and German to their Assistant without changing settings. This feature will first be available between English, French, and German, with other languages to follow. Google also noted that it is working more directly from carriers and phone makers to improve Assistant. For example, LG, Sony, and Xiaomi are all prepared to rollout device-specific commands and features based on Google Assistant. Moreover, carriers Sprint, Koodo, Telus, and Vodafone are developing integrations with Assistant. Between the phone makers and carriers, Google expects Assistant to support individual device features, customer service queries, and more. Last, Google Assistant is adding two new tools to help people manage their day. Routines let people issue one command and set off a chain of actions. For example, say "Hey Google, I'm home" and the Assistant on Google Home or phone can turn on the lights, share any home reminders, play your favorite music, and more. Location-based reminders have now expanded to Google Home speakers. People can tell Assistant on their speaker to set reminders for specific locations, such as to get milk when at the store, and the alert will popup when appropriate. Google expects to bring even more features to Assistant throughout the year.
---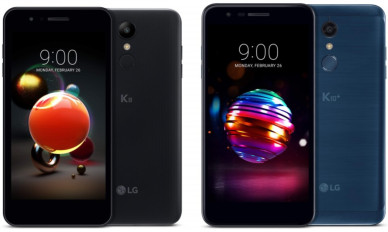 LG today revealed two new handsets, 2018 updates to its K8 and K10 mid-range series. Both phones carry over the previous generations' pebble-shaped contours and 2.5D arc glass, but make advancements in the materials. The K10, for example, has a U-shaped metal frame while the K8 relies on polycarbonate. Shared features between the new K8 and K10 include improved low-light photography thanks to Low Light Noise reduction that's combined with HDR to eliminate grain and provide more luminosity and contrast. The cameras also gain a new Timer Helper feature that uses the flash as a visual guide during timer countdowns. The Flash Jump Shot feature takes one photo every three seconds and pastes them together into a shareable GIF. Shared specs include LTE, GPS, Bluetooth 4.2, WiFi, FM radio, microUSB, and Android 7 Nougat.
K10: The larger of the two phones includes a 5.3-inch 720p display and a 1.5 GHz octa-core processor. It will ship with 2 or 3 GB of RAM and 16 or 32 GB of storage, depending on the variant. The phone features a 13-megapixel main camera and either a 5- or 8-megapixel wide-angle front camera. The selfie camera can capture bokeh-style shots. Other features include a 3,000mAh battery and fingerprint reader.
K8: The K8 steps down to a 5-inch 720p display and a 1.3 GHz quad-core processor with 2 GB of RAM and 16 GB of storage. The rear camera has an 8-megapixel sensor while the front camera has a 5-megapixel sensor. It has a 2,500mAh battery.
LG says both phones will be sold globally, though it didn't specify if the K8 or K10 will reach North America. The phones come in blue, black, or gold. LG didn't say when the phones will go on sale.
---