Hands On with the Sony Xperia XZ2 and XZ2 Compact
Xperia XZ2 Xperia XZ2 Compact Comments 1
Feb 26, 2018, 2:45 AM by Rich Brome @rbrome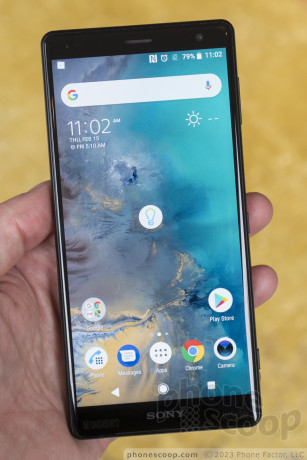 Sony's new flagship phones for 2018 pack all the bells and whistles into a curvy new glass design. Both phones include top-end features like a Snapdragon 845 processor, 2:1 ratio display, stereo speakers, HDR video capture and viewing, water resistance, and advanced cameras. The larger XZ2 sports an advanced haptic engine and fast wireless charging. The smaller XZ2 Compact continues to be one of the only truly small Android phones available with top-end specs. Here are our first impressions checking them out in person.
Advertisements article continues below...
Sony has long been known for having a unique design language that stands out from the competition. Those days may be over, as the company's new "Ambient Flow" design looks to me like a generic blend of everything the competition is doing right now with their high-end phones. Which isn't to say it looks bad; the XZ2 looks absolutely lovely thanks to fully 3D-curved glass on both front and back. But everyone is doing curved glass these days, and the shape of the XZ2 is nothing unique. It looks an awful lot like the HTC U11, actually.
Hardware
The front is blank aside from the screen and logo. The glass on the front has a curved surface that extends well over the display area. This might add to glare a bit, but it didn't seem too problematic in my brief time with it. The front-facing stereo speakers are all but hidden behind thin slits.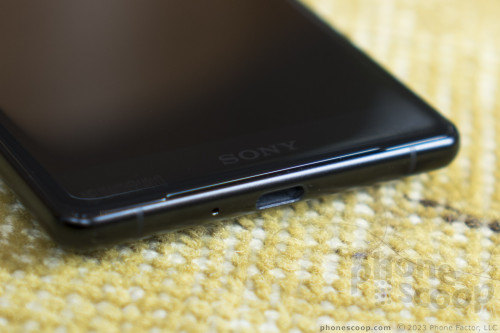 The metal frame forms round sides. The one distinguishing design feature is that the glass back is all curve; no part of it is flat. The curved back allows the sides to be quite thin, making the phone feel exceptionally thin overall. The materials feel as high-quality as you'd expect for a phone that's 100% curved glass and metal.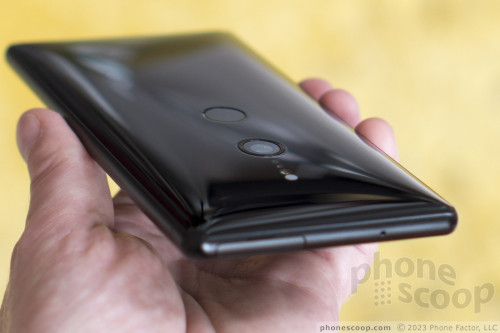 Sony has finally adopted the modern 2:1 ratio with its screens, and that means the XZ2 has a 13% larger screen — and yet a narrower body overall — compared to last year's XZ1. It's an improvement, but not as much as it should be. The bezels around the display still seem slightly larger than they should be for a phone of this class. I really wish this phone were closer to "all screen". Still, the narrower body and curvy design make this phone a pleasure to hold.
Sony has given up on its unique, side-mounted fingerprint readers. In 2018, all of its phones have fingerprint readers on the back. Thankfully, the readers will also be functional on the versions shipping the U.S..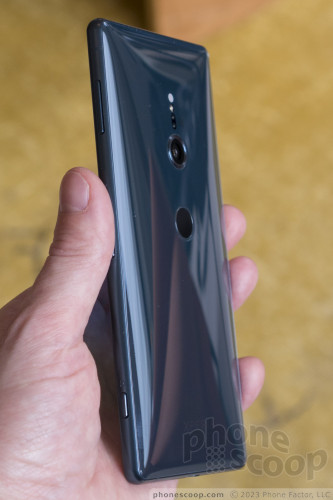 The camera and fingerprint reader are both mounted lower on the back (closer to the center) than almost every other phone I've held. Sony claims this is on purpose, to put the fingerprint reader in a natural position for you index finger. Unless the phone was designed for small children's hands, I call shenanigans. Every time I picked it up, my index finger fell naturally right on the camera lens, and I do not have particularly large hands. I noticed other journalists having the same issue. It's made worse by the fact that the camera lens and fingerprint reader are the same size and shape; they're difficult to tell apart by feel, which is just poor design. Users will probably get used this placement over time, but expect to fumble for the reader and put photo-ruining smudges on the lens for the first few weeks of using this phone. I suspect the true reason for this is that Sony needed to put the camera module close to the thickest part of the curved back, but it's frustrating.
The other annoyance with the hardware is the lack of a 3.5mm audio jack. An adaptor will be included in the box. Sony wasn't sure whether USB-C earbuds would be included, and that may vary by region.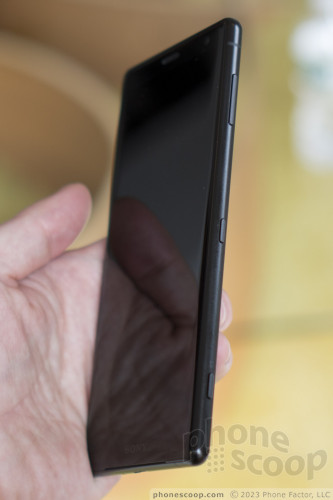 The side keys are small, but are designed well, and work well. Sony has kept the dedicated two-stage camera button, which is delightful.
There are a ton of high-end features for those with discerning eyes and ears. The XZ2 can display HDR10 video from places like Netflix, Amazon, and YouTube. Uniquely, it can also record 4K HDR video.
I can say that the screen looks nice, but I personally can't tell the difference between HDR and non-HDR video content. The display isn't Quad-HD, but it still looks plenty sharp for most purposes. (Quad-HD would only really matter for VR, but Sony's choice of LCD technology more or less rules that out anyway, for technical reasons.)
The XZ2 has front-facing stereo speakers that are 20% louder than on the XZ1. They have "surround sound", but it didn't do much for me when I tried it. The speakers are pretty decent for a phone, but phone speakers are never going to deliver any kind of bass.
Dynamic Vibration System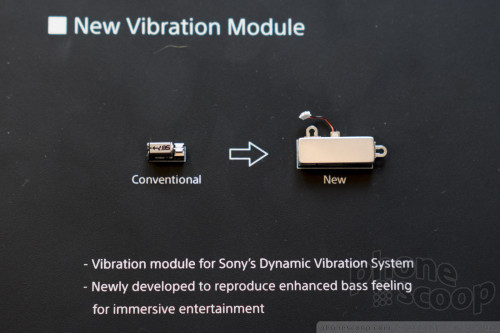 Dynamic Vibration System
To address this, Sony has replaced the usual little vibration motor with a full-on haptic engine (a fancy vibration generator). It looks a lot like Apple's "Taptic Engine" and I would guess is essentially identical. What's unusual is what Sony is using is for: a subwoofer, essentially. Sony calls it "Dynamic Vibration System", and it produces "sound you can feel". The idea is that bass you can feel instead of hear can trick your brain into sensing richer sound.
It sounds a bit gimmicky, and cranked up, it's ridiculous. But on its lowest setting, I actually kind of liked it, which I did not expect. Sony was smart to make the effect adjustable and the control easily-accessible. Whenever you adjust the volume while playing media or a game, the Dynamic Vibration System control pops up as well.
The XZ2 also supports high-quality audio formats like LDAC and DSEE HX.
Rounding out the hardware features are the Snapdragon 845 chip, 4 GB of RAM, Gigabit LTE, water resistance, NFC, and fast Qi wireless charging. The touch screen can be used with gloves on. It's a good feature set for a flagship phone.
Software
The XZ2 software is based on Android 8 and has the typical set of Sony software on top of that. You can apply themes to the whole interface, adjust the screen color temperature (if it's too blueish, you can fix that), and there's support for DLNA and Miracast media streaming. Sony has long been a company focused on A/V, and it nice to see that still reflected in its phones.
The camera software has a relatively simple interface with a lot going on behind the scenes. Like almost all Sony cameras and phones for over a decade, its default mode is "Intelligent Auto", which tries to figure out what it's looking at (beach, sunset, food, night skyline, etc.) and adjust multiple settings appropriately. Other manufacturers like Huawei are just now adding this feature and calling it advanced AI, but Sony has been doing it forever. You'll also find expected features like portrait mode, panorama, and HDR. The manual mode is unfortunately limited to shutter speeds of 1 second, severely limiting what you can do with "long" exposures.
The 3D face scanning feature has been enhanced to make it more detailed, and easier to share your little 3D head avatar on Facebook.
Sad about the lack of headphone jacks
And also the loss of the side-mounted fingerprint sensor on the power button, which is really the best design. Could you maybe show side-by-sides of the XZ2 Compact next to prior Compact models like the XZ1?