Review: Sony Xperia XZ2
Hardware Software Wrap-Up Comments 1
May 15, 2018, 11:42 AM by Eric M. Zeman
Sony's 2018 flagship phone, the Xperia XZ2, sees the company catch up to the competition in terms of design and features. It boasts a metal-and-glass chassis, introduces a 2:1 screen, adopts Android 8, pass the best processor, and includes table-stakes tools such as bokeh photography. Here is Phone Scoop's in-depth review of the Sony Xperia XZ2.
Advertisements article continues below...
Is It Your Type?
The Xperia XZ2 is Sony's flagship phone for the year. It boasts a "liquid" glass design, top-of-the-line processor, powerful camera, and cinematic media experiences. If you like to listen to music and watch movies as much as you like to create your own soundtrack and film your own movie, the XZ2 is a fine place to start.
Body
The Xperia XZ2 is at once new and familiar. There's no question it's a Sony phone, but it takes on new design characteristics that help bring Sony into the modern age of smartphones. The company has — almost a year after its competitors — moved to a 2:1 screen shape. That means a larger screen in a narrower chassis, for more of an "all screen" front. As good as these updates are, the phone still manages to look and feel a bit awkward.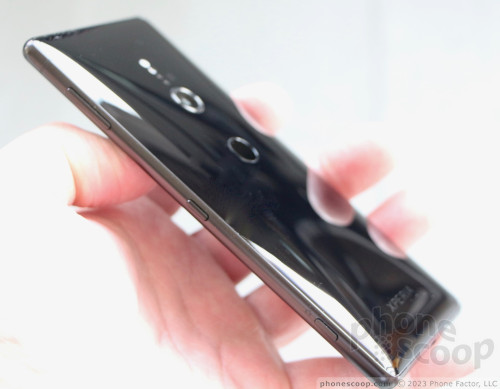 The XZ2 has a metal frame that wraps around the outer edge and is sandwiched between two panes of glass. The frame is pleasingly rounded so the phone feels smooth against your hand. The front piece of glass has the 2.5D shape common to many phones, which means it curves right where it meets the metal frame. Notably, the rear glass is much curvier, swelling along the center axis to be much thicker in the middle. This prevents the phone from sitting steadily on flat surfaces, something I find annoying. The shaping of the rear glass gives the XZ2 a chubby look from some angles, which isn't exactly becoming in the era of super slim phones.
I really dig the liquid black color. It's pure obsidian; piano black in the most attractive way. The silver, green, and pink models have their own appeal, but this is one phone I prefer in black.
The XZ2 has dimensions almost identical to the LG G7. These are fairly typical measurements for a high-end phone in 2018. I'm not happy about the 11.1mm girth from front to back. Many competing models are 9mm or less. The XZ2 comes off as bulky in comparison. The added thickness definitely impacts usability, as I found the phone harder to handle day in and day out. It doesn't help that the glass is incredibly smooth and, as a result, slippery as hell. The phone always seems to be sliding somewhere in slow motion when placed down. It will fit into pockets, bit it is more noticeable than other phones as you walk around.
It's a high-quality bit of phone. Sony selected fine components and assembled them perfectly. The metal frame is solid. The glass is some of the smoothest I've encountered, giving it a lustrous quality that's rare on a phone. Everything about it speaks of elegance.
Like the majority of Sony flagships, the XZ2 is at least water resistant. The U.S. version is rated IP65. This means can handle a few minutes of flowing/spraying water, such as rain or a splash next to the kitchen sink. It is not meant to be fully submerged, so be careful around the pool this summer. The glass is still almost all glass, and we all know what glass does when it hits stone. I'd suggest a case.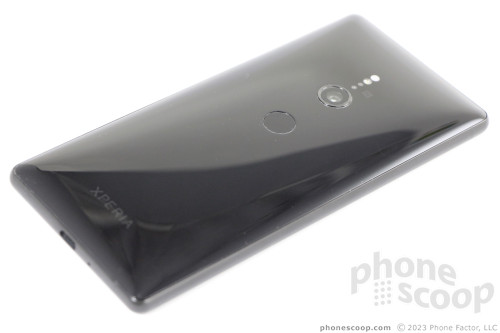 Sony phones have long had horrendously thick bezels. The XZ2 makes progress on that front with its 2:1 display, but not enough as far as I'm concerned. It could have done much more to make the screen truly fill the front. The G7, S9, and iPhone X all offer a better screen-to-body ratio than the XZ2.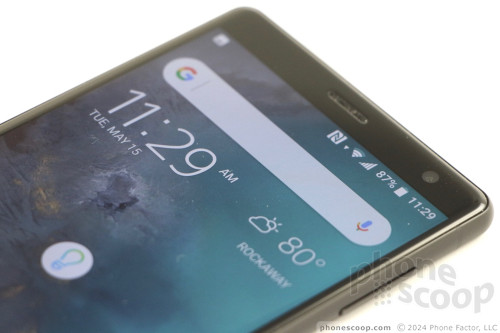 All of the buttons are on the right. The volume toggle is close to the top edge. It's a thin, short key that has a good profile and feedback. I do wish there were nubs at either end to help give you some guidance. The screen lock button is right in the middle. It's small and doesn't have as thick a profile as I'd like. Feedback is acceptable. Sony is one of the last phone makers to include a dedicated camera button on its phones. The XZ2's camera key is really small and tucked down on the bottom of the right edge. It's a two-stage button. The action between the two stages is minimal; it's easy to push the button all the way down and shoot a picture when you intended to focus first.
Sony is unique in offering a SIM / memory card tray you can access with just your thumbnail. You'll find that on the top edge. The USB-C port is located on the bottom edge. There's no 3.5mm headphone jack, which is a shame. (Sony includes a 3.5mm-to-USB-C adapter in the box.)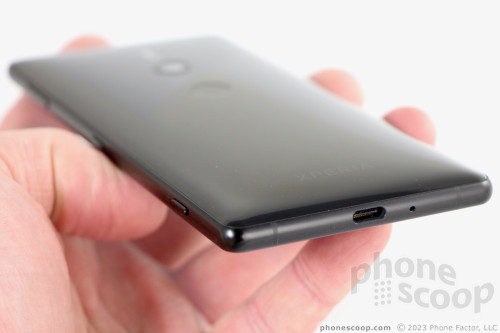 I may not be in love with the bowed shape of the XZ2's rear panel, but it's still a gorgeous piece of glass that arcs from corner to corner. Sony arranged the camera, sensors, fingerprint reader, and other components in a vertical series of circles that resembles a solar system of planets all lined up. I dig the balanced appearance. However, the fingerprint reader is placed really low. More often than not, my finger found its way to the camera rather than the fingerprint reader. This means the lens is almost constantly smeared with finger grease. Ugh, Sony.
Rear Panel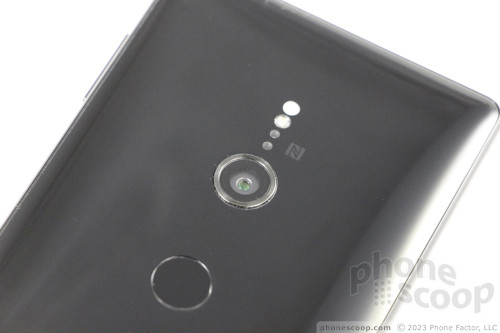 Rear Panel
There's a lot to like here. Sony caught up on its homework and finally designed a device with respectable bezels. The company could have gone further, and I expect it to with its next-generation flagships. I also wish the phone were a bit thinner. These are hardly the worst complaints, however. Sony fans should be pleased with the updated hardware.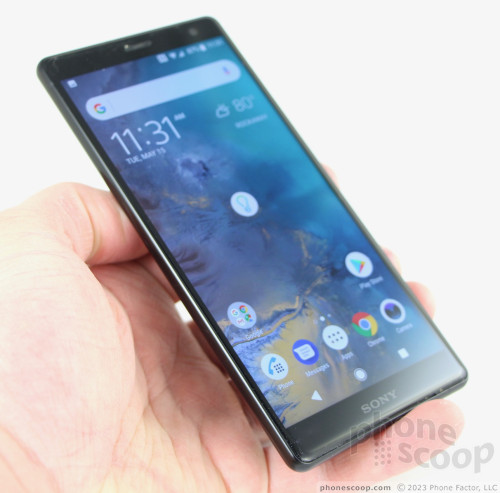 Screen
Sony opted for a 5.7-inch LCD panel with full HD+ (2,160 by 1,080) resolution. There's no notch. The screen looks sharp and clean. Everything on the display has smooth edges and is well defined. Many of Sony's competitors in the flagship space (Samsung, LG) offer quad HD+ resolution on their phones, but I don't think you're missing anything here.
The display pumps out plenty of light. I was able to use it outdoors with no problems. The camera app was always visible, even under sunny skies, though things that have white backgrounds were harder to see under the sun. Support for HDR video playback means you can experience higher-contrast video from Netflix and other streaming services. HDR content looks excellent on the XZ2. Viewing angles are very good.
Like most Sony phones, the screen settings put you in control. Sony added a "smart backlight control" that keeps the screen on if you are merely looking at it. I appreciate that you can choose from several different color and contrast options, such as Super Vivid Mode, which makes viewing movies that much better by improving contrast. You can also make fine-tuned adjustments to white balance.
The phone has a fine screen.
Signal
Sony sells the Xperia XZ2 unlocked in the U.S. It supports a respectable number of LTE bands, including Band 29 for AT&T and Band 66 for T-Mobile (though not Band 71). This means it should perform on par with most carrier-branded devices, and I'm pleased to say that's the case. I ran the phone on both AT&T and T-Mobile and came away pleased with the experience.
Nearly all calls connected on the first dial, even under the worst network conditions. Calls remained engaged during miles of highway driving on both networks without interruption. Data speeds were very good. I was able to download apps over LTE, as well as browse social networks, stream media, and surf the web without any hiccups. You won't be disappointed with the XZ2's cellular prowess.
Sound
The XZ2 is a fine tool for making calls. Voices sound clean and present via the earpiece. I was generally pleased with clarity and tone. Volume could be a little better. I was able to handle calls in a moderately busy coffee shops, but city streets with beeping taxis and roaring buses overwhelmed the earpiece at times. Those I spoke to through the XZ2 said I sounded "just okay."
The phone doesn't support WiFi calling, but it does offer VoLTE for HD Voice service. It took some time to properly configure VoLTE on AT&T, but it delivered a boost in clarity when speaking to other AT&T customers over LTE.
Calls routed to the speaker are very loud, thanks to Sony's ramped-up amplifier. Clarity will suffer from some distortion at the loudest volumes, but you'll easily be able to hear calls in moving cars, noisy office spaces, and just about anywhere other than a rock concert.
Sony is doing some interesting things with the sound when it comes to media playback. Like many modern flagships, the Xperia XZ2 pushes sound out of the earpiece and the speaker. Together these create a stereo effect, though the bottom speaker is more bass-y and the top is more treble-y. The tones are generally good and I was very impressed with not only the volume, but the clarity and quality of both music and movies. Sony calls this S-Force Front Surround.
Then there's the Dynamic Vibration. Think of this as a subwoofer for your phone. Sony is tapping the haptic engine inside the phone to vibrate the device when you're listening to music or watching movies. The result is a buzzy, boomy effect to add that something extra. I dig it. It may not be practical, but it's kinda fun to have your phone vibrate like a movie theater during intense action sequences.
If you actually need the XZ2 to alert you to something, the haptic engine is incredibly flexible and does a great job.
Battery
The phone has a 3,180mAh battery inside and it does fairly well. I was able to run the XZ2 pretty hard from breakfast to bedtime without it calling quits on me. On days that I used the phone normally — general app usage, browsing social media, sending messages — it easily pushed to the end of the day with plenty of power to spare. Using the camera takes a noticeable toll on battery life. If you spend a day sightseeing with the camera on constantly you'll likely run into trouble shortly after dinner. Ditto if you spend a lot of time watching Netflix.
Sony, as always, offers advanced battery controls. Stamina Mode and Ultra Stamina Mode will truly help extend battery life if you find yourself running short. While the former tamps down vibrations, notifications, brightness, and alerts, the latter puts the XZ2 into dumb-phone mode and kills most apps and services.
The phone supports Quick Charge 3.0 for rapid power-ups, as well as high-speed Qi wireless charging. Plugging in for as little as 15 minutes boosts the battery by as much as 25%. Setting the phone on a properly-equipped wireless charger produces similar results.
Bluetooth, GPS, NFC, WiFi
Sony was sure to put as many radios as possible into the Xperia XZ2. Let's start with Bluetooth 5.0 with support for aptX. This is a good start for music lovers. The phone easily connected to various headphones, speakers, and my car. Calls routed to headphones and my car were solid in terms of volume and clarity. Music pushed to aptX-capable headphones sounded excellent.
The GPS radio is a fine tool for location tasks. It pinpointed me in a blink and accuracy was as good as about 10 feet. The XZ2 had no trouble navigating between points, whether you're traveling by foot or car.
I appreciate having an NFC radio aboard the phone. It made for easy pairing with select Bluetooth accessories, and of course supports mobile payments via Google Pay.
The WiFi worked equally well at home and in public spaces. The phone includes its own VPN software, which I recommend you turn on.
HTC from 2010 called...
They want their Evo 4G style back. Seriously, this phone is ugly.

Add Sony's crap android overlay to the semi-functional and confusingly named built-in apps (Albums?!?), and you've got a flagship that should have never been made.

Give up Sony, just stop digging that hole already.