Review: Sony Xperia XZ2
Hardware Software Wrap-Up Comments 1
Lock Screen
A quick press of the XZ2's screen lock button or fingerprint reader wakes the display and reveals the clock, notifications, and two shortcuts: phone and camera. (You can't customize the shortcuts.)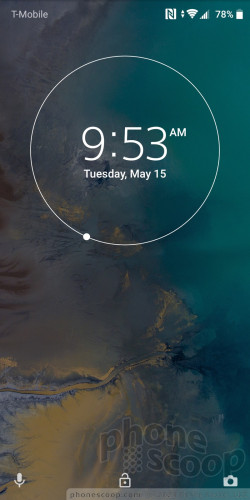 I really appreciate that Sony allows you to select from a five different clocks for the lock screen. All of them are easy to read, even under adverse lighting. As always, you can choose how visible notifications are on the lock screen and even control the LED indicator light.
Advertisements article continues below...
Security features are typical for a flagship device. Training several prints takes no time at all and the reader is quick and accurate most of the time. Shame that it's easier to (accidentally) find the camera on the rear than it is the fingerprint reader.
Home Screens
The Xperia XZ2 runs Android 8 Oreo with Sony's tweaks.
As per the norm, you can manage the home screens however you wish. You can adjust the grid size, the icon size, add widgets, screen transitions, and much more. Home screens are searchable through a tool that works almost identically to that of iOS. Tap in the center of a home screen panel and pull down. This reveals a search bar along with the results from your most recent app searches. The search results will change over time, though if you keep using the same result it might be faster to just put that app on the home screen.
The app drawer, available via dedicated button in the home screen dock, is arranged in side-by-side pages that you swipe left and right. You can opt to view apps in custom order, most used, alphabetically, or by date. A search tool is always available in the app drawer, which is nice. The app drawer also supports folders.
The settings menu behaves just as with standard Android, but with a splash of color. It's easy to make sense of and has its own search function for finding those buried settings.
Sony includes themes, as do HTC, LG, Samsung, and others. These bundle together similar color palettes for the home screen, app drawer, and other aspects of the user interface. Sony offers a few themes of its own, but you can design your own. That's cool.
The Xperia XZ2 does well in the speed department. It relies on the top-end Qualcomm Snapdragon 845 processor with 4 GB of RAM. The phone performed very well while I tested it. The XZ2 was never laggy, screen transitions were smooth, and the vast majority of apps opened in a blink.
Camera
The quickest way to launch the camera is to press the dedicated camera button. You can also double-press the screen lock button. The camera app opens quickly (~1 second) whether the phone is locked or unlocked.
The app is powerful and easy to use. By default, the Xperia XZ2 uses Sony's Superior Auto shooting mode. The idea is that the camera is smart enough to automatically detect what it's shooting and adjust accordingly. Competitors are just launching this feature and hyping it as "AI", but Sony has been doing it for a while. You'll see the camera automatically switch modes when you point it at food, landscapes, and so on.
The other basic modes include manual and video. You can also access some secondary shooting modes, such as AR effect (put dinosaurs in your pix), Creative Effect (live filters), Sound Photo (takes photos with background sounds), panorama, 4K video, and burst. HDR for photos works automatically in Superior Auto mode, but can be toggled on/off manually when in Manual mode. The XZ2 is one of the first phones able to shoot HDR video at 4K resolutions.
Manual Mode allows you to set white balance, ISO, brightness, shutter speed (but only up to 1 second), and focus. It's relatively easy to use. I'm stunned you can't set a longer shutter speed for night shots.
The XZ2 adds a dedicated bokeh / portrait tool for taking more artistic photos. It's an odd one. To start, it's not as automatic as on other phones. You need to tap the item on the screen you want to be in focus. The camera then asks you to hold still while it shoots two photos. The phone has only one lens, rather than two like many competing phones. The XZ2 then combines the results of the two photos and allows you to make some edits right away.
For example, you can raise or lower the depth of field (how much the background is on/out of focus), as well as select from three different styles of bokeh smudging (circular, horizontal line, vertical line). You have to remember to save your edits after the fact to keep the photo. It requires more work than the iPhone X and Galaxy S9+, and doesn't deliver results that are as good.
On the other hand, Sony's super slow-motion tool is much easier to use than others. Switch to video mode and start recording video. When you see something you want captured in super slow-mo, hit the secondary button and voila. Samsung and Huawei have horrible implementations, by way of comparison. And the XZ2 can capture 960fps slow-motion in 1080p, rather than just 720p.
All of the main shooting modes are available to the user-facing selfie camera as well, which is unusual and nice. But, uh, no selfie portraits / bokeh. C'mon, Sony!
I do also like that the extra modes are available as individual "apps." In other words, Sony knows how clunky it is to open the camera, swipe to the extra modes, and then select the mode you want to use. Instead, you can jump right to bokeh or AR effect via dedicated app shortcuts available in the app drawer or your home screen.
Everything about the camera is fast, and that's good.
Photos/Video
The XZ2 has a 19-megapixel camera. The default setting is 17 megapixels at 16:9. If you want the full pixel count you need to switch to 4:3. The Exmor RS sensor has a 25mm lens at f/2.0 with low-light photo capture up to ISO 12,800 (ISO 4,000 for video).
The XZ2 takes very, very good pictures in most settings. I was generally impressed with the majority of snaps I captured, which were clean, sharp, and accurate. Focus is almost always spot-on. White balance and color representation was typically true-to-life, with only minor issues here and there. Daytime shots were free of grain or noise, though low-light shots introduced a modicum of noise. You do have to mind the camera lens and be sure it's smudge-free.
The XZ2 handles exposure much better than the XA2 Ultra, which we reviewed earlier this year. It managed to balance scenes with more accuracy while maintaining white balance. The HDR function handled shots with bright/dark regions very well and the XZ2 made some serious gains in the low-light department. It's still not near Pixel 2 XL and P20 Pro levels, but it's very good for a Sony.
Oddly, the selfie camera has only a 5-megapixel sensor. Even so, it takes sharp, clean selfies. Images are colorful and properly exposed. The majority of selfies are free of grain, too, which puts it ahead of many selfie cams. The screen-based selfie flash helps a bit in low-light situations.
If you want to take some extra-wide selfies, you'll have to use the selfie portrait tool. It works, but not as well as a dedicated wide-angle camera might. You can use the AR Effect mode to add stickers and masks to your selfies, but there is no way to take portrait-stye selfies with blurred backgrounds.
The phone shoots video up to 4K (Ultra HD) resolution in HDR if you want. The 4K HDR video looks a bit overexposed on properly equipped TVs and/or monitors. The standard full-HD video I captured with the XZ2 was excellent in terms of focus, exposure, and color. The phone is the best-performing Sony device I've tested when it comes to video.