Hands On with the Sony Xperia XZ2 and XZ2 Compact
Xperia XZ2 Xperia XZ2 Compact Comments 1
Sony's Compact series has long stood alone in offering flagship specs in a truly small body, with few compromises. The Sony Xperia XZ2 Compact is no different.
XZ2 vs XZ Compact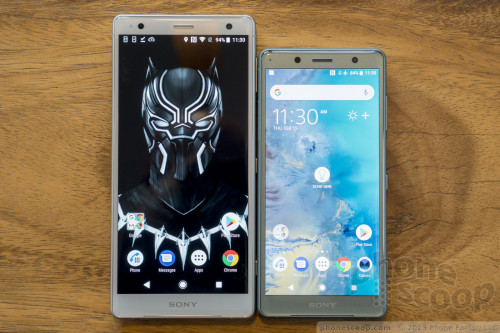 XZ2 vs XZ Compact
Well, it's a little different. Past Compact models differed only in the screen and battery. The XZ2 Compact compromises less on the screen. (Both new models sport full-HD screens, whereas past Compacts stepped down to 720p.) But there are new compromises. The Compact lacks the advanced haptic engine (not surprising given how large that component is) and wireless charging.
Advertisements article continues below...
It also has a polycarbonate back instead of glass. The polycarbonate is translucent, so you still have the appearance of glass. Having the color on the inside of the clear plastic means the paint can't be scratched. The matte texture should also help it wear well, and it feels good.
Personally, I don't mind the trade-offs. I'd actually rather have the polycarbonate back. I definitely wouldn't miss the haptic engine.
The Compact is smaller, but noticeably thicker. The remarkable thin feeling of the full-size XZ2 is replaced with a feeling more like holding a round river stone. The curved back is even more pronounced, and it compensates well for the thickness in the middle; it feels small and easy to hold.
In all, I kind of love the XZ2 Compact. It looks good and feels good. And you get flagship technology (including the Snapdragon 845 and a high-end 19-megapixel camera!) in a remarkably tiny body. It's the iPhone SE of the Android world, and I don't know what Sony is the only one doing it. It offers something completely different form everything else in the Android market. We need more of that.