Hands On with the Doro 7050
Article Comments
Feb 28, 2018, 11:03 AM by Rich Brome @rbrome
updated Mar 9, 2018, 10:39 AM
Updated: Added text on screen and model number. / March 9: Corrected app store info. The 7050 for the US will not have an app store as we were initially told.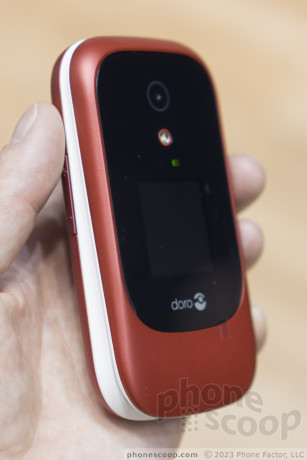 Doro has long made a name for itself as a purveyor of simple phones for older folks. Their latest entry is a super-basic, old-school flip phone with classic, easy-to-use design, Doro's special easy interface, and unique software powering it. We take it for a quick spin in this hands-on.
Advertisements article continues below...
The unit we handled was the 7060, which is for markets outside the US. The same phone will come to the US as the 7050, the only change being support for US networks.
The hardware is actually a bit lovely. It's a very basic-yet-tasteful design. It feels quite sturdy. The keys are oversize and easy to use.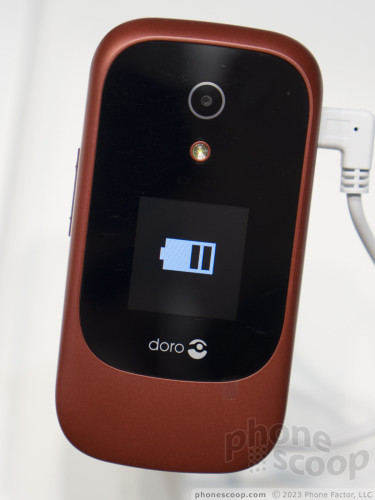 The side volume keys work well. The audio and charging ports are on the right, an unusual placement.
It has contacts on the bottom for an optional drop-in cradle charger. There's a nice, big lip that makes it extra-easy to flip open.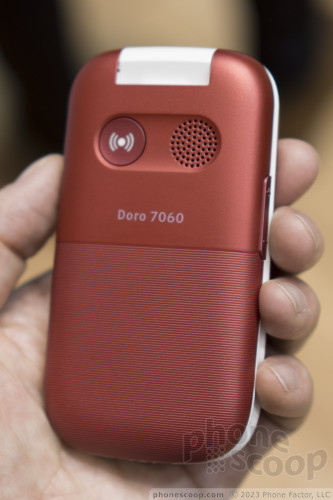 And the back has a dedicated SOS button, allowing this to double as a sort of Life Alert device.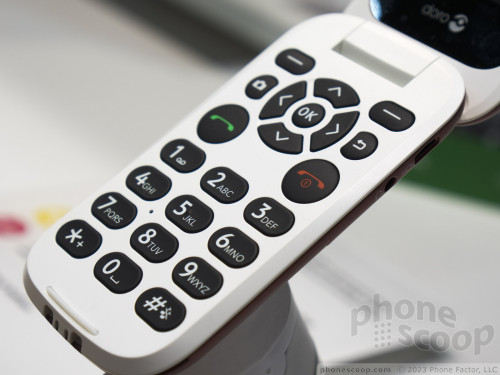 The keys are big, comfortable, and have extremely well-designed shapes and spacing for finding everything by feel. They're the perfect amount of rubbery, without being mushy. No matter how much dexterity you have in your fingers, they'll feel right at home here.
The interface is entirely unique to Doro phones. The top-level menus are verbs, and the second-level menus are nous. Every action is therefore just two steps, such as "Send … Picture" or "Add ... Event". It's ideal if this is your first cell phone. If it isn't already obvious, older users are the target market here.
There's also a camera and it does picture messaging, of course. Grandma needs daily photos of the grandkids, after all. There's also an FM radio.
There's an outer display, and even small, specific indicator lights above that screen, so you always know if you have a message, etc. That's a thoughtful touch that will help those not used to checking the status bar of a smartphone, for example.
Sadly, the phone is held back by a small and poor-quality screen. Even for a cheap feature like this, the screen is small, dim, low-resolution, blue, and has poor viewing angles. I didn't even know they still made screens this bad. Other feature phones addressing this market have focused on larger, sharper screens, as it helps this with poor vision. Doro oddly doesn't seem to care about that here.
Though the interface is Doro, it's built on top of software called KaiOS. KaiOS is a new OS just for feature phones like this. It's built from the ashes of the Firefox OS, and is the only fully-supported OS for feature phones that supports 4G LTE. You'll also find KaiOS in phones like the Cingular Flip 2 for AT&T. *
Some KaiOS phones will soon gain an app store, where users can download games, social apps, and tools, including Facebook, Twitter, Google Maps, and Google Assistant. That would be a pretty neat extra trick for a phone like this, and the European version may get the app store. Unfortunately, the US version will not. *
* Corrected March 9, 2018. A previous version of this article article stated that the Doro 7050 for the US would receive the app store update, as we were told at MWC. Doro and KaiOS have since clarified that it will not.
Look for the Doro 7050 on Consumer Cellular around August.
No messages