ZTE Debuts Blade V9 and V9 Vita with 18:9 Screens
Article Comments
Feb 25, 2018, 10:12 AM by Eric M. Zeman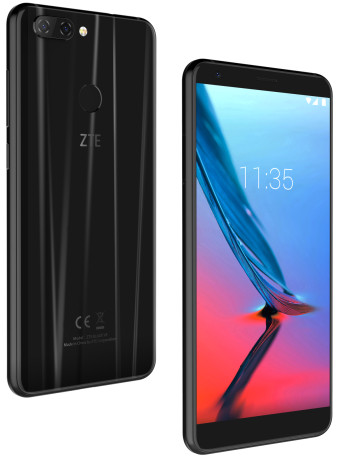 ZTE today expanded its lineup of Blade series handsets with the Blade V9 and V9 Vita. These mid-range handsets bring the Blade series up-to-date with competing designs by adopting the 18:9 aspect ratio display. Shared features between these two phones include Android 8 Oreo, dual rear cameras, microUSB, 3.5mm headphone jack, memory card support, GPS, Bluetooth, and WiFi.
Blade V9: The V9 (pictured) drops the plastic build common to ZTE's older Blade designs for an aluminum frame and glass panels on front and back. The screen measures 5.7 inches and includes full HD+ resolution (2,160 by 1,080). It is powered by a 1.8 GHz octa-core processor and comes in a variety of RAM (2 to 4 GB) and storage (16 to 64 GB) configurations. The V9's dual camera system includes a 16-/5-megapixel combo on the rear and either an 8- or 13-megapixel camera on front. ZTE says it made significant efforts in improving low-light performance of the camera, and the dual-lens system allows people to take bokeh/portrait-style images. The V9's front camera supports Facebook detection for waking and unlocking the phone. Other stand-out features include NFC, fingerprint reader, and 3,100mAh battery. It comes in black or gold.
Blade V9 Vita: The Vita dials back the size and specs when compared to the premium V9. It drops the metal and glass for a polycarbonate shell that forms the entire rear of the device. The screen is reduced to 5.45 inches at HD+ (1,440 by 720) resolution. It is powered by a Snapdragon 435 processor with 2 GB of RAM and 16 GB of storage. The Vita also has a dual rear camera system with a 13-/2-megapixel configuration and a 8-megapixel shooter on front. The phone has a 3,200mAh battery and it comes in black, pink, blue, and dark blue.
ZTE said neither of these phones is slated to reach the U.S. immediately, but they may show up under different names from carriers such as MetroPCS or Cricket Wireless.
No messages