Hands On with the Gemini Keyboard Phone
Article Comments
Feb 27, 2018, 11:30 AM by Rich Brome @rbrome
updated Feb 27, 2018, 1:21 PM
Planet Computers is on a mission to bring back that very specific type of PDA that tried to put a proper QWERTY keyboard in your pocket. No, not a thumb-board like your phone, more like a shrunken laptop. If you remember those old Psion devices, you know exactly what they're going for. This device is aimed at writers, coders, and anyone else who types for a living (and needs to be able to do a lot of it on the go.) The Gemini launched on Indiegogo, and is finally shipping. It's a totally unique device. We took it for a quick spin.
Advertisements article continues below...
Article
The Gemini is, in fact, an Android smartphone with LTE. It's just a very large one, with an unusual form factor.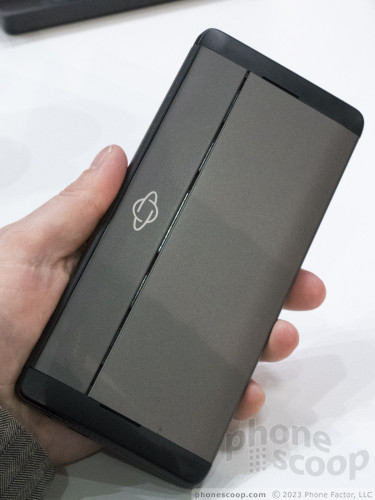 The first thing you notice is the size and weight. It will only fit in the largest pockets, and it's not light. But most of the body is metal, and it feels well-constructed.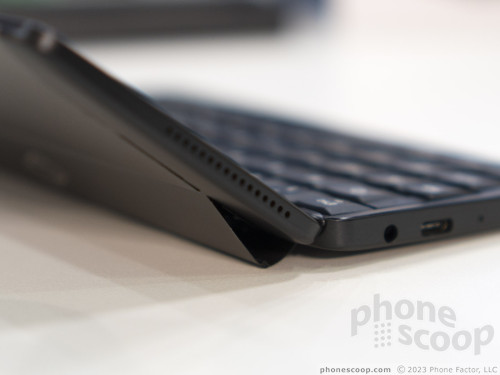 Opening it up is easy thanks to a little ridge on each half along the whole front edge. A unique hinge design props it up so it doesn't fall backward as you use it.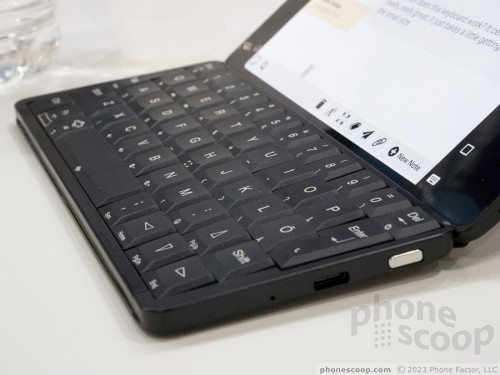 Opening it up reveals the glorious keyboard. The keys have a wonderful old-school shape, like an old ThinkPad laptop. Your fingers will love the, This is hardly a full-size keyboard, though, so you will have to adjust. If you touch type at all, your fingers will be hunting for letters in the wrong places at first. That was my experience. I imagine you could adjust to the smaller layout, but going back and forth between this and a normal-size keyboard (as most probably would) might make things trickier.
I made plenty of mistakes unless I really concentrated, but of course that meant going slower.
The touchscreen is large, bright, and has good viewing angles. It's a very up-to-date panel with slightly rounded corners and an extra-wide ratio.
One plus of the form factor and size is that it has no problem fitting comfortably on an airplane tray table, or other cramped quarters where a full-size laptop can be problematic.
Two USB-C ports let you attach a USB/Ethernet hub while also charging, or connect a mouse and an HDMI monitor at the same time. Planet does sell an Ethernet adaptor, which is also a USB hub, and there's an HDMI adaptor on offer.
There's a camera next to the screen for video chatting, etc., but the rear camera is an optional add-on that you can order separately for $50. The phone comes with a special tool for cracking open the lid, which where you'd add the rear camera, as well as access the SIM and memory card slots.
optional camera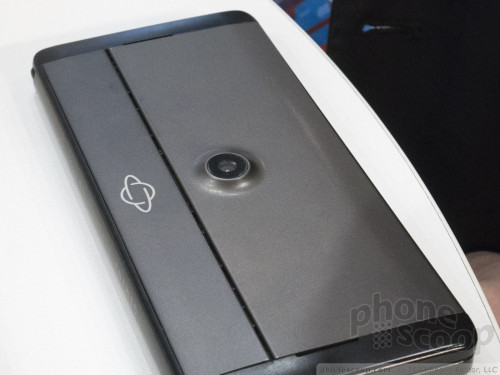 optional camera
There's no outer display, but there are five multi-color indicator lights that you can customize to convey certain information.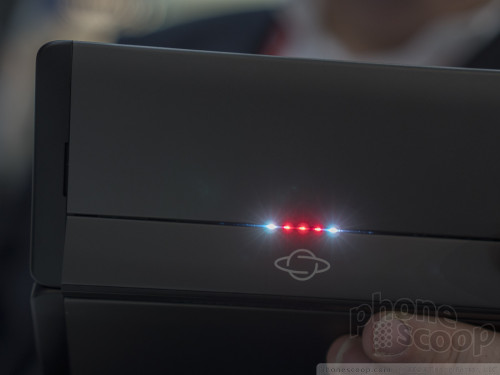 The keyboard has a special key that summons a large app bar at the bottom, much like the app dock on a real laptop.
There's a special Notes app that looks nice, and an app for logging in to servers.
It's also a great screen and form factor for watching video. Again, this will fit on airplane trays that full-size laptops might not.
Out of the box, it comes with Android, but Planet Computers is helping tinkerers load other OSes on it if they like. Linux or Jolla's Sailfish are downloadable options.
It supports LTE bands 2, 4, 5, and 12 for the US. It also support's Verizon's CDMA network, which is weird because it doesn't support Verizon's (more important) LTE band 13. You can use it with AT&T or T-Mobile.
The first Indiegogo backers are receiving their now, so it's starting to ship. It runs $599 for the LTE version, or $499 for a Wi-Fi-only version. It's a specific kind of person that's been dying for something like this; if that's you, I expect you'll be happy.
No messages