CES 2016
All T-Mobile AT&T ZTE Huawei more... Discuss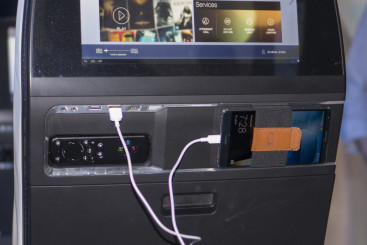 Panasonic's latest seatback systems for planes are more phone-oriented than ever, providing a dedicated spot for your phone, Qi wireless charging, USB 3.0 SuperSpeed for charging and media, and even an HDMI input. The multiple USB ports can not only charge your phone but also let you access your videos, photos, and music on the seat's 13-inch full-HD touch screen, which is actually based on an Android tablet. Panasonic showed off a couple of different designs at CES this week, and we checked them out.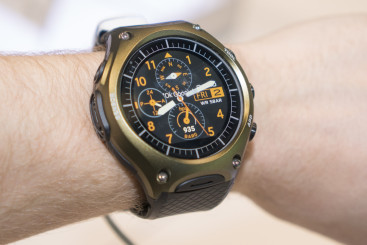 Casio is finally getting into the proper smartwatch game with an Android Wear watch, in the form of the creatively-named "Smart Outdoor Watch". Weirdly, it doesn't don the G-Shock brand, but it's clearly of that lineage. It's not just any Android Wear watch; Casio has added quite a lot that's unique on both the hardware and software sides. Also, it's huge. We checked it out.
Blu is not only a fast-growing company, they're a fast-changing one as well. Most Blu phones to date have been cheap, plastic, and loaded with plain Android. At CES this year, Blu had a bit of a coming out party as a more aspirational brand. Their new Vivo 5 and Vivo XL have AMOLED displays, premium designs, advanced features, and a new, custom Blu skin on top of Android. Yet they stay true to Blu%u2019s mission of providing affordability, topping out at $200. We spent some time with the new models.
Lenovo plans to phase out the Motorola brand from its phone lineup. Lenovo will now put its own name on all of its phones and related products. The company will still use "Moto" as a line brand, so phones like the Moto X will now be called the "Lenovo Moto X", making "Moto" a brand for high-end devices, while Lenovo's existing "Vibe" will designate lower-end Lenovo phones. The company will also keep using the iconic circular "M" logo on Moto phones. Lenovo bought Motorola Mobility from Google two years ago. Motorola Solutions continues to exist as a separate company making radio equipment for the public safety industry and related products and services.
Blu and Celltick today announced a deal to put Celltick's Start screen technology on all new Blu phones. Start is an interactive lock screen that includes shortcuts to favorite contacts, apps, and more, while displaying content automatically personalized to the user. Users can customize the shortcuts and content they see, or turn off Start completely. Celltick and Blu make money form the arrangement by suggesting content from media partners — such as Huffington Post — and adding pre-roll video ads to video content selected by the user. Blu is also able to gather data to better understand which apps and content its users prefer. The new Blu Vivo 5 and Vivo XL include Start.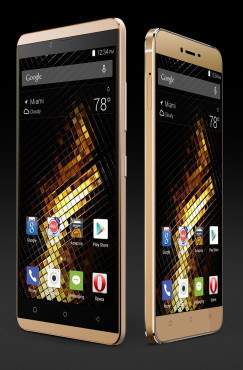 Blu today announced the Vivo 5 and Vivo XL affordable Android smartphones. Both have a premium design, and similar specs. The Vivo 5 (pictured on the right) is Blu's first phone with unibody metal design carved from a single block of aluminum. Both phones sport a 5.5-inch HD AMOLED display, 1.3 GHz octa-core MediaTek MT6753 processor, 13-megapixel camera, Type-C USB connector, and 3,150 mAh battery. The phones ship with Android 5.1, upgradeable to Android 6. Besides design, the two phones differ in a few other areas. The Vivo 5 is 6.9mm thick, while the Vivo XL is 7.5mm. The 5 has 3 GB of RAM and 32 GB of memory, while the XL has 2 GB of RAM and 16 of memory (both have a memory card slot.) Finally, the XL supports LTE bands 2, 4, 7, 12, and 17 - for full US network support - while the Vivo 5 only supports LTE bands 2, 4, and 7. The Vivo 5 will sell for $199 unlocked next month, while the Vivo XL will go for $149 this month. Both will be sold via BestBuy.com and Amazon.com.
Polaroid is banking on its brand power to sell unlocked Android smartphones to unwitting U.S. consumers. Believe it or not, these phones are not the second coming of mobile photography. Instead, they are bland exercises in marketing gone awry.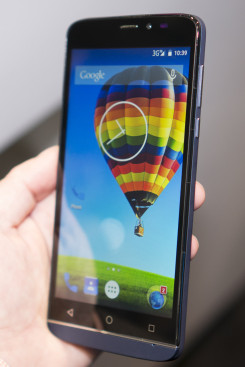 The unlocked phone market is taking off in the States, and RCA is one company trying to take on the budget end of that market with a range of Android phones that sell for around $80-100 unlocked. We checked out the first LTE model in their lineup.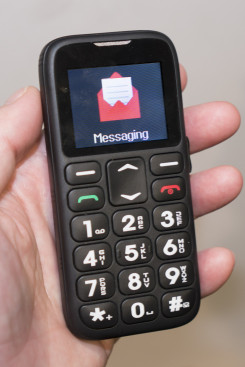 Feature phones with big, traditional buttons are becoming rare, but there's still a market for them among older consumers. RCA has a new phone out to address this market, with a number of senior-friendly features, and it costs just $29. We checked it out.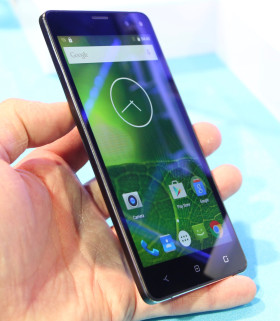 Macate's GATCA Elite smartphone is essentially a delivery vehicle for the company's suite of secure communication services. The handset is a decent piece of hardware, but is truly only for executives and VIPs who need extreme privacy. Here are our first impressions.
Polaroid today announced the Power and Snap smartphones, two Android handsets that will be sold to U.S. consumers online. Polaroid did not make these phones; instead, it licensed its brand to Southern Telecom, which designed and manufactured the handsets. The phones offer attractive price points and will be sold unlocked. Each runs Android 5.1 Lollipop, has LTE compatible with AT&T and T-Mobile, and supports microSD memory cards.
Polaroid Power: The Power (pictured) is the company's high-end offering. It has a 6-inch full HD screen, 64-bit octa-core processor with 3 GB of RAM, and 32 GB of internal storage. The rear camera rates 13 megapixels with dual LED flash, and the front camera rates 8 megapixels paired with a selfie flash. The Power has a 3,000mAh battery and will cost $249.99.
Polaroid Snap: The Snap is a series of phones that will come in 5-, 5.5-, and 6-inch variants. All versions have a quad-core processor with 2 GB of RAM and 16 GB of storage, and 720p HD displays. The rear camera has a 13-megapixel sensor with flash and the front camera has a 5-megapixel sensor with selfie flash. Pricing will range from $129.99 to $179.99, depending on screen size.
The Polaroid Power and Snap are expected to reach the U.S. in the spring and February, respectively. Polaroid said more details will be available closer to release.
Nextbit said the first 1,000 people who supported the Robin through Kickstarter will receive their handset starting February 16. The company will push more deliveries to other supporters over time.
BlackBerry today said Sprint, T-Mobile, and Verizon Wireless have all agreed to sell the Priv smartphone. T-Mobile's variant launches January 26. Sprint and Verizon haven't yet set sales dates. The Priv is already available from AT&T. The carrier deals are a major win for BlackBerry, which claims demand for the Android-powered device is robust.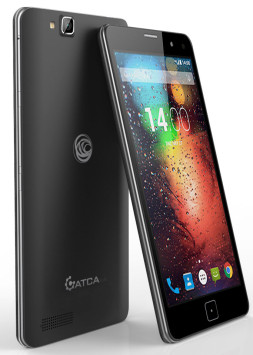 Macate today announced the GATCA Elite, a smartphone that boasts advanced security tools. The phone was designed with VIPs in mind. It runs Android 5.1 Lollipop and offers 256-bit or 512-bit encryption, which goes beyond government-grade security. It relies on biometrics (facial recognition) to secure the handset. The facial recognition can't be fooled by a photograph thanks to "liveliness detection." The GATCA Elite has advanced controls over files, folders, location, and even the SIM card slot. For example, the phone can be set to automatically shut down if an unknown SIM card is inserted. The phone ships with a suite of pre-installed apps for securing basic communications, including calls, email, and messaging — all of which are encrypted from end to end. It includes a video conferencing app that supports up to 20 participants. The handset has a 5.5-inch 720p HD screen and is powered by a 1.3 GHz octa-core MediaTek MT6735 processor with 2 GB of RAM and 32 GB of storage. It has a 13-megapixl rear camera and 5-megapixel front camera. It includes LTE Bands 2, 4, 5, 12, and 17 for compatibility with AT&T and T-Mobile. Macate is selling the GATCA Elite online for $850.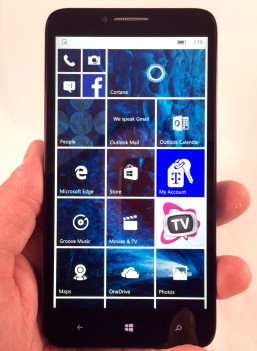 Making good on a promise it made last year, Alcatel has shown off its first Windows 10 smartphone. Rather than start from scratch, the copy repurposed the Fierce XL handset, swapping Android for Windows. Here are our first impressions of this handset bound for T-Mobile.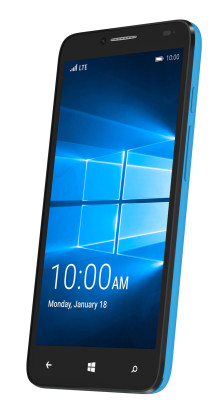 Alcatel today announced a Windows 10 variant of the Fierce XL smartphone. The phone is a direct carry over from the Android version, which was announced last year. The hardware features a 5.5-inch 720p HD screen, a 1.1GHz quad-core Snapdragon 210 processor with 2GB of RAM, and 16GB of storage. It supports memory cards up to 32GB. The main camera features an 8-megapixel sensor with flash and the front camera has a 2-megapixel sensor. The Fierce XL supports LTE 4G along with VoLTE, HD voice, and WiFi calling. Though it runs Windows 10, it does not support the Continuum feature. Alcatel said the Fierce XL will reach T-Mobile stores in a few weeks. T-Mobile will carry the phone in the months ahead. Pricing has yet to be determined. Alcatel said it will eventually make an unlocked version available to U.S. buyers via its web site.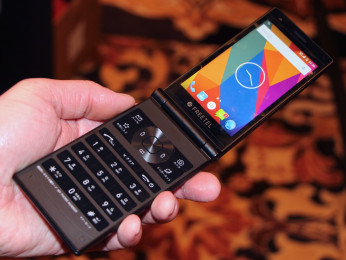 Freetel believes it can win over U.S. consumers with the Kiwami, Miyabi, Priori3, and Musashi Android smartphones. These inexpensive handsets should put other low-cost makers such as Huawei and ZTE on notice. Here is a brief look at these phones from the land of the rising sun.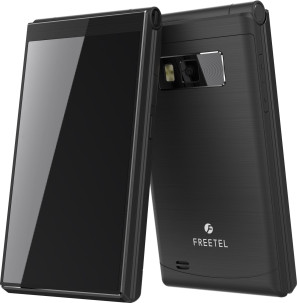 Freetel today announced plans to sell its smartphones in the U.S. Freetel is one of the larger wireless network operators in Japan and also makes its own smartphones. The company believes the time is ripe to enter the U.S. based on the growing sales of unlocked handsets. Freetel will initially launch three phones during the first quarter, including the flagship Kiwami, the mid-range Miyabi, and the entry-level Priori3. The Kiwami is a high-end metal phone with a 6-inch quad HD screen, 21-megapixel Sony camera, 3,400mAh battery, fingerprint sensor, and rapid charging. It costs $389. The Miyabi has a 5-inch screen, 13-megapixel camera with image stabilization, and a metallic frame. It will cost $199. The Priori3 is a smaller, plastic handset that will cost $99. All three run Android, support LTE for AT&T and T-Mobile, and will be sold unlocked. Later in the year, Freetel hopes to bring the Musashi (pictured) to the U.S. This unique Android handset is a clamshell that features dual 4-inch touchscreen displays with a full numeric keypad. Pricing for the Musashi was not revealed.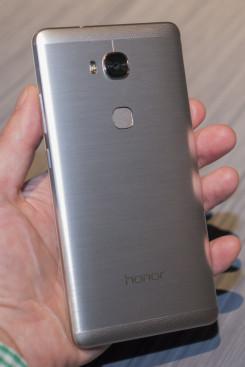 The Honor 5X is an "affordable premium" phone, a category that's expanding extremely quickly. It's Android. It has a metal back. It has respectable mid-range specs. It's pretty. Huawei is making a push to sell it online, unlocked. But what's it like in person? Read on.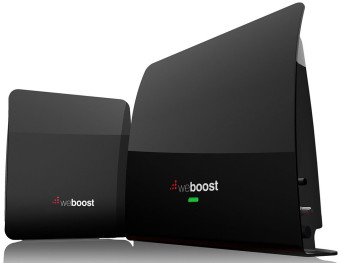 WeBoost and SureCall both used CES as an opportunity to show off new cell signal boosters. Both products work in a similar fashion: they collect cell signals from nearby cell towers, amplify them, and rebroadcast them within the home to improve coverage and signal strength. Each has two components — an antenna that is aimed at a cell tower and a broadcaster for supplying in-home coverage. WeBoost's product is called the eqo and resembles a WiFi router. WeBoost says the eqo is improved over its older products because the antenna can be kept indoors, rather than installed outside. This makes it more convenient for apartment dwellers. It can improve coverage over an area of about 1,200 square feet and costs $349. The SureCall EZ 4G is similar. Its antenna resembles a radar dish. The SureCall EZ 4G also provides one to two rooms of coverage and costs $399.99. The eqo and EZ 4G support CDMA, GSM, and LTE, and are compatible with AT&T, Sprint, T-Mobile, and Verizon Wireless.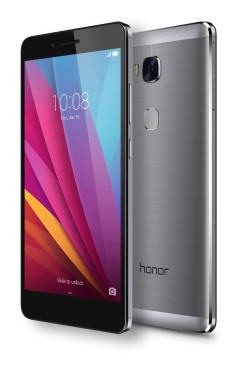 Huawei today announced the Honor 5X for the U.S., a phone very similar to the Huawei GX8 announced earlier today, but with a more premium design and $150 cheaper. The Honor 5X has a diamond-polished aluminum alloy casing. The four-step process includes applying a ceramic coating using a special brushing technique. It also has 4G LTE with full support for current AT&T and T-Mobile bands. Like the GX8, the Honor 5X is a mid-range Android phone with a unibody aluminum design, 5.5-inch Full-HD display, 13-megapixel camera, and Snapdragon 615 processor. The phone also includes a 3,000 mAh battery, rear fingerprint reader, and 5-megapixel front camera. Available colors include gold, silver, and gray. The Honor 5X will be available from Amazon.com and HiHonor.com on January 31 for $200 unlocked.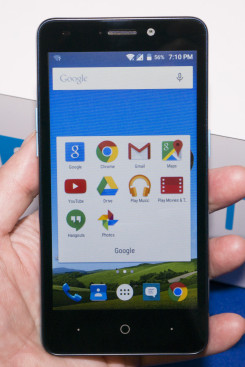 ZTE's new most affordable smartphone for the U.S. is the Avid Plus. At just $115 MSRP (and probably less through T-Mobile and Metro) it's quite a low-end phone. Just how low-end does it feel? We checked it out.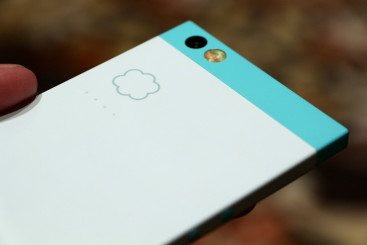 Nextbit announced the Robin last year, but the company is using CES 2016 to re-introduce the phone just ahead of its launch. This phone focuses on optimizing on-board storage using the cloud. The hardware was crafted by a former HTC designer, so some of its characteristics are rather familiar. Here are our first impressions.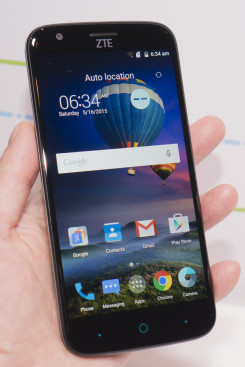 The Grand X 3 is part of a growing trend to find new ways to bring premium features and design to mid-range and entry-level phones. The Grand X 3 is an extremely affordable phablet with a plastic body and low-end processor. Yet at the same time, it has the same curved-edge glass front normally found on much higher-end phones, plus an HD display and USB Type-C connector. We spent some time with one.
ZTE USA today announced Project CSX, "a community-sourced mobile device" that will be designed with the help of consumers participating in the company's new Z-Community member-led forum. ZTE plans to solicit ideas and feedback form US consumers during 2016 and launch the Project CSX device in 2017. The Z-Community will also offer members access to exclusive events, rewards, and products. Z-Community lives on the web at community.zteusa.com, and consumers can also participate in the discussion on Twitter using the hashtag #zcommunity.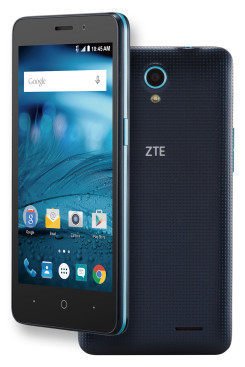 ZTE today announced the Avid Plus, an entry-level Android phone for T-Mobile and MetroPCS that will sell for just $115. It sports a 5-inch screen, Cat. 4 LTE, 5-megapixel main camera and 2-megapixel front camera. It can record video at 720p HD resolution. It's powered by a Qualcomm Snapdragon 210 processor with 1 GB of RAM. Its 8 GB of storage can be expanded with memory cards up to 32 GB. It also supports Wi-Fi Calling. The Avid Plus is a follow-up to the Avid, which was last sold by MetroPCS in 2013. It had a much smaller 4-inch screen and was designed for MetroPCS's old CDMA/LTE network. The new Avid Plus will go on sale January 20 with both T-Mobile and MetroPCS.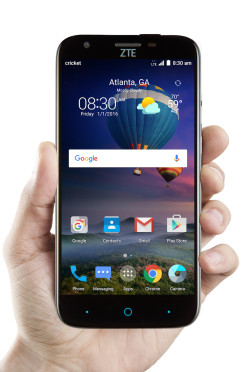 ZTE today announced the Grand X 3 for Cricket Wireless. It offers a 5.5-inch HD screen and Cat. 4 LTE for just $130. It's also the most affordable phone to date to sport a USB Type-C connector, which is reversible. That connector supports fast charging for the 3,000 mAh removable battery. It has 2 GB of RAM and its 16 GB of storage is expandable via a memory card up to 64 GB. Its 8-megapixel camera shoots 720p HD video, and a 2-megapixel selfie camera graces the front. It's powered by a Qualcomm Snapdragon 210 processor. The Grand X 3 will be available from Cricket later this month.
Samsung said it plans to add support for the Apple iPhone to the Gear S2 smartwatch later this year. The S2, which runs Tizen, is already compatible with Android handsets. Samsung didn't say what features will make the jump from Android to iOS, though it may drop a few. In the past, Samsung has restricted its smartwatch compatibility to its own handsets. Bringing iOS support to the S2 is an important change of direction for Samsung.
Qualcomm today announced aptX HD, an improved stereo music Bluetooth profile that delivers 24-bit playback. Qualcomm says aptX HD picks up where the standard aptX profile leaves off, offering a significant upgrade to wireless audio performance by improving fidelity. Qualcomm says aptX HD is available immediately via its CSR8675 Bluetooth audio SoC platform. The aptX profile is included in many high-end smartphones.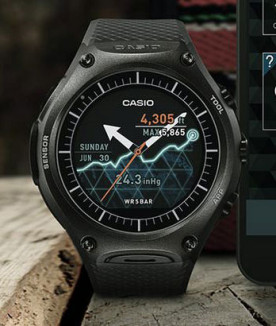 Casio today announced the WSD-F10, the company's first foray into the modern smartwatch market. Casio has long made rugged, outdoorsy watches, and the F10 looks to entice outdoor adventurers who might be seeking more than just a timepiece. The wearable is water resistant to 50 meters and rates mil-spec 810G for protection against shock, vibrations, temperature extremes, and humidity. Sensors include a compass, accelerometer, and air pressure for estimating elevation. It has a 1.32-inch screen with 300 by 300 pixels that can operate in full-color mode or monochrome mode to save power. The watch includes a bevy of Casio activity apps, as well as RunKeeper, ViewRanger, and MyRadar from its partners. The F10 is set to reach the U.S. in March for $500.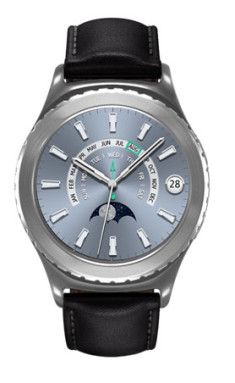 Samsung today revealed two new options for its Gear S2 smartwatch. The S2 Classic design will soon be available in platinum and rose gold. Other than the new colors and associated bands, the device itself is identical to the Gear S2 that launched last year. It has a 1.3-inch screen, can make phone calls, and runs Samsung's Tizen platform. Samsung said price points have yet to be determined, but the luxe wearables will reach consumers in February.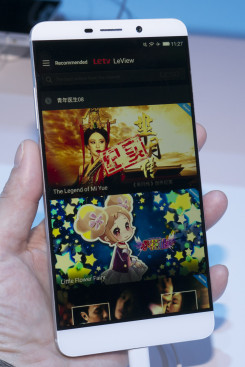 LeTV is likely unfamiliar to U.S. consumers, but the company hopes to change that with the Max Pro smartphone. The Max Pro is a super-sized handset that claims a handful of firsts, including several key features from Qualcomm. Here are our first impressions of the LeTV Max Pro.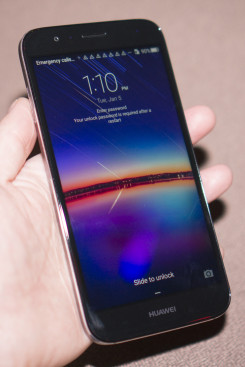 The GX8 is a mid-range Android phone sold unlocked in the US market. It's an interesting entry into the growing category of phones that aim to marry premium design and materials with decent specs, for a low price. The premium design takes the form of a unibody aluminum frame and curved-edge glass front. Specs include a 5.5-inch HD display, Snapdragon 615 processor, and 13-megapixel camera. What's it like? We have some photos and first impressions.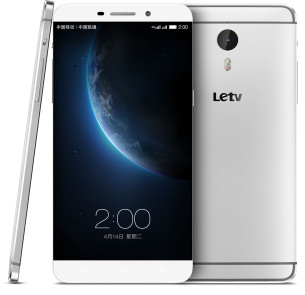 LeTV today announced the Max Pro, the first smartphone to use the Qualcomm Snapdragon 820 processor. In addition to Qualcomm's flagship chip, the Max Pro takes advantage of 802.11ad 60 GHz WiFi from Qualcomm and Qualcomm's ultrasonic fingerprint technology. The ultrasonic sensor, placed on the rear, can read prints through sweat and lotion, which should reduce the number of misreads. The Max Pro features an aluminum and glass design, with a 6.3-inch WQHD display. It includes a 21-megapixel camera with optical image stabilization and a 4-megapixel front camera. It has 4 GB of RAM, and 64 GB of storage. The device offers Dolby Atmos for sound processing, and has VoLTE / HD Voice. The handset uses a USB Type C connector. LeTV said it expects to release the Max Pro in the U.S. later this year.
Qualcomm and Letv today announced the first phone with the Snapdragon 820 and Wi-Fi 802.11ad, which operates in the very high-frequency 60 GHz radio band. The Letv Le Max Pro also includes Qualcomm's Sense ID ultrasonic fingerprint sensor. Qualcomm's 802.11ad solution for phones includes the Snapdragon 820 SoC and QCA9500 Wi-Fi chip. The new standard and frequency band enable very fast (multi-gigabit) wireless data within the same room, such as 4K video streaming and screen mirroring.
Ford today said it plans to bring connectivity to a large percentage of its cars over the next few years. The company will add its Sync Connect feature to as many as 10 million Ford cars by 2020. Sync Connect provides owners with a variety of features for interacting with their cars, such as unlocking the doors, locating parked vehicles, checking the fuel status and/or tire pressure, and remotely starting the engine. AT&T will provide five years of complimentary wireless service to new cars, beginning with the Escape this spring and expanding across the lineup over time. Network connectivity has been a feature for many Ford cars since 2011, but today's commitment will see LTE added to a broader range of vehicles along with vehicle management tools.
Huawei today announced the immediate availability of a gold version of the popular Nexus 6P Android phone. It's available in both 32 and 64 GB versions, from Best Buy and Google.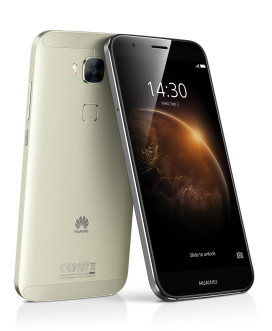 Huawei today announced that the GX8 will come to the U.S. later this quarter. The GX8 is a new mid-range Android phone with a unibody aluminum design, 5.5-inch Full-HD display, 13-megapixel camera, and Snapdragon 615 processor. The phone also includes a 3,000 mAh battery, rear fingerprint reader, and 5-megapixel front camera. Available colors include gold, gray, and silver. The GX8 will be available later in Q1 for $350 unlocked via Amazon.com and GetHuawei.com.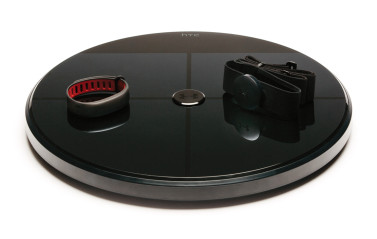 Under Armour and HTC today announced UA HealthBox, a $400 box containing a suite of health and fitness hardware designed to work with the UA Record app for Android and iOS. The core device is the UA Band wrist wearable, which tracks basic heart rate and activity. It's designed to be worn 24/7, tracking both daily movement and sleep cycles. A more advanced, accurate heart rate monitor is included and designed to be worn during workouts and sport activity. As first reported by Phone Scoop over a month ago, the UA Scale — measuring both weight and body fat — is also part of the kit. It uses Bluetooth to identify the UA Band of the person standing on the scale and Wi-Fi to upload the data. The UA Record app collects and combines info from the hardware with food intake information entered by the user, to provide a complete health picture. The UA Band is similar to the HTC Grip device announced almost a year ago, but sacrifices GPS for a sleeker, smaller design that lasts longer between charges and can be worn 24/7. The new UA Band is encased in rubber and sports a thin white OLED display; it's controlled by touch gestures and a single physical button on the side. It also has an adjustable strap. The UA HealthBox can be pre-ordered immediately. It will go on sale January 22nd online and at UA Brand House stores in major U.S. cities. It will be available more widely later in Q1, including at third party sports retailers and internationally.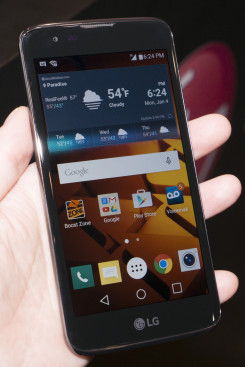 LG introduced two mid-range phones today as part of its new K Series. The K7, which is the smaller of the two phones, will be sold in the U.S. as the Tribute 5. Here are our first impressions of this camera-centric Android smartphone from LG.