Hands On with RCA's New Senior Phone
Article Comments 2
Jan 6, 2016, 5:54 PM by Rich Brome @rbrome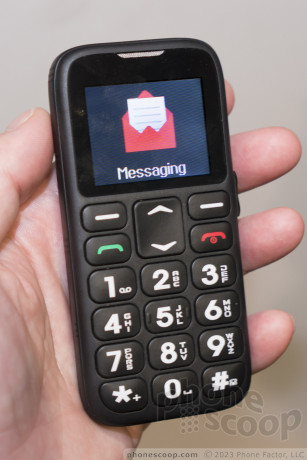 Feature phones with big, traditional buttons are becoming rare, but there's still a market for them among older consumers. RCA has a new phone out to address this market, with a number of senior-friendly features, and it costs just $29. We checked it out.
Advertisements article continues below...
RCA's "Senior Mobile Phone" is a type of phone we've seen before. But this one is very cheap and looks surprisingly well-designed. Doro and GreatCall make excellent higher-end solutions that provide more than just a phone, but for $29, this little number is an attractive option.
The Senior Phone has a small (1.7-inch) color display, huge buttons, SOS button on the back, flashlight activated by an old-school switch on the side, and an FM radio which works with the 3.5mm audio jack on the bottom. It also does messaging, of course, and even has "multimedia" and "organizer" options.
The interface is simple to figure out, with just a set of huge icons you scroll though at the top level, followed by three-line menus in a huge font once you get into the function you want.
You can program three priority phone numbers (such as family members.) When you press the SOS button on the back, it will call each in order until someone answers, and if no one picks up, it will call 911.
For just $29, it does just enough.
Is it just me or does this look just like their old TV remotes?
Anyone remember those old crappy RCA TV's that you could buy at walmart in the 90's? Yeah this looks very similar to the remotes that came with those TV's, or the universal remotes. It's a throwback to the late 90's electronics era! haha!
Release date
By any chance do you know the release date , thanks