Hands On wth the ZTE Grand X 3 for Cricket
Article Comments 3
Jan 5, 2016, 8:04 PM by Rich Brome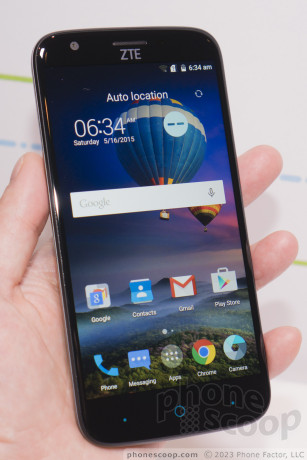 The Grand X 3 is part of a growing trend to find new ways to bring premium features and design to mid-range and entry-level phones. The Grand X 3 is an extremely affordable phablet with a plastic body and low-end processor. Yet at the same time, it has the same curved-edge glass front normally found on much higher-end phones, plus an HD display and USB Type-C connector. We spent some time with one.
Immediately when you pick it up, the Grand X 3 feels like a much higher-end phone than it is. That's entirely due to the curved-edge glass front, a premium design touch that adds cost. That part looks and feels a bit like the Samsung Galaxy S III, (a very good thing,) and the overall shape of both phones is remarkably similar.
With a 5.5-inch screen, the Grand X 3 is certainly on the larger side. It's too big for me, personally, but if current trends are any indication, it's a great size for a lot of people.
The rest of the phone has a nice shape that's comfortable, but it's all plastic. While it feels nice and solid, it doesn't feel as premium as the front.
The back plate has a very unique texture that's rougher than standard matte plastic. It almost feels like a faux stone finish; like an unpolished river stone. It's good for grip and feel nice once you get used to it.
The side keys are excellent; they're easy to find by touch and work well. They are mounted a bit high on the side for small hands, though.
Curiously, the Grand X 3 has separate Android keys below the main display. (The general trend has been toward on-screen versions of these controls.) Fortunately, they are illuminated.
Even more curiously, on the bottom you'll find a USB Type-C connector! While we expect a lot of phones to have that connector this year, it's still surprising to see it on such a low-end phone at this point. This connector currently requires an extra chip, which means extra cost. That ZTE found a way to get this, an HD display, and the curved glass into a $130 phone is frankly amazing. However they did it, you'll be glad to have an easy, reversible connector for charging.
On the software side, things are very close to standard Android 5.1 as designed by Google. ZTE focused its software energy on the camera app, and they did a decent job. It has three main modes: Auto, Fun, and Manual. It's mostly a good way to organize features, although some might question whether panorama and HDR are "fun" features or core camera functions. Interval and double exposure are fun, though. Manual mode is basic, giving you ISO and exposure, but not more advanced (and fun) functions like shutter speed.
Our first impression is that the Grand X 3 would probably be a good phone at $150 or even $180. At $130, it seems like an absolute steal. We look forward to reviewing it in depth to really see how it performs.
No messages