Review: ZTE Grand X 3 for Cricket Wireless
Hardware Software Wrap-Up Comments
Feb 5, 2016, 5:00 PM by Eric M. Zeman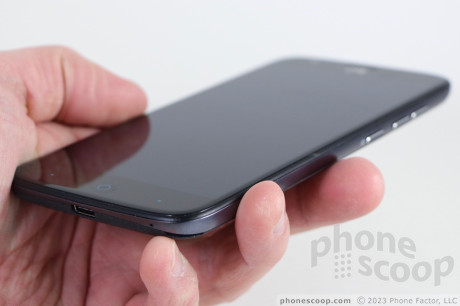 ZTE's latest arrival is the Grand X 3, an inexpensive Android phablet for Cricket Wireless. Some smart design and material choices help the Grand X 3 look and feel like a much more costly device than it really is. Here is Phone Scoop's in-depth report about ZTE's entry-level scrapper.
Advertisements article continues below...
Is It Your Type?
The ZTE Grand X 3 is a budget phablet that feels more like a mid- to high-end phone thanks to smart design and material choices. It's an attractive, yet inexpensive phone for today's more discerning and cost-conscious buyers. If you're looking to get the most bang for your buck, the Grand X 3 is a good place to start.
Body
The ZTE Grand X 3 represents a big step forward for ZTE. Many of the phone maker's handsets have looked good, but often come across as cheap thanks to inferior materials and build quality. The Grand X 3 solves that issue with its attractive, curved-edge display panel and solid construction. The classy, conservative shape and colors provide some help, as well.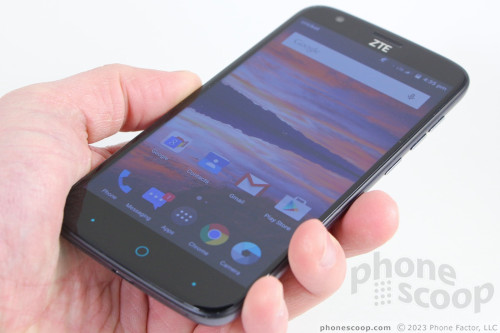 What I like most about the X 3 is its rounded profile. The front surface is glass that curves toward the sides at the edges. Curved-edge glass is typically reserved for more expensive devices like the iPhone 6. In the X 3's case, it allowed ZTE to improve the appearance and tactile feel of the handset quite a bit. A gray plastic frame wraps around the sides, and a unique shell covers the back. The rear panel has a fantastic texture; I really like it. It's rough and grippy without the mushy feeling that sometimes accompanies soft-touch paint jobs. If ZTE had used a more typical plastic back panel it would have killed half the phone's appeal.
With a 5.5-inch screen, the X 3 is not the biggest phone ever, but it's not small, not by any stretch. It's about the same size as a Moto X (3rd gen). It may be too big for people with small hands, but I didn't have any trouble using it for a few days. The rounded shape goes a long way to improving the phone's in-hand experience. It also helps the device glide into pockets without any fuss.
The materials and build quality belie the phone's low price point. I've reviewed phones twice and thrice as expensive that don't feel so well made. The X 3 has a great weight and is put together with obvious attention to detail. It's still made largely of plastic, but not cheap-feeling plastic.
The X 3's front surface is clean. It's not overly fussy like ZTE's Axon Pro was, and I appreciate that. The ZTE logo is just barely visible under the black grille protecting the earpiece speaker. The X 3 forgoes on-screen buttons for three capacitive keys built into the glass below the screen. Like the Axon Pro, the X 3's home button is a round circle (smaller than a pencil's eraser) and the back and multitask keys are small dots. All three light up when being used.
All of the other buttons are positioned on the right edge of the phone. The screen lock button is just a bit above the phone's middle. It has a great profile and fantastic travel and feedback. The same is true of the separate volume buttons, which are closer to the top. ZTE stuck a standard stereo headphone jack on top.
Amazingly, the X 3 relies on a USB Type-C connector for charging and data transfer. The new Type-C has the benefit of being reversible, thus making it easier to use. On the downside, Type-C is not yet as common as the micro-USB you're used to, so compatibility with accessories may be limited for a while. The X 3's left edge is free of controls.
You'll have no trouble peeling off the rear cover, which rips off perhaps too easily. The phone's massive 3,080 mAh battery fills up the bulk of the rear cavity. You have to yank out the battery to get at the SIM card, but the microSD memory card slot is freely accessible no matter where the battery happens to be.
I'm impressed with ZTE's ability to pair a well-made handset with a truly affordable price point. The Grand X 3 is a fine piece of hardware.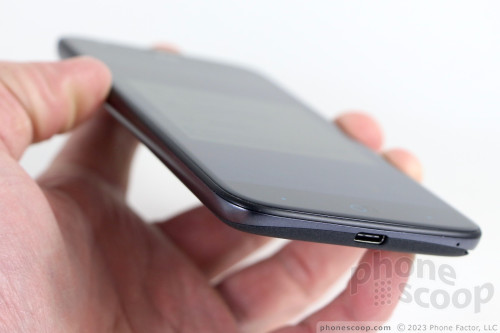 Screen
Another checkmark in the Grand X 3's favor? The display. This 5.5-inch panel may be limited to 720p HD, but it looks fantastic. I was pleased with the pixel density, brightness, and color reproduction. It looked crisp, vibrant, and accurate as I tested it. Viewing angles are quite impressive for an LCD, and I saw very little brightness drop or color shift. The only potential weak spot is outdoor viewability, which suffered a bit under the brightest sun.
Signal
Cricket Wireless operates on AT&T's network across the U.S. It's worth pointing out that Cricket caps maximum download speeds to 8 Mbps, which is about one-eighth what AT&T-branded phones can do on its LTE network. That aside, the Grand X 3 performed on par with other Cricket-branded phones. I didn't have any trouble connecting calls even under poor signal conditions. The phone held onto a call at highway speeds, and didn't drop or miss calls. The Grand X 3 often topped out at Cricket's 8 Mbps max download speed, which means it performed as fast as it is allowed to. In real terms, I'd call it a little slow to non-Cricket phones to download apps or update my Instagram feed over LTE, but it was swift enough for basic web browsing and scrolling through my Facebook feed.
Sound
The Grand X 3 is a solid voice phone. Calls exhibit excellent clarity and quality at middle volumes. I was pleased with the timbre of voices as they came through the earpiece speaker. The earpiece delivers quite a punch if you set it up all the way, though you'll encounter some distortion here and there if you do. I was able to hear calls in a diner during the lunch rush with no issue as long as I had the volume all the way up. People I spoke to through the X 3 said I sounded pretty good. The speakerphone loses volume and clarity. Calls were audible in the car at highway speeds, but not necessarily discernible. The speakerphone is best reserved for places like home or the office where it is a bit quieter. Ringers and alerts are quite loud, but the vibrate was perhaps a bit too subtle for me.
Battery
ZTE gifted the Grand X 3 with an incredible 3,080 mAh battery. This massive slab of lithium-ion keeps a charge well past the 24-hour mark. I easily coaxed 36 if not 40 hours out of the Grad X 3 while I reviewed it. The display may be large, but at 720p the X 3's screen has fewer than half as many pixels as a full HD screen. You shouldn't run into any issues getting a full day out of the X 3.
If you do, the X 3 has the system-level battery saver tool. The battery saver can be turned on manually, or set to come on automatically when the phone reaches 15% or 5% battery capacity. It dims the screen, shuts off radios, and negates background tasks. It helps a bit.
The phone supports Qualcomm Quick Charge with the right charger. I found it reached full capacity from 5% in a little over two hours.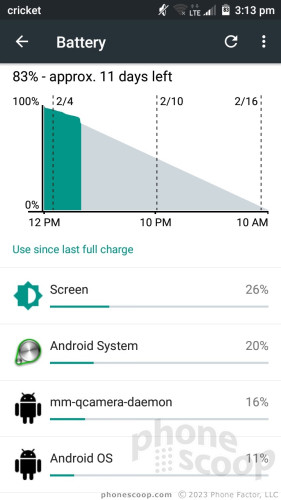 Bluetooth, GPS, NFC, WiFi
I was able to pair and connect the X 3 to a wide variety of other Bluetooth devices. It worked with headsets, speakers, and cars no problem, and also managed to connect to other phones and PCs without issue. I wasn't all that pleased with call quality over Bluetooth headsets, but the X 3 did marginally better when used with a hands-free setup in my car. Music pushed to my fave Bluetooth speaker sounded decent, but not the best. The connection sometimes dropped, which was a bummer.
The X 3's GPS radio interacted with Google Maps well enough. The phone was generally able to locate me within a few seconds, and accuracy was as good as about 25 feet. When used as a navigation device it performed decently, but I've seen quicker phones when it comes to map rendering and such.
The WiFi radio works perfectly. No issues there. The Grand X 3 doesn't have NFC.
No messages