Hands On with the Blu Vivo 5 and XL
Article Comments
Jan 8, 2016, 10:00 AM by Rich Brome
updated Jan 8, 2016, 11:27 AM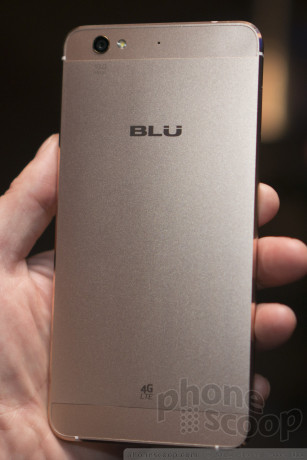 Blu is not only a fast-growing company, they're a fast-changing one as well. Most Blu phones to date have been cheap, plastic, and loaded with plain Android. At CES this year, Blu had a bit of a coming out party as a more aspirational brand. Their new Vivo 5 and Vivo XL have AMOLED displays, premium designs, advanced features, and a new, custom Blu skin on top of Android. Yet they stay true to Blu%u2019s mission of providing affordability, topping out at $200. We spent some time with the new models.
The Vivo 5 is made from a solid block of metal, and looks a lot like an iPhone 5. It has the same basic style, including the chamfered edges. It also has a very slightly curved back, combining the best of classic Apple and HTC designs, much like a Huawei Mate S or Mate 8. It's not an original design, but it's a very good one.
The Vivo 5 is very, very thin, which is further accentuated by the slight curve of the back. It's also shockingly light, which would make if feel cheap if it weren't for the solid metal construction. In fact, it feels great right down to the excellent buttons on the side.
On the bottom, you'll find a USB Type-C port. It's great to see USB Type-C gain traction on affordable phones so quickly in 2016. It means you might have trouble borrowing a friend's charger for now. But in a year or two, you'll be really glad you're not stuck with an old micro-USB port.
The 5.5-inch AMOLED HD screen is really lovely for this class of phone. The size means the phone is rather large, but the side bezels are impressively thin, which helps a lot.
The Vivo 5 is the higher-end model between the two phones, with 3 GB of RAM (well worth the extra money of you're impatient) and more built-in storage (32GB).
The Vivo 5 doesn't support low-band LTE due to its metal design that makes antenna design trickier, so there's no band 12 or 17, which makes it tough to recommend if strong, reliable 4G data is important to you. But the Vivo XL supports band 12 and 17, and will be certified for use on T-Mobile's band 12 network, which means it will support AT&T and T-Mobile LTE networks very well. That's a tricky trade-off. I like the Vivo 5 and would love to recommend it, but that lack of full LTE coverage is a serious issue.
The Vivo XL steps down to plastic construction that's slightly larger, and less memory.
Both phones use MediaTek processors. Both phones have a 13-megapixel main camera and 5-megapixel selfie camera. The camera software is pretty good (more on that later). There's also fast charging and a huge 3,150 mAh battery in both. You'll also find FM radios and the NextRadio app to take advantage.
The XL still has thin bezels and is very thin and light. The back is glossy plastic and feels like it, but it does have a unique design. It's actually clear plastic that's smooth outside, but laser-etched and painted gold inside. It's neat. But the phone definitely doesn't have the high-end feel of the Vivo 5, and the side keys are very thin and slippery; they get the job done but they're not great.
One fascinating move Blu is making — starting with these phones — is switching from plain Android to their own customized version. The new Blu skin is similar to the ones you'll find from brands like Huawei. Which is to say that it feels familiar… if you've ever used an iPhone. So the apps drawer is gone; all apps live on the home screens. That's not uncommon among manufacturer skins right now. But Blu goes a bit further by moving Quick Settings from the notification shade to a separate shade that pulls up from the bottom of the screen… exactly like Control Center on iOS. I don't really mind these changes, but it may drive some Android purists nuts, and customers who like Blu for its "pure" Android offerings may not be happy.
The camera app is completely new and pretty great. You'll find all of the usual features like panorama and HDR, but also full manual mode, including shutter speed that can be cranked up to an impressive 14 seconds for amazing long-exposure night shots. There are also separate focus and exposure points that you can drag to easily get good focus and exposure.
Blu has also partnered with Celltick to put an advanced lock screen on its new phones. It has a ton of shortcuts and content options. It tries to learn about you and personalize itself to you automatically, but you can also customize it manually. You can also turn it off. Interestingly, there's a financial angle here for Blu. They make money when it tries to steer you toward certain content partners. So if Huffington Post has a deal with Cellatick but Phone Scoop doesn't, you're much more likely to see their article on something than ours. Also, if you view a video from the lock screen, you'll start with a video ad, which Blue and Cellatick also make money from. But all of this seems reasonable; they're not actually putting ads on your lock screen. Playing with it a bit, I can say that the shortcut and content options seem genuinely useful.
The Vivo 5 and Vivo XL go on sale soon on Amazon.com and BestBuy.com. The Vivo 5 is $200, while the XL is just $150. Those are great prices for what you're getting. The XL doesn't have the metal design and 3 GB of RAM; but the full LTE coverage, large battery, and huge OLED screen make it a great deal for $150.
No messages