Blu Vivo 5 Has Unibody Metal Design
Article Comments 1
Jan 7, 2016, 8:00 AM by Rich Brome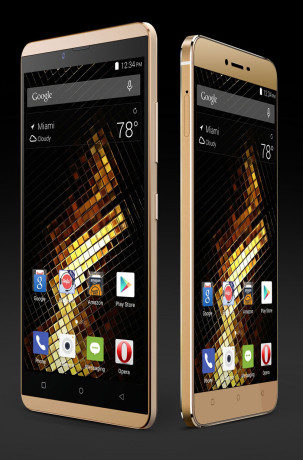 Blu today announced the Vivo 5 and Vivo XL affordable Android smartphones. Both have a premium design, and similar specs. The Vivo 5 (pictured on the right) is Blu's first phone with unibody metal design carved from a single block of aluminum. Both phones sport a 5.5-inch HD AMOLED display, 1.3 GHz octa-core MediaTek MT6753 processor, 13-megapixel camera, Type-C USB connector, and 3,150 mAh battery. The phones ship with Android 5.1, upgradeable to Android 6. Besides design, the two phones differ in a few other areas. The Vivo 5 is 6.9mm thick, while the Vivo XL is 7.5mm. The 5 has 3 GB of RAM and 32 GB of memory, while the XL has 2 GB of RAM and 16 of memory (both have a memory card slot.) Finally, the XL supports LTE bands 2, 4, 7, 12, and 17 - for full US network support - while the Vivo 5 only supports LTE bands 2, 4, and 7. The Vivo 5 will sell for $199 unlocked next month, while the Vivo XL will go for $149 this month. Both will be sold via BestBuy.com and Amazon.com.
source: Blu
Well if Samsung can get away with it...
After they released the S6 and didn't get a design lawsuit from you know who, for rectangular phones with a metal frame body and curved corners, the flood gates burst wide open on this style.

It's a no-brainer, metal has always had a quality heft and feel in the hand, and while its definitely not deserving of a design patent, I think if Samsung wouldn't have released the S6, we wouldn't be seeing any of these phones using the same style, due to fear of a certain patent-trollish fruit.