Hands-On with Polaroid's Power and Snap Handsets
Article Comments 1
Jan 6, 2016, 6:46 PM by Eric M. Zeman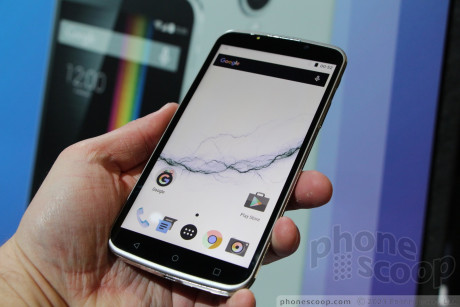 Polaroid is banking on its brand power to sell unlocked Android smartphones to unwitting U.S. consumers. Believe it or not, these phones are not the second coming of mobile photography. Instead, they are bland exercises in marketing gone awry.
Advertisements article continues below...
Polaroid is following in the footsteps of other companies by slapping its brand on a range of products. The company chiefly offers imaging hardware (you know, cameras), but branched out into Android smartphones and tablets in a handful of markets around the world. Beginning in 2016, Polaroid's handsets will target U.S. consumers, too.
The Polaroid name conjures up nostalgia for the 70s and 80s when its instant cameras were all the rage. For a company that makes cameras, you'd think its smartphones would place a priority on photography. They don't. The Power and Snap may have the Polaroid name, but they don't even pretend to offer an advanced imaging experience.
To start, Polaroid didn't make these phones. It contracted Southern Telecom to design and manufacture the devices. Southern Telecom simply licensed Polaroid's brand so it has a better chance to sell the hardware. Kodak did something similar last year with Bullitt, as did Marshall with the London smartphone.
There's nothing inherently wrong with either the Power or Snap, but there's no compelling reason for consumers to buy them, either.
The Power and Snap are similar in terms of design and features. They have rather generic looks, but don't come across as cheap or flimsy. The materials and build quality are pretty good, and the selection of colors is decent, too. The Power is a single phone, while the Snap is a trio of handsets that have the same internals and differ only in terms of the screen size. The Power and Snap are relatively thin, light, and easy to hold and use. They have similar button placement, with the volume toggle and screen lock buttons on the right side. The buttons, covered in a chrome finish, have a nice rounded profile and excellent travel and feedback.
The Power's 6-inch full HD screen is rather impressive. The clarity is excellent, and brightness is very good. The Snap's screen was less impressive thanks to the lower 720p resolution panel.
Both phones run stock Android. The Power runs 6.0 Marshmallow, while the Snap runs 5.1 Lollipop. The UI ran smoothly on each phone. Surely, some people will be thrilled with the plain Google experience.
Here's the issue: The Polaroid Power and Snap use the stock Google camera app. Google's camera app is simple to a fault. It offers no advanced photography features whatsoever. Polaroid didn't bestow the phones with special editing or photo-management apps, either. Google's Photos app is aboard, and apparently that's all Polaroid thinks people want or need. Polaroid's own Polamatic app is nowhere to be found. This is mind boggling to me.
The Power and Snap each has a 13-megapixel main shooter with LED flash. Polaroid couldn't tell me what company made the imaging sensor. The Power has an 8-megapixel front camera and the Snap has a 5-megapixel front camera. Both phones have a selfie flash to help fill out those self portraits.
The Snap is expected to be available online starting in February for $130, $150, or $180, for the 5-, 5.5-, and 6-inch models, respectively. The Power won't arrive until the spring and will cost $250. The price points are well matched to the quality of the phones, and they will be sold unlocked with support for AT&T and T-Mobile.
At the end of the day these are fine phones, but I think they are a bit misleading from a marketing perspective.
The Polaroid name
I've never associated the Polaroid name with good photography. I tend to associate it more with cheap instant cameras that produced mediocre images.

I predict this is one of those devices that will be sold in stores like Dollar General, Family Dollar, and Fred's.