Hands On with the Huawei Honor 5X
Article Comments
Jan 6, 2016, 2:47 AM by Rich Brome @rbrome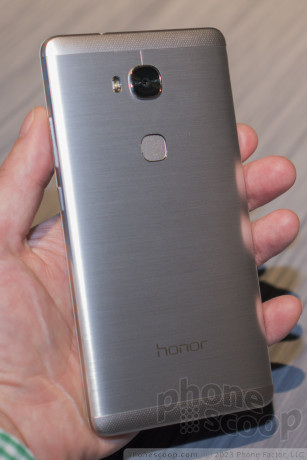 The Honor 5X is an "affordable premium" phone, a category that's expanding extremely quickly. It's Android. It has a metal back. It has respectable mid-range specs. It's pretty. Huawei is making a push to sell it online, unlocked. But what's it like in person? Read on.
Advertisements article continues below...
The 5X has an attractive design. It's not ground-breaking, but it's nice. It's well-designed, with just enough metal, blended nicely with glass and bits of plastic at the top and bottom for the antennas.
The side buttons are excellent. They work well and have a nice rough texture, although a unique texture for volume vs. lock would have been nice. They feel like fine metal. The rest of the phone is a good weight and size. Very thin side bezels mean the phone fits well in most any hand while also sporting a large screen.
The metal back has a brushed ceramic coating that's very noticeable; it feels slick. It has the brushed metal look, but not the brushed metal feel. That can make it easy to grip (especially if your hands are even slightly oily) but also means it will slide off other surfaces in a flash.
The front glass is perfectly flat. I'd have preferred curved-edge glass, but the design of the front is still nice enough that is does feel premium.
The top and bottom caps are quite obviously plastic, but it looks decent enough, and that's not a part most people handle. Overall, the size and weight are well-balanced.
The 5.5-inch full-HD display is bright and sharp. Viewing angles are not great, but that's not something that's an issue in most daily use. The fingerprint reader on the back helps you securely unlock the phone quickly. It's great feature that you'll never want to be without once you get used to it, and Huawei does them very well.
On the software side, it does have Huawei's EMUI skin on top of Android 5.1. It's a much heavier skin than I would prefer. It gets rid of the whole concept of an app menu/drawer, instead putting all app icons on the home screen. There are many other smaller tweaks throughout.
Two big features stand out, although they are found on other Huawei phones.
One is the knuckle gestures. The phone knows when you touch your knuckle to the screen. There are a few uses for this, but the most advanced is when the phone is sleeping. You can draw a letter - like C for camera - with your knuckle and it will wake up and launch the camera. Or W for weather, etc.
The other stand-out feature is Perfect Selfie. Huawei has its own camera app with many features, but Perfect Selfie is the most unique and advanced. You train it with three angles of your face, then choose how much beautification you prefer, in several ways. Then it will use that info to improve every selfie you take from then on. If you're serious about looking good in your many selfies, this may be a great feature.
The Honor 5X can be pre-ordered on January 6th and ships January 31st. You can buy it from Amazon.com or HiHonor.com. That leads to pricing...
To understand the Honor 5X pricing, it helps to understand that "Honor" isn't just a random brand like Samsung's "Galaxy". It's actually a semi-autonomous business unit within Huawei. They get to plan their own products and pricing.
That leads to some interesting situations, like Huawei's incredibly awkward CES. Huawei proper announced the GX8, a nice mid-range Android phone for $350. Hours later, Honor announced the 5X, which essentially the same phone, but for only $200. Both run Huawei's EMUI skin on top of Android. They have 99% identical specs. Both are sold in the U.S. exclusively online, unlocked.
Like I said, awkward.
Officially, the reason is that Honor operates under a different business model that excludes traditional carrier and brick-and-mortar channels, saving costs on sales and marketing. But that doesn't quite account for the $150 price difference.
There is one notable physical difference: the GX8 has a true unibody metal design, which definitely improves the feel and should improve the durability. It's also more costly to engineer and manufacture. But this also doesn't account for anywhere near $150 of difference.
Go figure. So while I like the GX8, it's impossible to recommend it over the Honor 5X. The 5X, meanwhile, looks like a pretty decent phone for the price.
No messages