Polaroid Shows Off Two Android Smartphones
Article Comments
Jan 6, 2016, 5:04 PM by Eric M. Zeman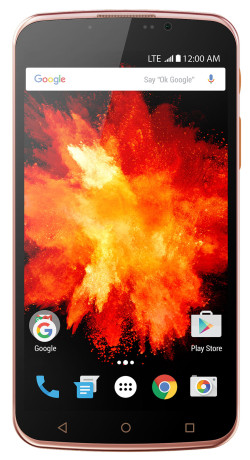 Polaroid today announced the Power and Snap smartphones, two Android handsets that will be sold to U.S. consumers online. Polaroid did not make these phones; instead, it licensed its brand to Southern Telecom, which designed and manufactured the handsets. The phones offer attractive price points and will be sold unlocked. Each runs Android 5.1 Lollipop, has LTE compatible with AT&T and T-Mobile, and supports microSD memory cards.
Polaroid Power: The Power (pictured) is the company's high-end offering. It has a 6-inch full HD screen, 64-bit octa-core processor with 3 GB of RAM, and 32 GB of internal storage. The rear camera rates 13 megapixels with dual LED flash, and the front camera rates 8 megapixels paired with a selfie flash. The Power has a 3,000mAh battery and will cost $249.99.
Polaroid Snap: The Snap is a series of phones that will come in 5-, 5.5-, and 6-inch variants. All versions have a quad-core processor with 2 GB of RAM and 16 GB of storage, and 720p HD displays. The rear camera has a 13-megapixel sensor with flash and the front camera has a 5-megapixel sensor with selfie flash. Pricing will range from $129.99 to $179.99, depending on screen size.
The Polaroid Power and Snap are expected to reach the U.S. in the spring and February, respectively. Polaroid said more details will be available closer to release.
No messages