Hands On with the ZTE Avid Plus for T-Mobile
Article Comments
Jan 5, 2016, 10:57 PM by Rich Brome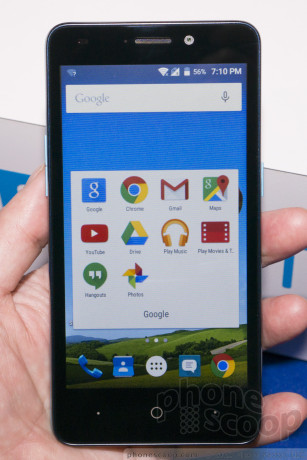 ZTE's new most affordable smartphone for the U.S. is the Avid Plus. At just $115 MSRP (and probably less through T-Mobile and Metro) it's quite a low-end phone. Just how low-end does it feel? We checked it out.
To cut to the chase, the Avid Plus feels about as cheap as it is There's no huge flaw in the design; it doesn't feel awful or badly made. But you will not forget when holding it how much you (didn't) pay for it.
The glass is flat and a magnet for fingerprints. Where the glass meets the sides is a thin, sharp plastic ridge. The back is plastic and the leatherette texture only improves the feel slightly. The buttons are squared off with sharp corners.
But it's a functional design. The shape and size are excellent. The buttons work well. The front touch buttons are illuminated (albeit dimly). The back pops off easily (but not too easily) for access to the battery and memory card slot.
The display is often where manufacturers cut costs on a phone like this, and that's certainly true on the Avid Plus. It's a relatively dim display with a blue-ish cast and viewing angles that don't impress. But no one should expect a great display at this price.
The software is standard Android and that's good. The camera software is a standard Android app plus some scene modes.
I wouldn't complain much about the Avid Plus were it not for the stark contrast with the Grand X 3. For just $15 more, the Grand X 3 is a dramatically better phone in almost every way. ZTE really tried to bring something different and better to this class of phone with the Grand X 3, instantly making the Avid Plus feel like last year's phone, and a poor value by comparison.
No messages