Hands On with the Huawei GX8
Article Comments 1
Jan 5, 2016, 3:42 PM by Rich Brome @rbrome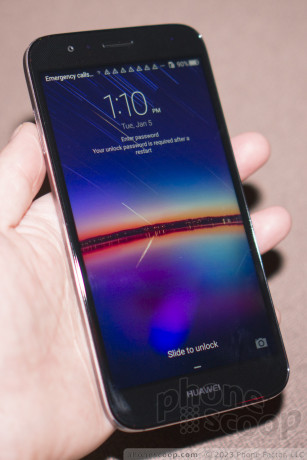 The GX8 is a mid-range Android phone sold unlocked in the US market. It's an interesting entry into the growing category of phones that aim to marry premium design and materials with decent specs, for a low price. The premium design takes the form of a unibody aluminum frame and curved-edge glass front. Specs include a 5.5-inch HD display, Snapdragon 615 processor, and 13-megapixel camera. What's it like? We have some photos and first impressions.
Advertisements article continues below...
The GX8 is a straightforward Android phone except for two standout aspects: the metal-and-glass design, and the fingerprint reader.
The metal unibody frame looks and feels great. It's everything you'd expect from a premium body. Curved-edge glass is a design feature we're big fans of, and it's implemented well here. It makes the phone look nicer, and makes it more comfortable to grip and swipe sideways.
The size and weight are well-balanced for a phone with a 5.5-inch screen.
Huawei is known for leading in fingerprint sensors. Few other manufacturers would put a fingerprint reader in this class of phone right now. It's nice to see. Once you get used to the speed and convenience of unlocking phone with your fingerprint, it's hard to go back. It's just so much better than a PIN or swipe pattern. But you do need a fast fingerprint sensor for the experience to be seamless, and fortunately this is something Huawei is very good at.
$349 is Too Much
That's a full $100 higher than Alcatel's Idol series....nope...