CES 2016
The mother of all trade shows, the Consumer Electronics Show takes over Vegas for the first week of January. Some major phones are usually announced, and we'll have hands-on reports for each one. This year, we expect big news from Huawei, Samsung, Sony, and Blu. Plus we'll have hands-on details of other interesting apps, services, and accessories in the world of phones.
Bookmark this page and don't miss a thing!
Also, follow us on Twitter for up-to-the-second news and extras:
All T-Mobile AT&T ZTE Huawei more... Discuss
Polaroid today announced the Power and Snap smartphones, two Android handsets that will be sold to U.S. consumers online. Polaroid did not make these phones; instead, it licensed its brand to Southern Telecom, which designed and manufactured the handsets. The phones offer attractive price points and will be sold unlocked. Each runs Android 5.1 Lollipop, has LTE compatible with AT&T and T-Mobile, and supports microSD memory cards.
Polaroid Power: The Power (pictured) is the company's high-end offering. It has a 6-inch full HD screen, 64-bit octa-core processor with 3 GB of RAM, and 32 GB of internal storage. The rear camera rates 13 megapixels with dual LED flash, and the front camera rates 8 megapixels paired with a selfie flash. The Power has a 3,000mAh battery and will cost $249.99.
Polaroid Snap: The Snap is a series of phones that will come in 5-, 5.5-, and 6-inch variants. All versions have a quad-core processor with 2 GB of RAM and 16 GB of storage, and 720p HD displays. The rear camera has a 13-megapixel sensor with flash and the front camera has a 5-megapixel sensor with selfie flash. Pricing will range from $129.99 to $179.99, depending on screen size.
The Polaroid Power and Snap are expected to reach the U.S. in the spring and February, respectively. Polaroid said more details will be available closer to release.
---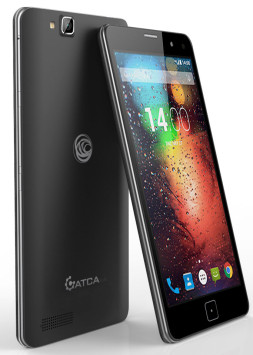 Macate today announced the GATCA Elite, a smartphone that boasts advanced security tools. The phone was designed with VIPs in mind. It runs Android 5.1 Lollipop and offers 256-bit or 512-bit encryption, which goes beyond government-grade security. It relies on biometrics (facial recognition) to secure the handset. The facial recognition can't be fooled by a photograph thanks to "liveliness detection." The GATCA Elite has advanced controls over files, folders, location, and even the SIM card slot. For example, the phone can be set to automatically shut down if an unknown SIM card is inserted. The phone ships with a suite of pre-installed apps for securing basic communications, including calls, email, and messaging — all of which are encrypted from end to end. It includes a video conferencing app that supports up to 20 participants. The handset has a 5.5-inch 720p HD screen and is powered by a 1.3 GHz octa-core MediaTek MT6735 processor with 2 GB of RAM and 32 GB of storage. It has a 13-megapixl rear camera and 5-megapixel front camera. It includes LTE Bands 2, 4, 5, 12, and 17 for compatibility with AT&T and T-Mobile. Macate is selling the GATCA Elite online for $850.
---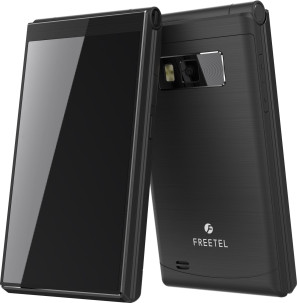 Freetel today announced plans to sell its smartphones in the U.S. Freetel is one of the larger wireless network operators in Japan and also makes its own smartphones. The company believes the time is ripe to enter the U.S. based on the growing sales of unlocked handsets. Freetel will initially launch three phones during the first quarter, including the flagship Kiwami, the mid-range Miyabi, and the entry-level Priori3. The Kiwami is a high-end metal phone with a 6-inch quad HD screen, 21-megapixel Sony camera, 3,400mAh battery, fingerprint sensor, and rapid charging. It costs $389. The Miyabi has a 5-inch screen, 13-megapixel camera with image stabilization, and a metallic frame. It will cost $199. The Priori3 is a smaller, plastic handset that will cost $99. All three run Android, support LTE for AT&T and T-Mobile, and will be sold unlocked. Later in the year, Freetel hopes to bring the Musashi (pictured) to the U.S. This unique Android handset is a clamshell that features dual 4-inch touchscreen displays with a full numeric keypad. Pricing for the Musashi was not revealed.
---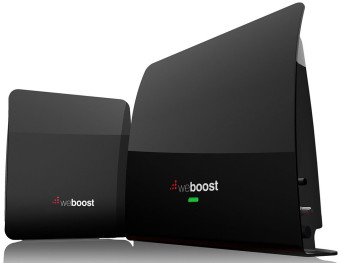 WeBoost and SureCall both used CES as an opportunity to show off new cell signal boosters. Both products work in a similar fashion: they collect cell signals from nearby cell towers, amplify them, and rebroadcast them within the home to improve coverage and signal strength. Each has two components — an antenna that is aimed at a cell tower and a broadcaster for supplying in-home coverage. WeBoost's product is called the eqo and resembles a WiFi router. WeBoost says the eqo is improved over its older products because the antenna can be kept indoors, rather than installed outside. This makes it more convenient for apartment dwellers. It can improve coverage over an area of about 1,200 square feet and costs $349. The SureCall EZ 4G is similar. Its antenna resembles a radar dish. The SureCall EZ 4G also provides one to two rooms of coverage and costs $399.99. The eqo and EZ 4G support CDMA, GSM, and LTE, and are compatible with AT&T, Sprint, T-Mobile, and Verizon Wireless.
---
Ford today said it plans to bring connectivity to a large percentage of its cars over the next few years. The company will add its Sync Connect feature to as many as 10 million Ford cars by 2020. Sync Connect provides owners with a variety of features for interacting with their cars, such as unlocking the doors, locating parked vehicles, checking the fuel status and/or tire pressure, and remotely starting the engine. AT&T will provide five years of complimentary wireless service to new cars, beginning with the Escape this spring and expanding across the lineup over time. Network connectivity has been a feature for many Ford cars since 2011, but today's commitment will see LTE added to a broader range of vehicles along with vehicle management tools.
---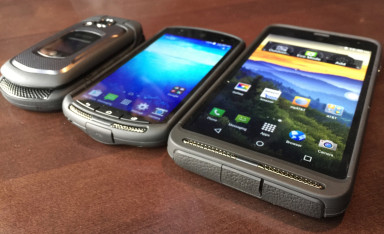 Kyocera kicked off CES with two new phones for AT&T. The DuraXE is a rugged flip and the DuraForce XD is a rugged phablet. Both are practically unbreakable and come with business and consumer-friendly features. Here are our first impressions of these two handsome handsets.
---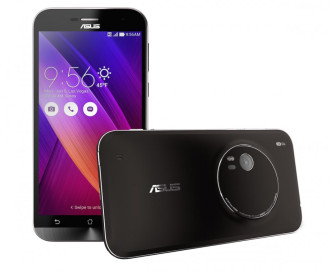 Asus today announced plans to bring the Zenfone Zoom to the U.S. The Zoom was first announced a full year ago at CES 2015. This Android smartphone features a 13-megapixel camera with a 10-element lens, 3x optical zoom, laser focusing, optical image stabilization, and macro mode. The Zoom camera app sports a full manual mode with control over white balance, focus, and exposure. The front camera is 5 megapixels. The Zoom has a 5.5-inch full HD display and runs Android 5.1 Lollipop. It supports LTE bands compatible with AT&T and has a 3000 mAh battery. It will be available beginning in February for $399.
---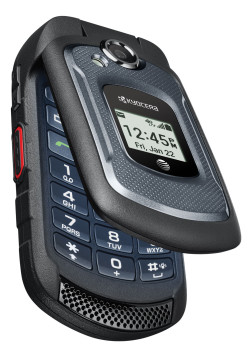 Kyocera and AT&T today announced the DuraXE, an ultra-rugged feature phone that includes PTT and hotspot capabilities. The DuraXE is rated mil-spec 810G for durability and IP68 for protection against water and dust. The phone can handle shock, vibrations, blowing rain, temperature extremes, high humidity, and immersion in 6 feet of water for up to 30 minutes. The DuraXE has dual screens, including a 1.08-inch external monochrome display and a 2.6-inch main color display. The phone is powered by a 1.1 GHz quad-core Snapdragon 210 processor and includes 1 GB of RAM, 8 GB of storage, and supports memory cards up to 32 GB. The phone runs on AT&T's LTE network and includes GPS, Bluetooth, and WiFi. It can serve as a mobile hotspot for up to 10 other devices, which is novel for a non-smart phone. Kyocera says the 1500mAh battery provides extended standby time. AT&T will begin selling the DuraXE January 8. It will cost $13.50 per month for 20 months on an AT&T installment plan. AT&T will also sell the DuraForce XD phablet, announced several months ago, on January 8. The DuraForce XD will cost $14.97 per month with an AT&T Next 24 plan. Contract pricing is available only to business customers.
---