All Liveblogs Huawei Samsung Alcatel more...
Liquipel this week announced version 2.0 of its water-proofing solution. Liquipel first debuted at CES 2012, and it is back this year with a new formula that it says is 100 times more effective than the original formula. Liquipel is based on nanotechnology and is applied to devices using a controlled mist (phones need to be sent to Liquipel's facility in order for it to be applied). The material gets inside the device, covers the internal components, and protects them from the problems caused by contact with water and other liquids. Liquipel says the new formula equates to an IPX7 rating, meaning it can withstand submersion in water for up to 30 minutes. The company is so confident in its new formula that is is offering a warranty for customers whose Liquipel-protected devices suffer liquid damage. Pricing for Liquipel starts at $59.
T-Mobile today gave an update on its LTE rollout at a press conference at CES in Las Vegas. According to Neville Ray, T-Mobile's CTO, the company will launch LTE in Las Vegas later this month. Some current T-Mobile phones - including the Samsung Galaxy Note II - will work on the new LTE network after an over-the-air software update. By mid-2013, the company plans to have 100 million people covered by its LTE network, and 200 million by the end of the year. The company will launch its LTE network with an amount of spectrum equal to AT&T and Verizon, and double that of Sprint's current LTE deployment.
T-Mobile today announced the immediate nationwide launch of HD Voice service across its entire network, a first in the U.S. The service promises dramatic audio quality improvement during phone calls. The service requires an HD Voice-capable phone at each end of the phone call. T-Mobile already offers several phones compatible with the service, including the HTC One S, Nokia Astound, and Samsung Galaxy S III. Sprint launched HD Voice last year, although only on parts of its network that have been upgraded to new tower equipment, a project still in progress.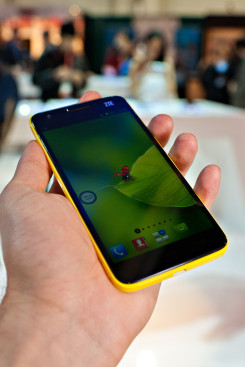 ZTE is joining the club introducing a phone with a 5-inch 1080p full-HD display here at CES. It's big, thin, light, and the screen will impress the most jaded display critic. There's more to a phone, though. Read on for our impressions from spending some time with it.
Sprint is preparing to launch new phones in the second half of 2013 that support LTE technology in all of the company's major frequency bands, according to Sprint Director of Device Product Marketing Trevor A. Van Norman. The company had previously hinted at dual-band phones, but now plans to skip straight to tri-band, to fully support all of the company's planned LTE deployments. In addition to Sprint's current LTE band near 1900 MHz (band 25), the phones will also support LTE near 800 MHz and 2,500 MHz. The 800 band (also known as ESMR, BC10, and band 27) hosts iDEN - which is being phased out - and CDMA. Sprint has previously announced plans to deploy LTE technology in that band in early 2014. Sprint will also keep CDMA in part of the 8900 band and/or in certain regions. The 2,500 MHz band (also known as band 41) hosts both WiMAX and LTE technologies, and is owned by Clear, which Sprint is trying to acquire control of. Regardless of the outcome of that transaction, Sprint will use the Clear LTE network to augment its LTE coverage and capacity.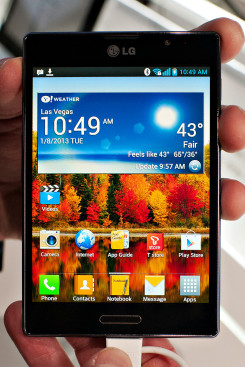 The Vu ii is a follow up to last year's Vu / Intuition from LG. It is still a bit awkward to hold, but less so than before thanks to significant changes to the hardware. Here are our first impressions.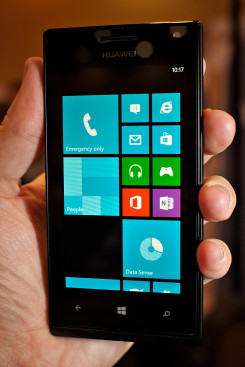 Huawei's first Windows Phone, the Ascend W1, was on display at CES and we spent a few moments with it. Here are our first impressions.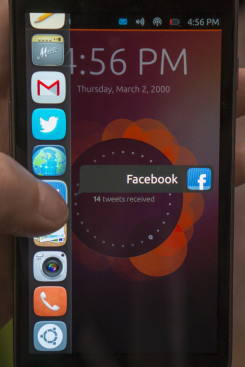 Canonical had an early build of its Ubuntu Linux smartphone operating system at CES and we took a look. It has a clean and fast user interface, though its chances in the market are questionable.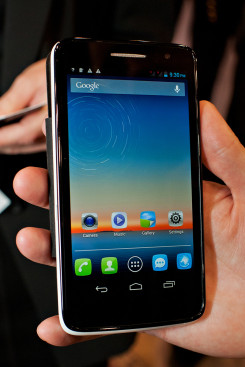 The Alcatel Scribe HD is a heftier device than the Idol and comes with a 5-inch, high-definition screen, too. Here are our first impressions of this Android smartphone.
The Alcatel Idol is one of the lightest Android smartphones out there at just 3.88 ounces. It may only weigh as much as a feather, but it is no featherweight.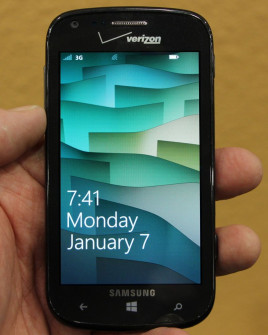 Samsung's newest Windows Phone 8 device was on hand at CES and we spent a few moments with it. Here are our first impressions of the Samsung ATIV Odyssey.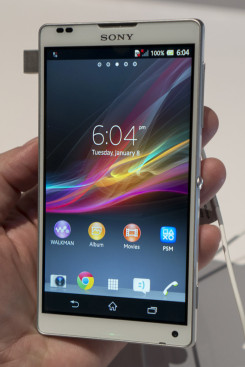 Sony today announced the Xperia Z, he company's new flagship for 2013, and its little brother, the ZL. Read on for our first impressions of these top-end phones.
Sony today announced the Xperia Z, its flagship Android smartphone headed into the first half of 2013. The Xperia Z includes a 5-inch display with 1920 x 1080 pixels, making it a full HD screen. It uses Sony's Bravia Engine 2 for improved clarity. The Xperia Z has a 1.5GHz quad-core Qualcomm Snapdragon S4 Pro processor with 2GB of RAM, keeping it motivated. The Xperia Z features a 13-megapixel EXMOR camera sensor with Fast Capture technology. The camera can shoot 1080p HDR (high dynamic range) HD video, as well. According to Sony, the Xperia Z has improved power efficiency through the use of something it calls STAMINA. This feature shuts off certain running applications whenever the screen is turned off. The apps then resume instantly when the screen is turned back on. All of these features are packed into a form factor that is water and dust resistant, and measures just 7.9mm thick. The Xperia Z (and a smaller version called the Xperia ZL) will ship during the first quarter of 2013. It will run Android 4.1 Jelly Bean at launch, with an update to Android 4.2 to follow quickly after initial retail availability. Pricing has not yet been disclosed.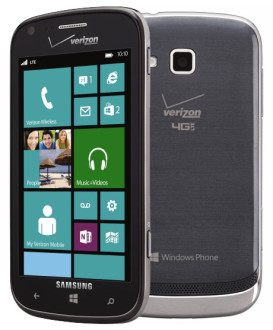 Samsung today announced the upcoming launch and new details of the ATIV Odyssey for Verizon Wireless, Samsung's first Windows Phone 8 device for the U.S. Originally announced in October for launch by the end of 2012, the phone is now slated to launch "in the coming weeks." The ATIV Odyssey has a 4-inch Super AMOLED display, 1.5 GHz dual-core processor, 5-megapixel camera, and global roaming. The phone also features 4G LTE, a 1.2-megapixel front camera, 2,100 mAh battery, and 8 GB of internal storage plus up to 64 GB of microSD memory.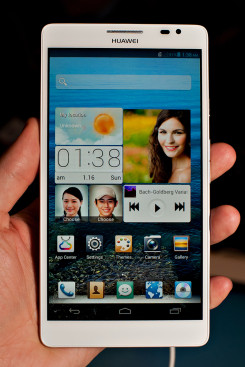 Huawei has a new entry in the phablet market with the Ascend Mate. This large phone (or small tablet) has a massive 6.1-inch screen and a 4,000-mAh battery to power it. Read on for our first impressions.
Huawei today announced the Ascend Mate, a phone/tablet with a 6.1-inch display. The features and appearance are similar to the Ascend D2 - also announced today - with a few differences. The Ascend Mate has an 8-megapixel camera and 4,000 mAh battery, but the same quad-core processor. The Mate has a few extra software features for the larger screen, such as a set of pop-up windows that float over regular apps, for limited real-time multi-tasking. Available pop-ups include a calculator, calendar, notepad and video player. The Ascend Mate also sports a modified keyboard that shifts all of the keys toward one side, making it easier to type one-handed. Pricing and U.S. availability was not announced.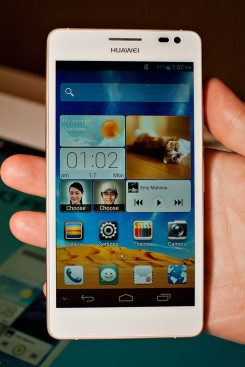 Huawei today showed off its newest flagship phone, the Ascend D2, with a 5-inch 1080 x 1920 pixel "Super Retina" 443 ppi display. The phone also sports a touch-screen sensor that works through gloves, a 13-megapixel camera with BSI sensor, and a 1.5 GHz quad-core processor. The dust- and water-resistant body body sports a flat glass front with on-screen Android controls, curved sides formed from machined solid metal frame, and a curved glossy plastic back. Thd 3,000-mAh battery is sealed inside. The phone sports 32 GB of internal storage plus 2 GB of RAM. It runs Android 4.1 with Huawei's Emotion UI 1.5.
Samsung will be announcing a slew of new products at this year's CES, and we expect some bit of phone news.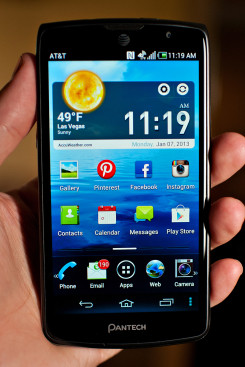 Pantech announced the Discover today, a high-end handset for AT&T. We were able to spend a few moments with it and here are our first impressions.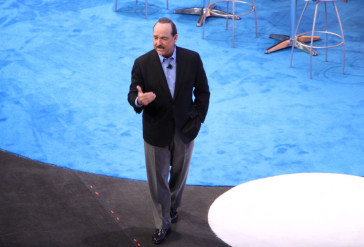 AT&T hosts its Developer Summit event every January in Vegas to coincide with CES, and most years, they announce some new phones to get developers excited. We're live on the scene to bring you the news as it happens on stage.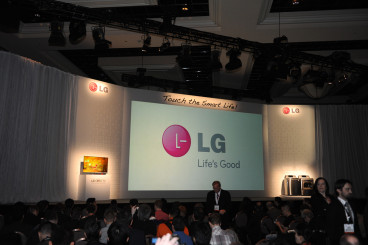 We're live on the scene for LG's big CES press conference.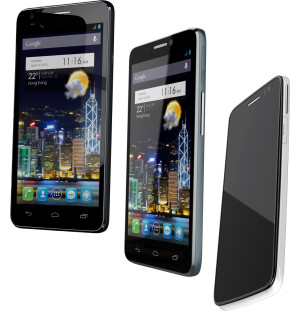 Alcatel One Touch today announced three new phones, including what the company claims is the world's thinnest smartphone, plus a smartphone using the new quad-core chipset from MediaTek. All are GSM/HSPA models.
Idol Ultra: At just 6.45 mm thin - the world's thinnest, according to Alcatel - this phone still packs in a 4.7-inch HD OLED display, 8-megapixel camera, and 1.2 GHz dual-core processor. It runs Android 4.1. The Idol Ultra is not currently slated for U.S. release due to FCC regulations, according to an Alcatel spokesperson.
Idol: An ultra-light smartphone weighing in at 3.88 ounces and 8.15 mm thin. Features are similar to the Idol Ultra, including dual-core 1.2 GHz processor, 4.7-inch qHD IPS LCD display, and 8-megapixel camera. It also runs Android 4.1. The Idol is planned for U.S. release in the third quarter of 2013.
Scribe HD: A phone for those who want a 5-inch screen, the Scribe HD also sports the new MediaTek MT6589 1.2 GHz quad-core chipset, plus an 8-megapixel camera, 4G data, and it runs Android Jelly Bean. The Scribe HD may come to the U.S. in mid-2013.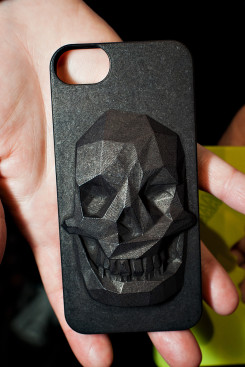 Sculpteo recently launched 3DPCase, an iOS app that lets users easily design and order their own custom 3D-printed iPhone case, fitting either an iPhone 4 or 5. Users can use one of several templates, each of which allows different customizations to the shape of the case. One template lets users choose a location in Google Maps to apply the topography of that terrain to the back of the case. Another template lets users take a photo and use the silhouette of a person's face as part of the edge of the case.
Corning today announced that it will demonstrate the strength of its third-generation Gorilla Glass at the Consumer Electronics Show in Las Vegas next week. Corning calls Gorilla Glass 3 "a new glass composition with durability enhancements" compared to previous versions. Gorilla Glass is routinely used by smartphone makers to protect the displays of their devices. Corning did not reveal all the features of Gorilla Glass 3.