CES 2013
The grand-daddy of consumer electronics shows takes place the week of January 7th. We reported all week from Las Vegas, with liveblogs, hands-on reports, and more. There was big news from Sony, Samsung, Huawei, and ZTE. Our CES page collects all of our CES news in one place.
Bookmark this page and don't miss a thing!
All Liveblogs Huawei Samsung Alcatel more...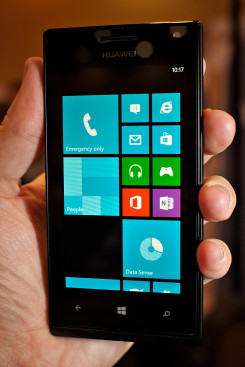 Huawei's first Windows Phone, the Ascend W1, was on display at CES and we spent a few moments with it. Here are our first impressions.
---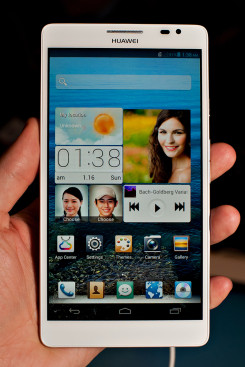 Huawei has a new entry in the phablet market with the Ascend Mate. This large phone (or small tablet) has a massive 6.1-inch screen and a 4,000-mAh battery to power it. Read on for our first impressions.
---
Huawei today announced the Ascend Mate, a phone/tablet with a 6.1-inch display. The features and appearance are similar to the Ascend D2 - also announced today - with a few differences. The Ascend Mate has an 8-megapixel camera and 4,000 mAh battery, but the same quad-core processor. The Mate has a few extra software features for the larger screen, such as a set of pop-up windows that float over regular apps, for limited real-time multi-tasking. Available pop-ups include a calculator, calendar, notepad and video player. The Ascend Mate also sports a modified keyboard that shifts all of the keys toward one side, making it easier to type one-handed. Pricing and U.S. availability was not announced.
---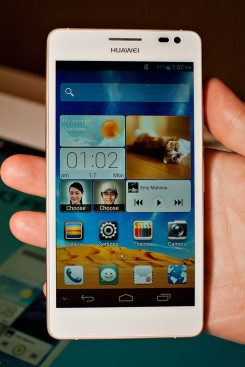 Huawei today showed off its newest flagship phone, the Ascend D2, with a 5-inch 1080 x 1920 pixel "Super Retina" 443 ppi display. The phone also sports a touch-screen sensor that works through gloves, a 13-megapixel camera with BSI sensor, and a 1.5 GHz quad-core processor. The dust- and water-resistant body body sports a flat glass front with on-screen Android controls, curved sides formed from machined solid metal frame, and a curved glossy plastic back. Thd 3,000-mAh battery is sealed inside. The phone sports 32 GB of internal storage plus 2 GB of RAM. It runs Android 4.1 with Huawei's Emotion UI 1.5.
---