Hands On with the Huawei Ascend Mate
Article Comments 1
Jan 7, 2013, 5:49 PM by Rich Brome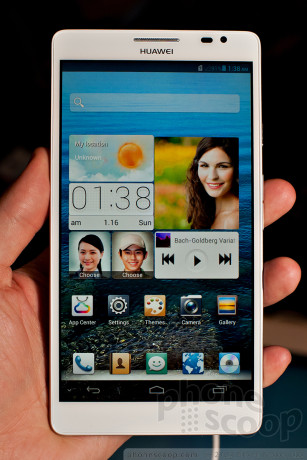 Huawei has a new entry in the phablet market with the Ascend Mate. This large phone (or small tablet) has a massive 6.1-inch screen and a 4,000-mAh battery to power it. Read on for our first impressions.
Article
The Ascend Mate isn't intended to be the super-phone that the Ascend D2 is. The screen and camera aren't as high-res, for example, and it doesn't have the same exotic exposed machined metal frame. But it's still a high-end device that shares the same attractive design language as the D2.
The Mate is huge. Some people find a 5-inch display reasonable in a phone; fewer people will say the same abut a six-inch display. It technically fit into the front pocket of my Levis, but I wouldn't dare try to sit down with that in there. This is a specialty device for people who really want, essentially, an iPad Mini they can use as a phone.
Although the screen is huge, the bezel is not, giving you a very good ratio of screen size to phone size. The thin profile helps even more. This is a lot of screen in a relatively small volume. Relatively.
The design looks nice, with white front and back, and a plastic silver ring around the edge. The feel isn't as high-end as the Ascend D2. It feels very plastic, but a high-quality, solid kind of plastic. It's relatively light for its size, which detracts a bit from the quality feel, but I wouldn't go as far as to say it feels cheap.
The side buttons work well. There are two hatches, one for the microSD memory card, and one for the SIM card. I haven't seen a true hatch on a SIM card slot before; perhaps they expect people to swap SIM cards often with this phone?
The Mate runs Android 4.1 with Huawei's "Emotion" tweaks. To give you maximum use of the screen, the on-screen Android controls can be hidden, a feature that can be problematic, as we detailed in our hands-on with the Ascend D2.
The Mate also has a tweaked keyboard that shifts everything to one side or the other for easier one-handed typing. This feature doesn't seem very well-thought out, though, since I can't fathom how people with normal-sized hands could hold such a large phone with one hand securely. I tried it, and it did make it easier (read: possible) to type with one thumb. But I felt like the top half was about to fall out of my hands. I'm pretty sure I would always want to use to hands to type, but there is no full-size option for two-handed use. Dumb.
There's also supposed to be an option for floating a video, calendar, or notepad over other apps for a certain kind of multi-tasking. Unfortunately, that software wasn't working on the prototypes we tried.
Overall, I liked the hardware. It's too big for me, but it's not designed for me. If you're in the market for a 6-inch phablet, this is nice hardware. I'm less a fan of the software. I hope that some of the issues are fixed before (if) this reaches U.S. shores. Huawei didn't have anything to announce as far as U.S. availability.
Everything looks good except .....
It's made by Huawei 🤨