Alcatel Claims Thinnest Smartphone Title
Article Comments 3
Jan 7, 2013, 8:00 AM by Rich Brome @rbrome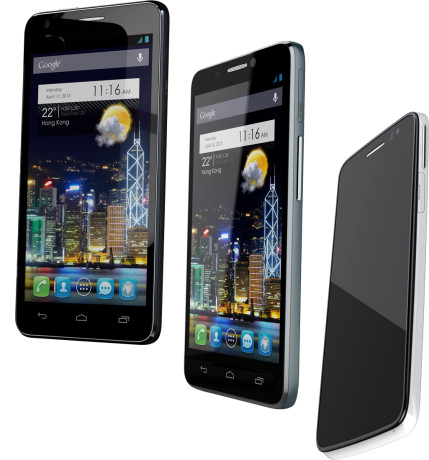 Alcatel One Touch today announced three new phones, including what the company claims is the world's thinnest smartphone, plus a smartphone using the new quad-core chipset from MediaTek. All are GSM/HSPA models.
Idol Ultra: At just 6.45 mm thin - the world's thinnest, according to Alcatel - this phone still packs in a 4.7-inch HD OLED display, 8-megapixel camera, and 1.2 GHz dual-core processor. It runs Android 4.1. The Idol Ultra is not currently slated for U.S. release due to FCC regulations, according to an Alcatel spokesperson.
Idol: An ultra-light smartphone weighing in at 3.88 ounces and 8.15 mm thin. Features are similar to the Idol Ultra, including dual-core 1.2 GHz processor, 4.7-inch qHD IPS LCD display, and 8-megapixel camera. It also runs Android 4.1. The Idol is planned for U.S. release in the third quarter of 2013.
Scribe HD: A phone for those who want a 5-inch screen, the Scribe HD also sports the new MediaTek MT6589 1.2 GHz quad-core chipset, plus an 8-megapixel camera, 4G data, and it runs Android Jelly Bean. The Scribe HD may come to the U.S. in mid-2013.
source: Alcatel
Advertisements article continues below...
I wonder
which FCC regulations it didn't meet?
Regulation iPhone no phone can be thinner than iPhone.... 🤣 🤣 🤣
It might have had something to do with shielding, although that would imply that the phone - as sold in other countries - will emit mildly risky levels of RF energy into the body.

More likely is the Hearing Aid Compatibility (HAC) requirement. The ...
(continues)