Hands On: LG Vu ii
Article Comments 3
Jan 8, 2013, 4:53 PM by Eric M. Zeman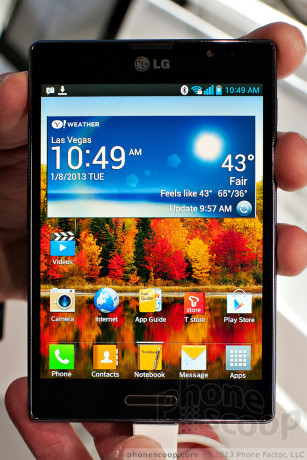 The Vu ii is a follow up to last year's Vu / Intuition from LG. It is still a bit awkward to hold, but less so than before thanks to significant changes to the hardware. Here are our first impressions.
Advertisements article continues below...
LG Vu ii
The Vu ii (view two) from LG is its second take on the phablet form factor and it is much improved. Where the original Vu (sold as the Intuition from Verizon Wireless in the U.S.) was monstrously large and too awkward to use, this revised version is slimmer, lighter, and easier with which to interact.
The Vu ii is still weird looking. Thanks to the 4:3 aspect ratio of the display, is looks ungainly and too wide. The good news is that LG shrank the size of the bezel surrounding the display, which cut down on the width just enough to make it noticeably more comfortable to use. It is also thinner in the front-to-back dimension and far lighter. All these changes together make the device a more palatable option if phablets are the way you really want to go.
Other changes to the hardware include the use of different materials for the back and side surfaces. Gone is the textured plastic that I thought was a bit scratchy and instead the Vui ii uses a glossy back cover that has a pattern embedded under the surface similar to the Optimus G and Nexus 4 This makes the Vu ii more comfortable against the skin, though it is still very wide.
The screen is amazing. It measures 5 inches and has 1024 x 768 pixels. It's quite bright, colorful, and razor sharp. On-screen elements look fantastic. It is a really, really good display.
The volume toggle is on the left edge, and I found it easy to access and use. Travel and feedback was quite good. The screen lock button on top was no problem to use and the ports are all in the usual places.
The Vu ii runs Android 4.1 Jelly Bean and looks similar to the Optimus G when it comes to the user interface. There's one neat feature that sets it apart, called Vu Talk. The Vu Talk feature lets two Vu ii's connect via 3G/4G/Wi-Fi and conduct an animated chat even when on phone calls. The basic app is a memo app that can be used to write notes back and forth. The app updates in real time, and memo or drawings that one person creates automatically show up on the other device (think a live action version of tic-tac-toe that can be played on separate handsets). LG envisions it as a tool for business users, to be used during meetings for collaboration, or by families as a fun way to connect when a parent is on the road.
The Vu ii is currently not slated to come to the U.S., but the same was true of the orignal Vu, announced in February 2012. It is possible the Vu ii will be sold by a U.S. carrier, and in fact, LG's press representatives said they are hopeful that it does.
Doubles as a ninja - star
This aspect ratio and style of device is already dead, I don't userstand why they keep this going. There's no way I'd want to hold something this size up to the side of my face, might as well carry a 23" flatscreen tv around with you.
just by looking at this ugly phone makes my eyes sore!
Size
I'm such a sucker for odd phones. I loved both LG Lotus/elites and a Panasonic GD92. I hope it comes to Virgin Mobile.