Hands On with the Alcatel Scribe HD
Article Comments
Jan 8, 2013, 1:33 AM by Eric M. Zeman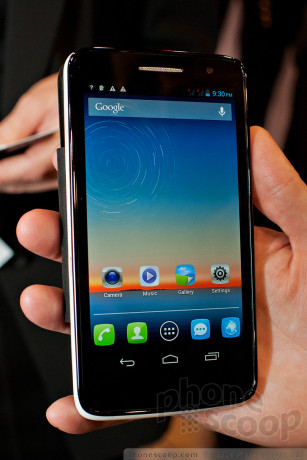 The Alcatel Scribe HD is a heftier device than the Idol and comes with a 5-inch, high-definition screen, too. Here are our first impressions of this Android smartphone.
The Scribe HD is Alcatel's Galaxy Note wannabe phone. It has a massive footprint and the top-tier features to go with it.
First, the sheer size of the Scribe HD is notable. Held side-by-side with the Idol, and it's like Laurel & Hardy or Abbott and Costello. It is hefty thanks to solid plastics and heavy glass that form its somewhat blunt and uninspiring shape. I like the glossy white materials. They feel and look strong, but the price is weight and a simpler look.
The device's large footprint necessitates a bigger hand. Like the Galaxy Note II or HTC DNA, it is not for those with dainty hands. It will often require to hands to interact with all the features on the screen.
The Scribe is somewhat thick, but has good button layout and controls. I had no trouble finding and using the volume and screen lock buttons, which feel good and have excellent travel and feedback.
The Scribe HD has a 5-inch display with 1280 x 720 pixels. The screen is big and bright, and images and text looked razor sharp on the glass.
Since it is called the Scribe, this smartphone will include a stylus of some sort, though the early build we say didn't yet have one built in. The Scribe will have available to it a magnetic cover (just like the iPad's Smart Cover), which latches onto the back and can be easily opened or removed. The cover protects the screen when the phone isn't being used.
As with the Idol, the Scribe will run Android 4.1 Jelly Bean at launch. It, too, has a light user interface overlay from Alcatel that isn't too annoying. It makes only slight changes to the appearance of the buttons and menu pages.
In terms of performance, it worked really well for a prototype that's months away from being finalized.
No messages