Hands On with the Sony Xperia Z and ZL
Jan 7, 2013, 9:31 PM by Rich Brome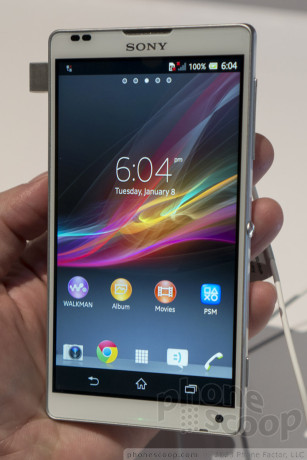 Sony today announced the Xperia Z, he company's new flagship for 2013, and its little brother, the ZL. Read on for our first impressions of these top-end phones.
The Z is Sony's new flagship. The unique design sports flat, mirrored surfaces with thin, rounded corners in a contrasting matte finish.
The design looks fragile, but feels extremely solid and well-made when you hold it. The front glass is flat, but has a well-designed border where it meets the plastic that keeps it from feeling uncomfortable. The very notable exception is the cut-outs for the speaker and microphone. There, the glass edge is exposed and feels dangerously sharp.
Sony went to great lengths to create sleek mirrored sides. This seems odd, as the sides are the one place you touch a phone most. The whole phone is one giant fingerprint magnet. The sleek sides also mean the 3.5mm headset jack is covered by a hatch, and they've done away with the camera button, for a more seamless look.
The hatch for the headphone jack is easy enough to pry open with a good fingernail, but still gets in the way. The hatches for the memory card slot and SIM card are difficult to open, although you shouldn't need to do that often. The SIM card goes in a tiny, flimsy tray that's easily less durable than a condom wrapper. I would surely break it if I needed to swap SIMs more than once, such as for overseas trips.
The lock key is a very pretty and usable silver metal button. The volume control is a terrible sliver of a plastic that's both difficult and uncomfortable to use.
The software is based on Android 4.1 with relatively heavy customization from Sony. Everything has a unique Sony look to it, and Sony has a kitchen-sink philosophy when it comes to adding software features. It looks nice, though, and most of the features are useful.
The camera interface has been redone, and looks very nice. It's easy to use and has every camera feature one could wish for, including HDR video, a world first. There's also a nice driving mode with limited features and big buttons.
The Z has top-end features, including a 5" full HD (1080p) display, 13-megapixel camera, the world's first HDR video capture in a phone, 4G LTE, and a quad-core Snapdragon processor.
It's also water-resistant, and Sony had a tiny dunk tank on hand to prove it.
Look for it globally within the next three months.
No messages