Hands-On: Sony Xperia Z1
Article Comments 2
Sep 4, 2013, 11:31 AM by Eric M. Zeman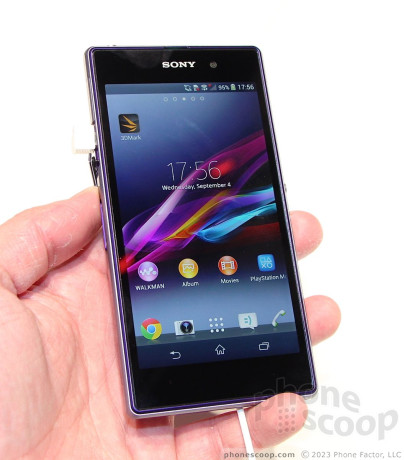 Sony updated its flagship device with a better camera and smoother design.
source: Sony Mobile
Advertisements article continues below...
Sony's new Xperia Z1 takes the high bar set by the Z a step further thanks to an improved camera and better feel in the hand.
The device has many of the same features as the Z1, including a similar size and shape. Where the Z was boxy and square, the Z1 has a slightly rounder profile, which makes it far more comfortable to hold and use. The rounded edges aside, it is still a big phone. It is impressively thin, but it is wide and tall to accommodate the 5-inch display. It is also very light. The Z was light, too, and Sony did a good job packing the device with features while also keeping the weight down.
The screen looks really nice. It uses Sony's mobile Bravia engine, in addition to what Sony calls TriLuminos and X-Reality technologies. Basically, it is bright and sharp, though brightness drops off when the phone is tilted from side to side. When viewed head-on, though, it looks fantastic.
The phone has a bevy of buttons and hatches placed along the edges. The hatches are to protect the Z1 from water ingress. Sony says it can sit in up to 3 feet of water for up to 30 minutes. I find the hatches to make day-to-day use annoying, though most people may not notice them other than when plugging their device in to be charged. They cover the memory card and microSD card slots, in addition to the headphone jack and USB port.
The screen lock button has Sony's signature look. It is large, round, and chrome colored. It stands out nicely along the side of the phone and has good travel and feedback. There's also a volume toggle and dedicated camera button - all along the right edge of the phone. The buttons all have a nice feel to them.
There are holes for the speakerphone drilled into the bottom edge.
The Z1's user interface is identical to that of the Z. It runs Android 4.2.2 (with a promise to be updated to Android 4.3) and has Sony's custom look and feel. There are a handful of new features for the camera (watch video below) that make it more fun to use. Some of the features mimic those of Samsung's Galaxy S4, which as Timelapse shot and so on. I liked the camera features, which were already powerful to begin with.
Sony hasn't announced plans to bring the Z1 to the U.S. yet, but hopefully it'll make that decision soon. The Z is being sold by T-Mobile in the U.S.
The device ships with Android 4.2.2. It will be updated to Android 4.3 not long after launch.