Hands On with the Alcatel Idol
Article Comments 1
Jan 8, 2013, 1:15 AM by Eric M. Zeman
updated Jan 8, 2013, 1:15 AM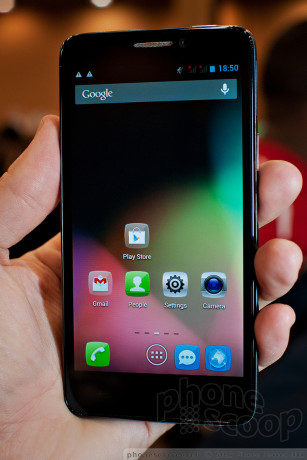 The Alcatel Idol is one of the lightest Android smartphones out there at just 3.88 ounces. It may only weigh as much as a feather, but it is no featherweight.
The Alcatel Idol is a thin-and-light Android smartphone that will arrive in the U.S. during the third quarter of the year, but Alcatel has yet to say on which carrier(s). It is a mid-range model that offers a large display and a slim profile.
The Idol is a typical rectangular slab. The bluish-gray plastics are thin to the point of feeling fragile, as if the phone would crack if squeezed too tightly. I didn't care all that much for how the phone felt in the hand, though the weigh — or, more accurately, the lack thereof — is incredibly impressive. At 3.88 ounces, there's barely anything to the Idol. In fact, I had to check to make sure there was a battery inside the darned thing.
In addition to being light, it is very thin. It is not as thin as the Idol Ultra, which Alcatel claims is the world's thinnest phone, but it is thinner that most other devices out there. This means it will easily find its way into a pocket, whether it be your jeans or a coat.
The display measures 4.7 inches. It's an in-plane switching LCD panel with 540 x 960 pixels. It looked sharp and clean, though it could have been brighter.
What bugged me most about the Idol were the buttons along the sides. The microSD card and SIM card ports are position on the left and right sides, very close to the top of the phone. They are thin and brittle hatches that, when pressed, pop open so you can access the card. The problem is, I kept confusing them with the volume toggle due to their positioning. Alcatel could have laid these buttons out a bit better.
The power / screen lock button is on top, as is the headphone jack. The microUSB port is on the bottom.
The user interface is nearly naked Android 4.1 Jelly Bean, though it has been lightly treated by Alcatel. The icons have a different shape and there are a few menus that behave a bit differently. The performance was very good for a device that is six to eight months from availability.
In all, it is what it is: a cheap, inexpensive phone that's trying really hard to be upper crust.
Micro SD Slot
Thought that this slim phone had no micro SD slot for expansion. It is a dual sim phone as well.