Sculpteo Offers Easy Custom 3D Printed iPhone Cases
Article Comments 3
Jan 6, 2013, 9:02 PM by Rich Brome @rbrome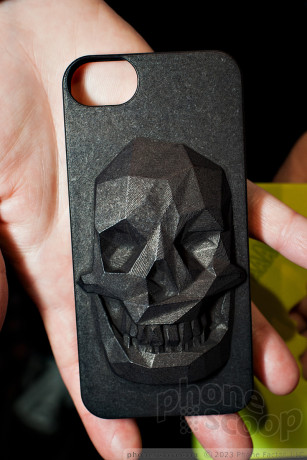 Sculpteo recently launched 3DPCase, an iOS app that lets users easily design and order their own custom 3D-printed iPhone case, fitting either an iPhone 4 or 5. Users can use one of several templates, each of which allows different customizations to the shape of the case. One template lets users choose a location in Google Maps to apply the topography of that terrain to the back of the case. Another template lets users take a photo and use the silhouette of a person's face as part of the edge of the case.
Advertisements article continues below...
Article
We played with a few cases. They have the distinct texture you'd expect from something 3D-printed. It's not the same kind of smooth texture you get from molded plastic. It has subtle rough ridges in the nylon surface. One benefit is that the cases have excellent grip in your hands. Also, the rough texture will hide the inevitable small dings and scratches. It's a neat idea.
These 3d printers are pretty sweet!
But pricey, I wonder if what the margins could be like to pick one up and get a kiosk in the mall...
cases
there are a million and 1 cases for the iphone. what makes anyone think theses cases are any different. this is funny that out of ces, this is what we talk about?
Topography
I want the back of my case to be Mount Everest, seriously, I'd like to see them do that. Or, another amazing backing (if they can do it properly) Mount Rushmore.