MWC 2017
All Sony LG Samsung Motorola more... Discuss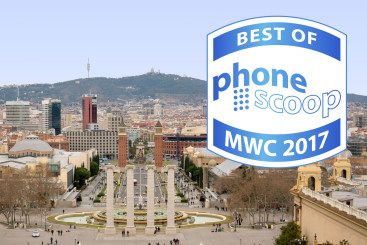 In the world a mobile phones, Mobile World Congress is the main event. Taking place each year in Barcelona, it's where the world sees what's in store for phones and networks that year. Trends take shape and phones are launched. We check out everything in person, and pick our favorites with our Best of MW awards. This year, five phones stood out.
Speaking at the Mobile World Congress trade show in Barcelona, FCC Chairman Ajit Pai laid out his vision for moving the FCC forward. Specifically, Pai wants to foster innovation and investment in 5G. In order to do that, says Pai, the government must be less restrictive than it has been. "The key to realizing our 5G future is to set rules that will maximize investment in broadband. For if we don't, the price could be steep. After all, networks don't have to be built. Capital doesn't have to be spent in the communications sector. And the more difficult government makes the business case for deployment, the less likely it is that broadband providers big and small will invest the billions of dollars needed to connect consumers," said Pai in prepared remarks. "In the United States, we are in the process of returning to the light-touch approach to regulation that produced tremendous investment and innovation throughout our entire Internet ecosystem." Pai has already begun to reserve some of the policies set by his predecessor, Tom Wheeler. One area Pai intends to attack is net neutrality. "Two years ago, the United States deviated from our successful, light-touch approach. The FCC decided to apply last-century, utility-style regulation to today's broadband networks. Rules developed to tame a 1930s monopoly were imported into the 21st century to regulate the Internet. It has become evident that the FCC made a mistake. Our new approach injected tremendous uncertainty into the broadband market. And uncertainty is the enemy of growth." Pai does want to encourage development of 5G, and today's network operators are likely to appreciate his change in tone with respect to regulation. Only time will tell if Pai's light-tough approach will bear out with real-world progress.
Samsung today said it intends to adopt Rich Communications Services messaging on its smartphones. RCS is a more advanced messaging standard that supports group chats, video messaging, and more. Samsung acquired RCS technology when it picked up NewNet late last year. Samsung plans to work with overseas carriers such as Deutsche Telekom, Korea Telecom, SK Telecom, T-Mobile, and Vodafone to enable RCS on its devices. Samsung's move follows a similar one made by Google, which is working with a wider selection of phone makers and carriers to bring RCS to Android devices around the world. Samsung is one of only a few device makers not supporting Google's RCS push, and now we know why.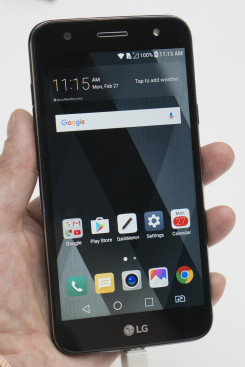 LG's X power was a unique phone focused almost exclusively on having an unusually large battery. This year's update improves almost every spec, including battery size (naturally), screen size, camera resolution, and memory. With fast charging, it's a battery beast. What's it like in person? We find out.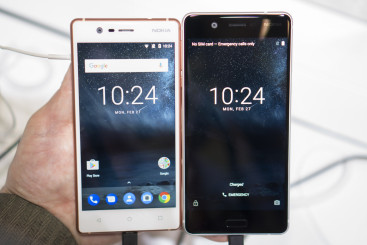 Nokia is back in the phone game, now with proper Android smartphones. Their strategy is affordable, mass-market phones with premium design and construction. They have three models in this lineup, all with solid metal bodies, generic Android software, and low, low prices. We checked them out. Read on for our impressions.
Sailfish OS will find a new home on the Sony Xperia X smartphone. Jolla and Sony today said Jolla has created a custom version of Sailfish that can run on Xperia X handset. Jolla is taking advantage of Sony's Open Device program to make this happen. The Jolla-enabled Xperia X won't be sold to consumers, however, and is instead meant to serve more as a developer platform. It's a modern handset that's more powerful than the aging Jolla C device, allowing developers and enthusiasts to make use of newer technology in their projects. Jolla said the Sailfish Xperia X will be made available to its community members later this year. Jolla today also announced that it has formed a consortium in China. The Sailfish China consortium will develop Sailfish OS based platforms for smartphones, the automotive industry, TV, IoT, and smartwatches. Jolla says a number of companies plan to join the consortium. Jolla is run by ex-Nokia employees. Sailfish OS is based on Nokia's failed Meego/Maemo mobile Linux platform. Sailfish originally intended to sell its own phones, but was forced to reorganize. It now develops the operating system and licenses it to other companies.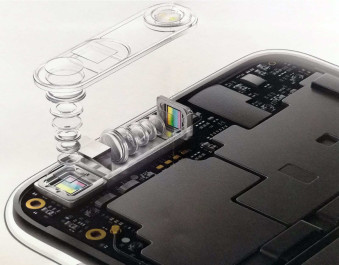 Oppo today announced a new camera module that hides a telephoto lens inside the phone chassis. The main camera makes use of a wide-angle lens. A rotating prism set inside the camera module can divert light 90 degrees through a secondary lens to a second imaging sensor. Oppo claims the arrangement creates lossless images even at 5x optical zoom. The prism is able to rotate in increments of 0.0025 degrees, allowing for precise tuning. Both the prism and the telephoto lens group can move to compensate for vibration in real time to help ensure sharp shots. Opponents didn't provide details on the camera sensor's resolution, nor did it suggest what phone might first include the 5x dual camera zoom. The company has spent more than a year developing the system, which has more than 50 components.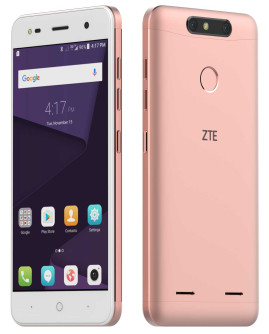 ZTE today announced the Blade V8 Mini and the Blade V8 Lite, two low-spec'd devices that will sit under the Blade V8 Pro released earlier this year. The phones share a number of features, including metal designs, rear-mounted fingerprint sensors, 5-inch HD displays, 2 GB of RAM, and 16 GB of storage. They both run Android 7 Nougat with ZTE's MiFavor 4.2 UI.
Blade V8 Mini: The Mini (pictured) is the more capable of the two phones thanks to its octa-core Qualcomm Snapdragon 435 processor. It features a 13- and 2-megapixel main camera combo for advanced features such as bokeh and 3D depth shots. The front camera has a 5-megapixel sensor and its own selfie flash. The fingerprint sensor supports a handful of gestures for answering calls and such. The V8 Mini has a 2,800mAh battery.
Blade V8 Lite: The lesser of the new ZTEs includes an octa-core MediaTek 6750 processor. The V8 Lite has an 8-megapixel main camera, a 5-megapixel user-facing camera, and a 2,500mAh battery.
Both phones are expected to ship to Asian and European markets during the second quarter. For now, the Blade V8 Pro will be the only Blade handset sold in the U.S., according to ZTE.
MediaTek today announced the Helio X30 system-on-chip, its most advanced mobile processor for smartphones. The chip relies on a 10nm process, which gives it 2.4 times more processing power and 60% more efficiency when compared to MediaTek's 16nm process. The X30 is a 10-core processor with a tri-cluster architecture. It has two ARM Cortex A73 cores at 2.5 GHz, four A53 cores at 2.2 GHz, and four A35 cores at 1.9 GHz. This gives the chip the ability to handle high-intensity tasks as well as low-power tasks. It is paired with the Imagination PowerVR Series7XT Plus GPU clocked at 800 MHz. As for connectivity, the Helio X30 includes support for Cat 10 LTE, three-channel carrier aggregation on the downlink and two-channel carrier aggregation on the uplink. MediaTek claims the X30 SoC is the first to support 4K2K 10-bit HDR10 video decoding in smartphones. It also incorporates two 14-bit image signal processors supporting dual cameras up to 16 megapixels. The Xelio X30 is already sampling and MediaTek expects to see it in devices during the second quarter of the year.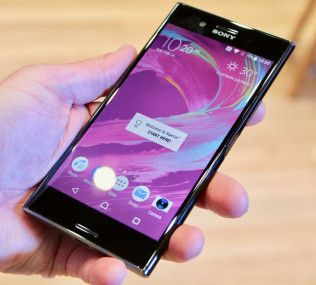 Sony's luscious new phone is to die for. The 4K HDR screen is the best display you've ever seen on a mobile device and Sony wrapped it up in a serene metal-and-glass package. We spent a few moments looking at what might be Sony's finest-ever smartphone.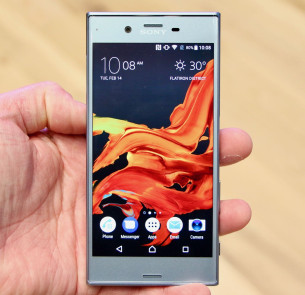 The XZs is a carry-over from last year. Sony took the XZs and gave it many of the amazing powers lurking under the hood of the XZ Premium, such as the camera sensor and image processor. The XZs is a better phone than last year's, even if it looks mostly the same. Here are our first thoughts.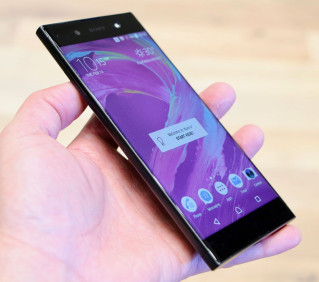 Sony is betting on these two mid-range Xperia smartphones to help it find traction with U.S. buyers. They have reasonable prices, reasonable spec sheets, and that Sony design language. Here are our first impressions with Sony's XA1 and XA1 Ultra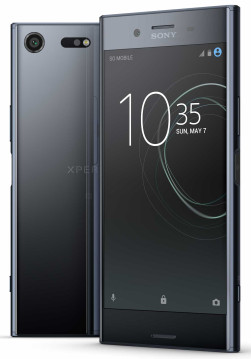 Sony today announced the XZ Premium, a high-end smartphone that has a 4K HDR display. The screen measures 5.5 inches across the diagonal and packs 3,840 by 2,160 pixels for the ultimate in high definition. It includes Sony's TriLuminos and X-Reality technologies to improve video performance. The phone features Gorilla Glass 5 both on front and back, with an aluminum frame in between. The XZ Premium is powered by the Snapdragon 835 processor with an Adreno 540 GPU. It includes 4 GB of RAM and 64 GB of storage, with support for memory cards up to 256 GB. Sony has updated its camera and lens technology for the XZ Premium, which has a 19-megapixel sensor, optical image stabilization, and the ability to capture 960fps super slow-motion video. Other camera features include predictive focus, predictive capture, and an anti-distortion shutter. The user-facing camera captures 13-megapixel images and shoots full HD resolution video. Sony gave the phone a 3,230mAh battery with rapid charging and Qnovo adaptive charging to help lengthen the life-span of the battery over multiple charge cycles. Other specs include USB-C, IP68 for waterproofing, high-end audio processing, WiFi, GPS, Bluetooth, and NFC. The device ships with Android 7.1 Nougat. Sony did not announce pricing nor availability.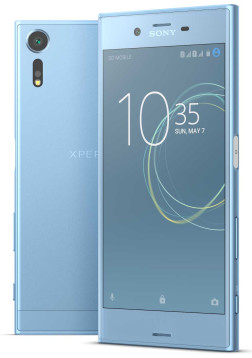 Sony today announced the Xperia XZs, a flagship phone that carries forward the company's design philosophy of metal-and-glass slabs. It may not be as impressive as the 4K Xperia XZ Premium, but it is still meant to compete with the likes of the iPhone 7, Galaxy S8, and G6. The XZs has a 5.5-inch full HD screen and is powered by a Snapdragon 820 processor with an Adreno 510 GPU, 4 GB of RAM, 32 GB of storage, and support for memory cards up to 256 GB. The phone has the same 19-/13-megapixel camera combo as the XZ Premium, which includes 5-axis stabilization, 960fps super slow motion video, predictive focus, and triple-image sensing. Sony gave the phone a 2,900mAh battery with Quick Charge 3.0 and Qnovo adaptive charging to help lengthen the life-span of the battery over multiple charge cycles. Other specs include USB-C, IP68 for waterproofing, high-end audio processing, WiFi, GPS, Bluetooth, and NFC. The device ships with Android 7.1 Nougat. The phone will cost $700 when it goes on sale in early April. Sony plans to sell the phone directly to consumers unlocked.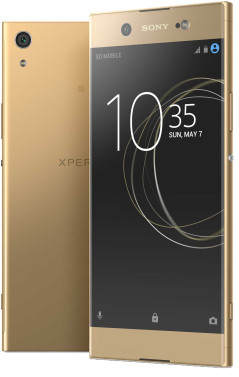 Sony today announced the XA1 and XA1 Ultra, two mid-range Android smartphones. These devices rely on the same design language seen on Sony's pricier handsets and share almost all internal components. The biggest difference is in screen and battery size. Where the XA1 has a 5-inch 720p screen and 2,300mAh battery, the XA1 Ultra (pictured) has a 6-inch full HD screen and a 2,700mAh battery. The XA1 series feature MediaTek octa-core Helio P20 processors with the Mali T880 GPU, 2 or 4 GB of RAM and 32 or 64 GB of storage. The devices support microSD memory cards up to 256 GB. Each has a 23-megapixel Exmor RS camera with 24mm lens and an aperture of f/2.0. The XA1 has an 8-megapixel selfie cam, while the Ultra improves upon that with a 16-megapixel sensor and optical image stabilization. Other specs include USB-C, Qnovo adaptive charging, rapid charging, Cat 6 LTE, and Android 7 Nougat. The XA1 will go on sale April 26 for $300. The XA1 Ultra goes on sale this summer. Pricing for the larger Sony wasn't announced.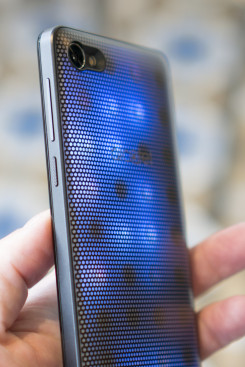 Here's a neat one. Alcatel showed off the A5 LED this week, an entry-level smartphone that packs some visual pow thanks to light-up LEDs that cover the back surface. The phone by itself may not be all that impressive, but the light show is a riot. Here are our first impressions of the Alcatel A5.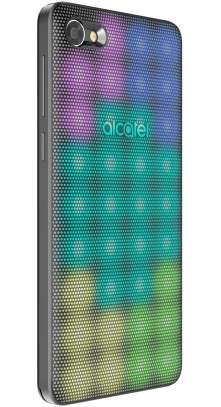 The Alcatel A5 LED smartphone is serious about having fun. The phone features an LED-covered rear panel that can blink a few dozen LEDs with color. The LEDs can be used to serve as notifications for incoming calls, messages, or alarms. The included Color Catching 2.0 app lets owners create unique LED patterns and themes. Last, the LEDs can provide a light show when listening to music. The A5 has an octa-core processor, 5.2-inch HD screen, 8-megapixel main camera, and a 5-megapixel selfie camera with Face Beauty software for that perfect look. Alcatel didn't announce pricing, but the phone is meant for younger people. Availability isn't yet known, though Alcatel did say this phone would reach the U.S. at some point.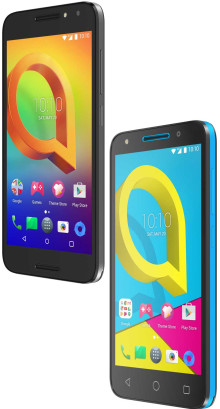 Alcatel today announced the A3 and the U5, new additions to the bottom of its lineup of inexpensive Android smartphones. The devices are made mostly of plastic and share similar designs.
A3: The A3 is the more capable of these two devices with a 5-inch HD display, 4G LTE, 13-megapixel rear camera with LED flash, 5-megapixel front camera, fingerprint sensor, quad-core CPU, and metal frame.
U5: This phone includes a 5-inch screen, LTE 4G, front and rear cameras, and Simple Mode for novice users. The plastic rear shell comes in a variety of colors for personalization.
Alcatel didn't share pricing nor release dates for these phones, but neither is slated to come to the U.S.
SanDisk today said it has improved its SanDisk Extreme microSD card by adopting the A1 specification. MicroSD cards with A1 specifically ensure that apps run from the card as quickly and smoothly as possible. Many people now store apps on memory cards in order to keep space free on their device, especially large apps such as games. According to SanDisk, the A1 spec allows the cards to manage random read input-output access per second so it can open apps swiftly and also process accompanying tasks, such as audio, graphics, saved profiles, and in-app permissions. SanDisk says the 256 GB SanDisk Extreme microSD card with A1 is ideal for 4K and full HD video applications, gaming, and other speed-intensive apps. Some phone and component makers have adopted the spec, too, including HTC, Huawei, Lenovo, MediaTek, Meizu, Oppo, and ZTE. The card also supports file transfer speeds of up to 100Mbps. The card is expected to arrive in late March for $200.
Samsung today revealed a number of 5G-related projects it is working on, including a home router, a base station, core network infrastructure, and a mobile chipset. The 5G Home Router is of particular interest, as Samsung said it would serve as an in-home replacement for fiber-to-the-home for broadband service. The router would sit in a window and communicate with a nearby 5G Radio Base Station and deliver 1 Gbps speeds to the home. Samsung likened the setup to today's LTE small cells, which have helped carriers densify their networks in urban areas. Verizon Wireless personnel joined Samsung on stage during the presentation and mentioned that the company hopes to see a phone able to use Samsung's 5G in-home gear by this time next year. Verizon is already planning to trial its own fixed 5G service in 11 markets in the new few weeks. Samsung went on to say that it will use 3GPP Release 16 specs for now while the ITU continues its work on the 5G standard. Samsung hopes to be able to upgrade its equipment along the way until the 5G standard is ratified.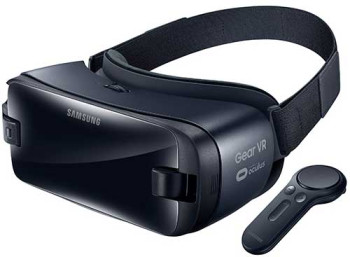 Samsung today announced a new version of its Gear VR headset, which now comes with a controller in tow. Controllers dramatically help the VR experience by allowing people to interact with a wider range of content when exploring new worlds. Samsung says the controller includes home, volume, and back keys and features a comfortable grip so it is easy to hold securely. The controller attaches to a strap on the headset for safekeeping when not in use. The Gear VR headset has 42mm lenses with 101-degree field of view and distortion correction to help minimize motion sickness. It supports both micro USB and USB Type-C ports. Samsung didn't list the price nor mention the release date.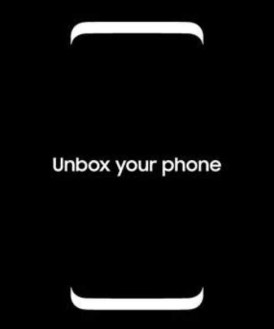 Samsung used its press conference at Mobile World Congress to tell everyone that the Galaxy S8 is right around the corner. In a short teaser video, Samsung said the phone will make its worldwide debut on March 29 at Lincoln Center in New York City. The company shared a silhouette of a device with the words "Unbox Your Phone" in the invitation. The Galaxy S8 will replace the Galaxy S7 at the top of Samsung's lineup and serve as the company's flagship for 2017. The phone will go head-to-head with the LG G6, which was announced earlier today, and the Apple iPhone 7.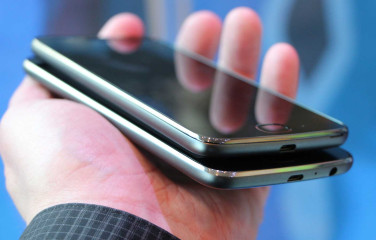 Motorola introduced the Moto G5 and G5 Plus in Barcelona, the latest in its series of mid-range handsets. Motorola says it polled consumers in order to develop the G5 series' feature set, which include metal designs, good cameras, fingerprint readers, and high-definition screens. We spent a few moments with the phones. Here are our initial impressions.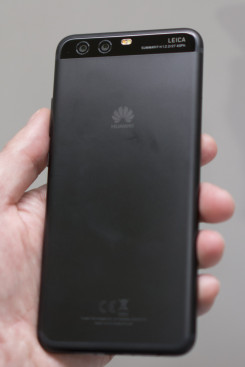 The P10 is Huawei's flagship phone for 2017, (aside from the super-size Mate series.) It's a definite step up from the P9, packing in the very impressive Kirin 960 chipset, also found on the Mate 9. It sports a more rounded metal design and a new style of fingerprint sensor on the front. But it lacks any of the trendy new features in the competition's 2017 flagships. How does it stack up in person? Read on for our impressions.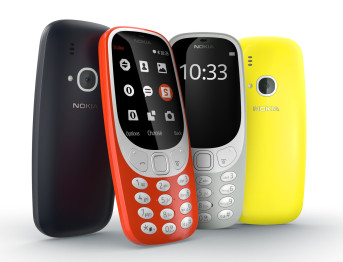 Nokia today introduced a new version of the old Nokia 3310 phone. It includes a color screen, Snake, and the original Nokia ringtone. It only supports 2G GSM networks. It also comes in four colors. Nokia claims 22-hour talk-time and a month of stand-by. It will retail for "average global retail price of €49".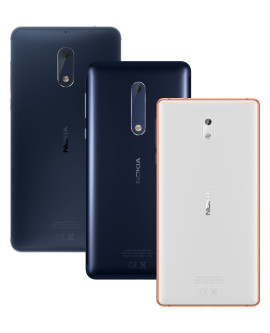 HMD Global — the new custodian of the Nokia brand for phones — today announced three new Android-based Nokia phones.
Nokia 6: Already released in China, this 5.5-inch-screen, metal-bodied phone will released globally for 229 euros. Its display is full HD. It has stereo speakers and Dolby Atmos sound. It will come in Matte Black, Silver, Tempered Blue and Copper for €229, plus a glossy "Arte Black" special edition for €299.
Nokia 5: This solid aluminum phone has a 5.2-inch HD screen and a fingerprint reader in the home button. It's powered by a Qualcomm Snapdragon 430 chip. It will come in four colors: Matte Black, Silver, Tempered Blue and Copper. It will retail for €189.
Nokia 3: An affordable phone with a solid metal body, it has a 5-inch screen and 8 megapixel cameras on both the front and back. It will retail for €139.
All three have a "pure" version of Android 7 Nougat, with Google Assistant, and will be available globally by June of this year. The current published specs show poor support for US LTE networks. It's unclear if US versions are planned.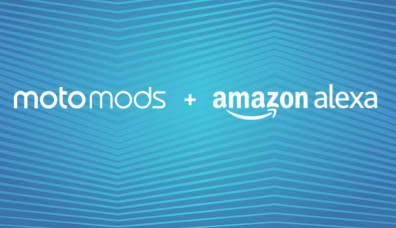 Motorola and Amazon today said the Moto Z series of phones will soon have access to the Amazon Alexa voice-powered assistant. Alexa will be enabled through a Moto Mod that is still under development. When attached to the Mod, the Moto Z will act just like an Amazon Echo in-home speaker. Moreover, Motorola said it will bake Alexa directly into its handsets later this year.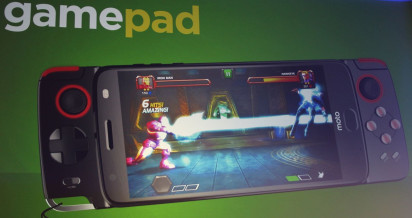 Motorola today announced several new Moto Mods that are compatible with the Moto Z series of handsets. The first is a new battery pack with a unique design. The second is an accessory that will charge any battery-powered Mod. The third is a accessory for wireless charging. The last is a gamepad to assist with gaming. It includes directionals, buttons, and pads for interacting with games. Motorola say these Mods will go on sale during the first half go the year. Motorola did not say anything about pricing for these mods.
HMD Global today announced that its Withings subsidiary will henceforth be rebranded as Nokia, becoming Nokia's line of wearable watches and fitness trackers.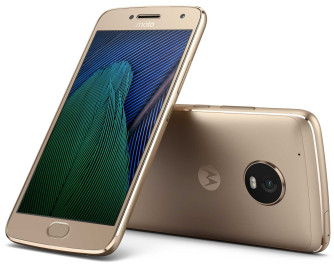 Motorola today announced the Moto G5 and G5 Plus, the fifth generation in Motorola's line of mid-range handsets. The phones feature metal frames and adopt a design language that vaguely resembles the Moto Z series. Shared features between the two phones include full HD screens, fingerprint readers, Android 7 Nougat, memory card support, water-repellant coating, and good support for U.S. LTE bands.
G5 Plus: The larger of the two phones (pictured) has a 5.2-inch display and is powered by a 2.0 GHz Snapdragon 625 processor with 2 or 3 GB of RAM and 32 or 64 GB of storage. The main camera has a 12-megapixel sensor a f/1.7 with double focus pixels, while the selfie cam has a 5-megapixel sensor. The G5 Plus has a 3,000mAh battery with Motorola's Turbo Charging technology. It includes NFC, but the U.S. variant drops this feature.
G5: The G5 is slightly smaller thanks to the 5.0-inch screen. It is powered by a Snapdragon 430 processor with 2 GB of RAM and 32 GB of storage. The main camera has a 13-megapixel sensor at f/2.0, while the selfie cam has a 5-megapixel sensor. The removable 2,800mAh battery supports rapid charging.
The Moto G5 will not come to the U.S., but the G5 Plus will reach the U.S. in April for $229.
ZTE today announced a smartphone that is capable of attaining download speeds of 1 Gbps. The Gigabit Phone, says ZTE, is the first handset to lay claim to such raw speed. The phone is able to do this using ZTE's Pre5G Giga+ MBB solution, though ZTE didn't share many details about the network technology involved. The Gigabit Phone itself relies on a Qualcomm Snapdragon 835 processor paired with a Qualcomm X16 modem. Together, they can take advantage of carrier aggregation, 4x4 MIMO, and 256QAM to deliver 1 Gbps downloads. In addition to the speed, ZTE claims the Gigabit Phone is three times more efficient at processing data across today's LTE 4G networks. The Gigabit Phone and the underpinning technology will help ZTE and its partners bridge existing LTE 4G networks with what will eventually become 5G technologies. ZTE did not show a picture of the phone, nor state any other specifications or details such as pricing and availability.
Huawei today announced the P10, its new mid-size flagship phone for 2017. The phone is similar in size to last year's P9, but with more rounded sides and corners to make it feel thinner. The metal-body phone will be offered in eight different colors — including Greenery, Dazzling Blue, and Ceramic White. Greenery is Pantone's color of the year for 2017. Most colors will come with a sand-blasted soft-touch finish, while Dazzling Blue will sport a hybrid diamond cut (brushed metal) finish, and Ceramic White will be high-gloss. The P10 is powered by the same Kirin 960 processor as found in the Mate 9, accompanied by 4 GB of RAM. The 5.1-inch, full-HD display is protected by Gorilla Glass 5 with rounded edges. A new-generation, dual-sensor Leica camera module on the back includes a 12-megapixel / f2.2 traditional camera plus a 20-megapixel monochrome camera. The 8-megapixel camera on the front also has a Leica lens. The company has also placed the fingerprint reader on the front, below the display, where it replaces the usual three Android navigation buttons. Swiping left brings up recent apps, while swiping right performs the "back" action. The phone runs Android 7.0 with Huawei's EMUI 5.1 software on top. The 3,200 mAh battery can be topped up with fast charging via the USB-C connector. A 3.5mm audio jack is also present. The company will also offer a slightly larger variant in the P10 Plus. The P10 plus steps up to a 5.5-inch 2K display and 3,750 mAh battery. It also has a better camera lens with a f/1.8 aperture. It will be offered in seven color options. Pricing starts at €649 for the P10. The US is not among the list of initial launch markets, but some versions will support AT&T and T-Mobile networks.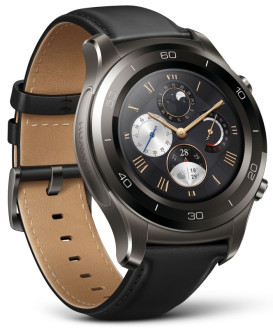 Huawei today announced the second generation of its Android Wear smartwatch. The new Huawei Watch 2 adds a number of features, including optional 4G LTE data, standalone GPS, continuous heart rate monitoring, NFC, Android Wear 2.0, and a special watch-only mode that can achieve up to 25 days of battery life. The watch-only mode displays only the time and a live step counter. In smartwatch mode, the 420 mAh battery can power the watch for two days, or ten hours with both LTE and GPS active. Fast charging via the magnetic dock can fully power up the battery in one hour. The 1.2-inch, fully-round, AMOLED display has improved resolution at 328 ppi. The standard model has a plastic body to allow for integrated LTE antennas. The face is made of ceramic and Gorilla Glass 3. The rubber straps are standard 20mm with quick-release pins. The Watch 2 is rated IP68 for water resistance. A "classic" model is also available with a sleeker metal body, but without LTE. The classic model comes with a 22mm hybrid strap that is leather on the outside, and rubber on the inside for sweat resistance. The controls consist of the touch screen and two side buttons: a home button and a customizable shortcut button.
LG's flagship handset for the year is the gorgeous G6. It's a beautiful handset that packs an a amazing amount of technology into its slim frame. This may be the first year wherein LG's flagship truly goes toe-to-toe with the best from Apple and Samsung. Here are our first impressions of the LG G6.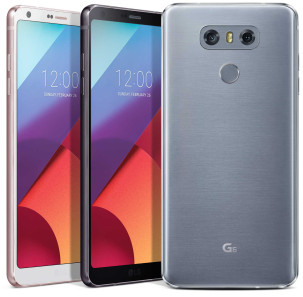 LG today announced the G6, its flagship smartphone for 2017, which is meant to compete with the Apple iPhone 7 and Samsung Galaxy S8. The G6 features a sleek metal-and-glass design that keeps the footprint at a minimum despite the large screen. The G6 packs a unique 5.7-inch qHD+ display with an 18:9 aspect ratio and curved corners. The rounded corders of the display, along with the rigid aluminum chassis and Gorilla Glass 3, make the display less prone to breakage when dropped. LG has tweaked the UI to take advantage of the added real estate with additional software controls that appear in select apps. The camera app, in particular, takes advantage of the 18:9 (or, if you prefer, 2:1) aspect ratio to allow for two side-by-side square photos when shooting, along with an always-visible film strip. The camera itself boasts two, identical 13-megapixel sensors, one with a 125-degree wide field of view, and the other with a standard field of view. The camera capture 4K video and includes a two-tone flash. LG selected a 5-megapixel sensor for the user-facing camera, which has a 100-degree field of view, a selfie flash via the LCD screen, and advanced beautification controls. It records full HD video. The LG G6 is powered by a Qualcomm Snapdragon 821 processor with 4 GB of RAM and 32 GB of storage. The phone supports microSD memory cards up to 2 TB. LG improved the battery in size when compared to last year's G5 to 3,300mAh. It supports Quick Charge 3.0 rapid charging and Qi/AirFuel wireless charging through the Gorilla Glass 5 rear panel. LG said the phone will support myriad LTE bands, including those used by all four carriers in the U.S. Pricing and exact availability are expected to be announced by LG's carrier partners, though the retail launch is expected by March 10.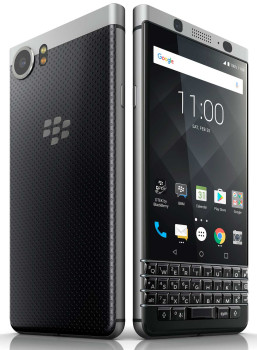 TCL today announced the KEYone, a BlackBerry smartphone that combines a large screen, full QWERTY keyboard, and hardened Android software in an aluminum body. TCL first teased the phone at CES last month, but has now shared all the KEYone's details. To start, the phone is a large slab with a 4.5-inch full HD screen with Gorilla Glass 4 filling the top two-thirds of the face. A physical keyboard below the screen offers trackpad functionality, app shortcuts, and a fingerprint reader in the space bar. The phone has rugged aluminum frame and a soft-touch faux leather rear panel. Internal specs include a Snapdragon 625 processor with 3 GB of RAM, 32 GB of storage, and space for a microSD card up to 1 TB. The battery measures 3,505mAh for beyond a full day of use, and it charges rapidly (50% in 36 minutes) thanks to support for Quick Charge 3.0. The rear make makes use of the 12-megapixel IMX378 sensor from Sony with large pixels, f/2.0 lens, PDAF, 4K video capture, and two-tone flash. The front camera boasts an 8-megapixel sensor with an 84-degree field of view, selfie flash, and full HD video capture. The phone runs Android 7.1 with BlackBerry Hub+ and the company's DTEK security software. The KEYone will be sold in several variants around the world. TCL says two versions of the phone will work well in the U.S., including on the networks operated by AT&T, Sprint, T-Mobile, and Verizon Wireless. The company plans to launch directly to consumers in Canada first, with the U.S. to follow shortly thereafter. TCL hopes to sell the device through carrier partners late in the year. The BlackBerry KEYone costs $549.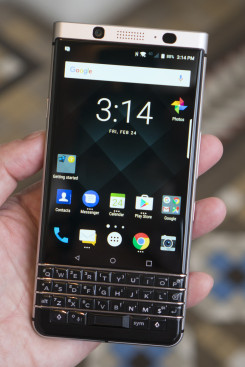 The BlackBerry KEYone is here, a big smartphone that includes a large display, physical keyboard, and BlackBerry's hardened version of Android. The phone is big and has middling specs, but are importantly, it pulls at the heartstrings of those raised on BlackBerry's old corporate mini-machines. Here are our initial impressions of the KEYone.
The International Telecommunications Union today released a draft report for what might eventually become the 5G specification. IMT-2020 is the working name for the 5G standard and the ITU has laid out a basic framework it wants to see technology companies meet. For example, the ITU wants a single cell site to support download speeds of at least 20 Gbps shared across the site. Real-world speeds would be on the order of 100 Mbps down and 50 Mbps up for every user connected to the cell site. Each cell site will also need to support maximum latency (network response time) of 4ms with 1ms available most of the time, and support up to 1 million connected devices to square kilometer. Further, 5G will need to be available to mobile devices traveling between 0 and 300mph with 0ms latency when mobile devices switch between cell sites. Last, the ITU wants to see 5G become more efficient with respect to mobile device power needs, and more efficient at delivering a raw number of megabits per hertz of spectrum. The ITU expects to discuss the specification over the next six months and finalize the standard by November. It will then be up to technology companies to make it happen. Many U.S. network operators and their telecommunications equipment partners are testing various ways to deliver 5G-like performance via LTE this year.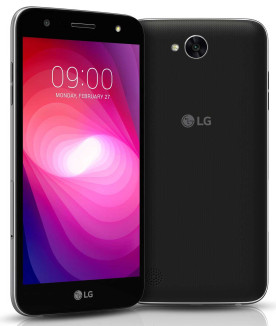 LG today announced the X power2, a follow up to last year's bountiful, battery-boasting handset. The X power2 features an embedded 4,500mAh battery that LG says delivers 15 hours of video playback, 14 hours of real-time navigations, or 18 hours of web surfing. It included rapid charging and soaks up 50% of its capacity when plugged in for just one hour. Other specs include a 5.5-inch HD display, 1.5 GHz, octa-core processor with 1.5/2 GB of RAM, 16 GB of storage, LTE, Bluetooth, WiFi, and GPS. The phone has a 13-megapixel main camera and a wide-angle, 5-megapixel user-facing camera with selfie flash. LG says the phone comes in black, gray, gold, and blue. It will ship to several regions, including the U.S. later this year. Pricing was not disclosed.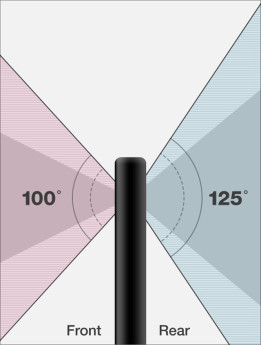 LG today said its forthcoming G6 flagship smartphone will include two rear-mounted cameras and a single front-facing camera in much the same vein as last year's V20. The rear cameras will each capture 13 megapixels, says LG, with one taking standard field-of-view shots and the other taking 125-degree, wide-angle shots. LG says users will be able to switch between the two cameras seamlessly with no delay, and the wide-angle lens reduces optical distortion around the outer edges for cleaner pictures. LG said the cameras have equal resolution sensors due to consumer feedback wishing for higher quality images from the secondary camera. LG didn't specify the resolution of the user-facing camera on front, but did indicate it, too, takes wide-angle pictures with a field of view measuring 100 degrees. Moreover, LG has added a handful of new tools to the user-facing camera for self portraits, including the ability to combine between 2 and 100 images to create GIFs. Other features headed to the G6 camera include an enhanced food mode, and 360-degree panoramas for virtual reality apps captured via the wide-angle camera on the rear. LG has already shared lots of the G6's features ahead of the phone's expected Feb. 26 debut.