Nokia Expands its Android Lineup
Article Comments
Feb 26, 2017, 11:32 AM by Rich Brome @rbrome
updated Feb 26, 2017, 1:57 PM
Updated: Added spec details and link.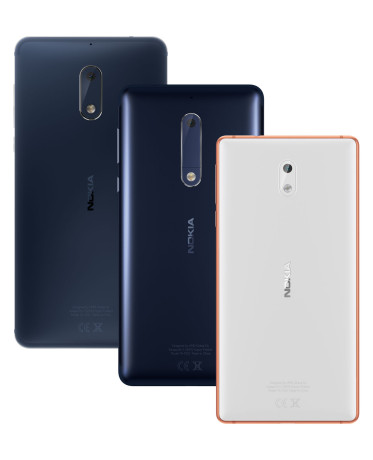 HMD Global — the new custodian of the Nokia brand for phones — today announced three new Android-based Nokia phones.
Nokia 6: Already released in China, this 5.5-inch-screen, metal-bodied phone will released globally for 229 euros. Its display is full HD. It has stereo speakers and Dolby Atmos sound. It will come in Matte Black, Silver, Tempered Blue and Copper for €229, plus a glossy "Arte Black" special edition for €299.
Nokia 5: This solid aluminum phone has a 5.2-inch HD screen and a fingerprint reader in the home button. It's powered by a Qualcomm Snapdragon 430 chip. It will come in four colors: Matte Black, Silver, Tempered Blue and Copper. It will retail for €189.
Nokia 3: An affordable phone with a solid metal body, it has a 5-inch screen and 8 megapixel cameras on both the front and back. It will retail for €139.
All three have a "pure" version of Android 7 Nougat, with Google Assistant, and will be available globally by June of this year. The current published specs show poor support for US LTE networks. It's unclear if US versions are planned.
No messages