Hands On with the Nokia 3, 5, and 6
Article Comments
Feb 27, 2017, 8:14 AM by Rich Brome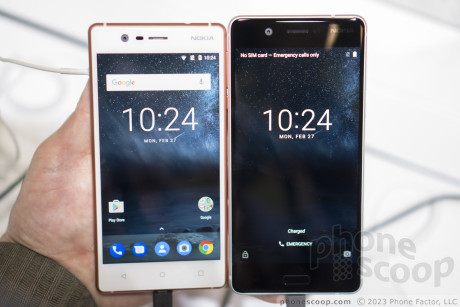 Nokia 5
Nokia is back in the phone game, now with proper Android smartphones. Their strategy is affordable, mass-market phones with premium design and construction. They have three models in this lineup, all with solid metal bodies, generic Android software, and low, low prices. We checked them out. Read on for our impressions.
Since the focus of the whole lineup is affordability, let's start with the most affordable, the Nokia 3, which will run just 139 euros.
Like all of them, it's thin and light. Very light. But since it's carved from a solid block of aluminum, it doesn't feel cheap. The design is somewhat plain on the whole series, yet classy. The 3 stands out a bit if you choose the white/copper color scheme.
The specs aren't impressive, but you do get front and rear 8 megapixel cameras and a 5-inch HD screen with Gorilla Glass. This is probably the best-feeling phone you can get for about 150 bucks.
All three come with a very "stock" version of Android 7 Nougat. It's just like you'll find on the Pixel, right down to the swipe-up app drawer. That's a good thing. Nokia's misadventures on phone OSes are over; they've wised up and decided to leave software to the experts.
The Nokia 5 steps up to a 5.2-inch HD screen and adds a fingerprint reader in the home button. You also get a Qualcomm Snapdragon 430 chip. Otherwise it looks and feels much like the 3, and that's a good thing. For around $200, it's still a good value.
I feel like Goldilocks saying this one is my favorite of the bunch, but it's true.
The Nokia 6 steps up to a 5.5-inch full HD screen and 16 megapixel camera. There's nothing special going on to make it feel smaller, so that 5.5-inch screen really pushes this past the size I find comfortable. Worse, the edges are extra-sharp; too sharp, if you ask me. I find it very uncomfortable to hold. But it is quite lightweight, and 229 euros is a good price for the specs and a metal body.
Unfortunately, these aren't designed for US networks. We can only hope that Nokia will expand this new lineup to the US soon.
No messages