LG's G6 to Carry Dual 13MP Rear Cameras
Article Comments 2
Feb 20, 2017, 8:17 AM by Eric M. Zeman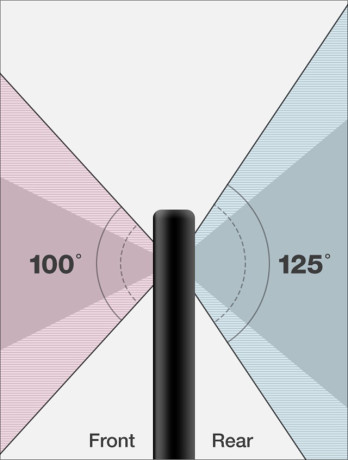 LG today said its forthcoming G6 flagship smartphone will include two rear-mounted cameras and a single front-facing camera in much the same vein as last year's V20. The rear cameras will each capture 13 megapixels, says LG, with one taking standard field-of-view shots and the other taking 125-degree, wide-angle shots. LG says users will be able to switch between the two cameras seamlessly with no delay, and the wide-angle lens reduces optical distortion around the outer edges for cleaner pictures. LG said the cameras have equal resolution sensors due to consumer feedback wishing for higher quality images from the secondary camera. LG didn't specify the resolution of the user-facing camera on front, but did indicate it, too, takes wide-angle pictures with a field of view measuring 100 degrees. Moreover, LG has added a handful of new tools to the user-facing camera for self portraits, including the ability to combine between 2 and 100 images to create GIFs. Other features headed to the G6 camera include an enhanced food mode, and 360-degree panoramas for virtual reality apps captured via the wide-angle camera on the rear. LG has already shared lots of the G6's features ahead of the phone's expected Feb. 26 debut.
Lower the resolution on one camera and raise it on the other.
Said by absolutely no customer. Better have some great camera software LG to make up for that change.
The best phone cameras out there right now are the iPhone 7, Galaxy S7, and Pixel. They're all 12-megapixel. People want better pixels, not more pixels (beyond that baseline of 12.)