5 Best Phones to Take On Summer Vacation
Article Comments 1
Jun 21, 2017, 9:00 AM by Eric M. Zeman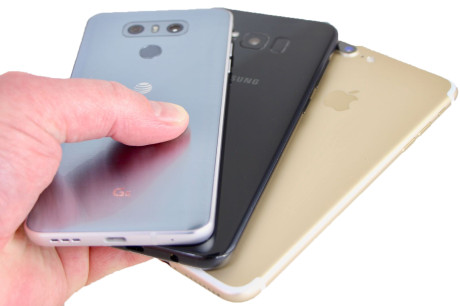 Summer is here, which means it's time to go on vacation! Whether you prefer to make day trips to local points of interest, or plan far-flung adventures that span the globe, you're going to want your trusty smartphone by your side. Here are our top smartphone picks to help you get the most out of your summer sojourns.
Advertisements article continues below...
Each summer I head to Adirondack Park in upstate New York. I enjoy spending a week in the High Peaks region, surrounded by New York State's tallest mountains and the valleys, streams, lakes, and forests in between. My family has vacationed in Lake Placid, NY, since the early 1990s and it remains one of my favorite spots on earth to visit.
It's all too easy to fill a week with hiking, swimming, kayaking, biking, and myriad other activities. With all the amazing scenery, you can be sure I'm firing pictures left and right. Photography is extremely important to me, particularly when I travel. I gave up on my clunky dSLR years ago and now fully rely on my smartphone for recording my adventures. That's why I require the best-possible camera performance from my phone. Given our societal proclivities for (over)sharing images across Facebook, Twitter, Instagram, and other platforms, I think it's safe to say most people value a strong camera.
Since there's so much to do in Lake Placid, it's quite common to get an early start and not return home until dinner time or later. Using GPS to discover new places, using the camera to record your visit, and sharing that media with friends requires power. Battery life is supremely important. My vacation smartphone has to have excellent endurance.
Of course, nearly everything involves Mother Nature and that means there's plenty of opportunity to drop your phone into a puddle, creek, river, lake, or pool. It's best to bring a phone than can handle a quick dunking. Finding a waterproof phone isn't as easy as you might expect. Generally speaking, this feature means you'll need to seek out a fully ruggedized monster or a really expensive flagship. There's not much middle ground. Sadly, even today's best ruggedized handsets don't include the best cameras and that rules them out for the purposes of this article.
Your vacation style and requirements may differ from mine, but these key factors are likely to matter to many people regardless of where you go.
With these criteria in mind, here are the phones I'd trust the most this summer
1. Apple iPhone 7 Plus
The iPhone 7 Plus from Apple meets all my demanding vacation criteria.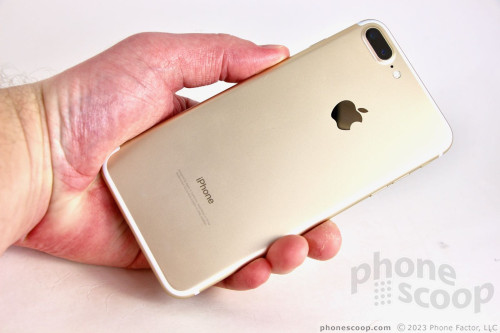 To start, it includes one of the best cameras around. The 12-megapixel shooter is excellent, and the 7 Plus' dual-lens system for zoom and bokeh shots makes it more flexible than the smaller iPhone 7 when it comes to photography. The 7 Plus' larger size gives it another benefit: battery life. You'll find a 1,960 mAh battery in the 7 and a 2,900 mAh battery in the 7 Plus. The iPhone 7 Plus crushes the iPhone 7 when it comes to all-day up time. Last, the iPhone 7 Plus has an IP67 rating, which means it can handle 30 minutes in water up to one meter deep. That's good enough for me.
The iPhone 7 Plus isn't cheap, and is the oldest phone on this list. It's available for $769 from carriers and from Apple directly.
2. Samsung Galaxy S8+
The Galaxy S8 and S8+ from Samsung are equal in nearly every way.
Galaxy S8 Plus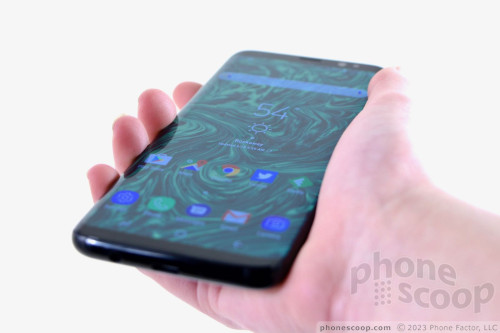 Galaxy S8 Plus
They have identical 12-megapixel cameras that are fantastic. Truly, the S8 and S8+ deliver the goods when it comes to photography performance. For vacationing purposes, I'm selecting the larger S8+ over the smaller S8 for the same reasons I picked the bigger of Apple's two iPhones: battery life. The S8 has a 3,000 mAh battery and the S8+ has a 3,500 mAh battery. The higher capacity power cell gives the S8+ significantly more battery life than the smaller S8. Samsung sealed up the S8+ in superb fashion, as the phone has an IP68 rating. It can handle half an hour in 1.5 meters of water. Hopefully it won't take you that long to fish it out of the bottom of the creek or pond while you're casting for fish.
One caveat: the S8+ is all glass and very fragile. Please, for the love of Samsung, put a case on your phone when adventuring outdoors. The S8+ is the most expensive phone on this list at $825. It's available from carriers and unlocked directly from Samsung.
3. LG G6
LG's flagship handset is another fine vacationing partner.
G6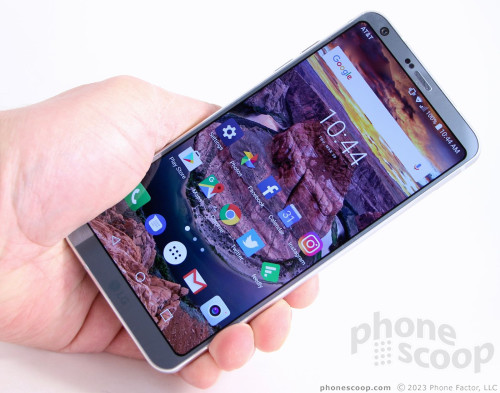 G6
I've really come to enjoy the dual 13-megapixel cameras on the back. The option to jump from normal to ultra-wide really makes the G6 fun for photography. This can really help with those mega vistas and other outdoor shots you might want to take. The G6 has a great camera that I'd trust implicitly while exploring new places. The 3,300 mAh battery packed inside isn't the biggest, but I've found over several months of use that the G6 outlasts some phones with higher-capacity batteries. The G6 will get you through a day of heavy use no problem. Like the Galaxy S8+, the G6 has an IP68 rating. It's as waterproof as a modern phone can get.
Also like the S8+, the G6 is made mostly of glass. The G6 has a slight advantage over the S8+ with respect to toughness thanks to the way LG engineered the heavy metal frame and display. Still, you might want to wrap it up. You can pick the G6 up at the major U.S. carriers for about $649.
4. HTC U11
HTC's latest effort, the U11, is also one of its best and that makes it an ideal smartphone to bring with you whether you're headed to Bangkok, Barcelona, Beijing, Belfast, Berlin, or Boston.
U11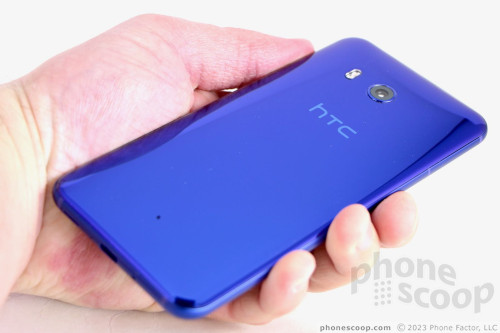 U11
The U11 is a stunning piece of hardware that's sure to garner attention wherever it travels. While that mirrored glass is something to behold, the U11 is a strategic vacationing choice thanks to its very good 12-megapixel camera. Perhaps more importantly, the 16-megapixel front camera does a fine job at capturing those all-important vacation selfies. When it comes to battery life, the U11's 3,000 mAh power cell and excellent power management tools mean the phone goes from breakfast to bedtime with power to spare. (Seriously, the Ultra Power Saver Mode will keep the battery running for days if you get lost in the woods.) The U11 can sit in one meter of water for up to 30 minutes thanks to the IP67 rating.
The dual glass panels of the U11 essentially mandate that you protect it with a case. The U11 is available from Sprint, or directly from HTC unlocked for $649.
5. Sony Xperia XZs
Sony may not be at the top of smartphone shoppers' lists, and yet the company still churns out competitive handsets every year.
Xperia XZs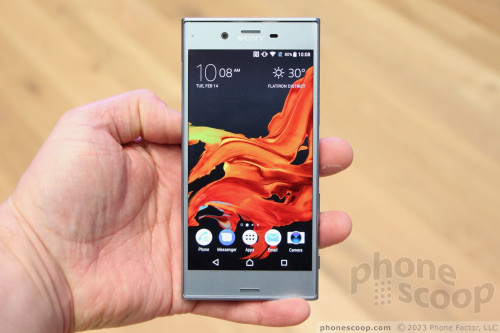 Xperia XZs
The Xperia XZs, which is Sony's 2017 flagship, matches the rest of this list on a feature-for-feature basis. The phone has a crazy 19-megapixel main camera that can shoot 960 frames-per-second slow motion. It will capture every blessed detail of your vacation in incredible slo-mo detail. The XZs has a 13-megapixel selfie cam, too. Under the hood, Sony stuffed a 2,900 mAh battery into the phone's frame. The battery life is solid enough to power through your most demanding adventures. To round it off, the Xperia XZs has an IP68 rating, which means it can handle a 30 minute bath in 1.5 meters of water. Just don't drop it in the jacuzzi.
Sony sells the Xperia XZs directly to consumers unlocked for $700. Like most of the phones on this list, it has two glass surfaces and demands protection.
Nitpicking time
The U11 will hardly work in Beijing without bands 38-40. This is my life, nitpicking on such insignificant matters.

I would have included the new Oneplus 5 simply for the amount of LTE band capability. Or more dual-sim phones.

Thks Eric for the write-up.