Oppo's 5x Dual Camera Zoom Makes Use of a Periscope
Article Comments 1
Feb 27, 2017, 6:29 AM by Eric M. Zeman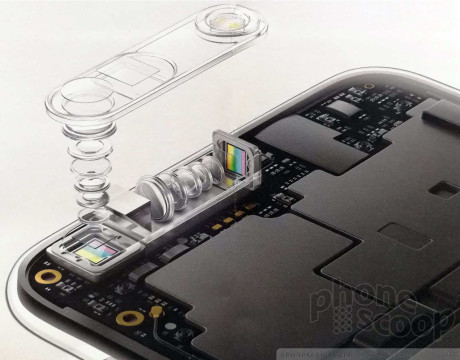 Oppo today announced a new camera module that hides a telephoto lens inside the phone chassis. The main camera makes use of a wide-angle lens. A rotating prism set inside the camera module can divert light 90 degrees through a secondary lens to a second imaging sensor. Oppo claims the arrangement creates lossless images even at 5x optical zoom. The prism is able to rotate in increments of 0.0025 degrees, allowing for precise tuning. Both the prism and the telephoto lens group can move to compensate for vibration in real time to help ensure sharp shots. Opponents didn't provide details on the camera sensor's resolution, nor did it suggest what phone might first include the 5x dual camera zoom. The company has spent more than a year developing the system, which has more than 50 components.
source: Oppo
Typo
"Opponents didn't provide details"

I think you meant, "Oppo didn't provide details"